ROGERS PARK — North Clark Street near Chicago's border with Evanston could become a hub for cannabis dispensaries if the two cities approve three pot shop proposals.
Three dispensaries are trying to open in a roughly six-block stretch of Clark Street and Chicago Avenue. Clark Street turns into Chicago Avenue north of Howard Street, the border between Chicago and Evanston.
Two proposals call for dispensaries near the corner of Clark and Howard streets.
Zen Leaf is looking to relocate its Rogers Park dispensary from Rogers Avenue to 7541 N. Clark St., within the Gateway shopping plaza and around the corner from the Howard Red Line stop. Okay Cannabis is looking to open on the northwest corner of Clark and Howard streets in what is an under-construction development, according to the company and the city of Evanston.
Perception Cannabis, a social equity cannabis license holder, is also looking to open a dispensary at 7000 N. Clark St., according to Ald. Maria Hadden's (49th) ward office.
None of the proposals have received approval. A community meeting on the Zen Leaf proposal was held last week, while Perception Cannabis' project will be the subject of a community meeting Tuesday.
Okay Cannabis and partner business West Town bakery last week applied for special use permits to open their hybrid dispensary-bakery-cafe business at 100 Chicago Ave., said Evanston spokesperson Patrick Deignan.
The plans call for the dispensary-bakery to open in the Evanston Gateway development, which is bringing 28 apartments and retail to the corner of Howard and Clark streets.
The bakery would not sell cannabis-infused products, and there would be no pot consumption on-site, Deignan said. Okay Cannabis, a venture between former 47th Ward Ald. Ameya Pawar and restaurant company 50/50 Group, recently opened its first site in northwest suburban Wheeling and plans to open this spring in West Town.
The proposal has not been approved, as it needs to be heard by Evanston commissions before going to the Evanston City Council, Deignan said. The dispensary is shooting for a July opening, according to its website.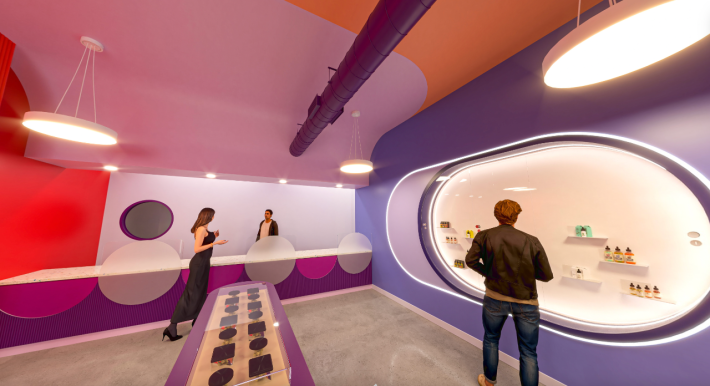 Zen Leaf is marking its second effort to relocate within Rogers Park after its earlier proposal to open in the former Leona's on Sheridan Road was turned down by Hadden.
Now, the company is looking to open in a nearly 5,000-square-foot storefront that fronts Clark Street but is within the Gateway shopping center. The move would bring Zen Leaf out of a more residential setting on 7305 N. Rogers Ave. and into a major commercial district near public transit, company officials said.
Zen Leaf attorney Andrew Scott said the company doesn't have a problem with opening down the street from another dispensary.
"We really think of ourselves as no different from any other retail facility," Scott said at a community meeting Wednesday over Zen Leaf's proposed relocation. "We might have different products than they may have. … This is just an incredibly growing industry, and so there's a lot of room for multiple dispensaries nearby each other."
Hadden, who is considering whether to support Zen Leaf's measure to move near Howard and Clark streets, said both businesses could coexist and bring traffic to a major commercial district in the ward.
"We have restaurants across the street from each other all the time," she said. "I'm excited to see more businesses that bring more traffic to our area and think it would be overall beneficial."
State law prohibits certain dispensaries from opening within 1,500 feet of each other, but social equity dispensaries are excluded from the rule. Okay Cannabis qualifies as a social equity company because it has minority ownership.
While Zen Leaf is a major player in the legal pot business and Okay Cannabis has at least three dispensaries in the works, Perception Cannabis is looking to open its first shop.
The company is looking to open at 7000 N. Clark St. in what was formerly a currency exchange.
Perception Cannabis is a Black-owned business whose chief executive is a longtime 49th Ward resident, Hadden said in her weekly newsletter. The company holds a social equity cannabis license under a state program to grant dispensary licenses to members of communities disproportionately impacted by the war on drugs.
Plans for the pot shop at the corner of Clark Street and Lunt Avenue include a parking lot. It would be across from the future home of the Wild Onion grocery co-op.
"The large footprint, prominent facade and proximity to the new Wild Onion Cooperative make it an ideal location for a recreational cannabis dispensary," Hadden wrote in her newsletter.
Like the Zen Leaf proposal, Perception needs a special-use permit from the city before it can open. Hadden's office is hosting a community meeting on the proposal 6 p.m. Tuesday. To register for the virtual meeting, click here.
Listen to "It's All Good: A Block Club Chicago Podcast":