LINCOLN PARK — Ald. Timmy Knudsen is going head to head with Brain Comer, the three-term president of the Sheffield Neighborhood Association, in the 43rd Ward runoff election.
Knudsen and Comer emerged from a crowded field of candidates running to be the next elected alderperson after former Ald. Michele Smith retired mid-term in August. Knudsen, who was appointed by outgoing Mayor Lori Lightfoot to fill the vacancy, got 27 percent of the vote in Feb. 28's election, while Comer got 24 percent.
Since no one candidate had more than 50 percent of the vote, the race is going to a runoff April 4.
The race has been marked with mud-slinging between candidates.
The four candidates who did not make it to the runoff are Wendi Taylor Nations, who was endorsed by Smith; Steve Botsford, a real estate developer who was endorsed by the police union; Rebecca Janowitz, an attorney and alternative energy investor who put more than $750,000 of her own money into her campaign; and Steven McClellan, who founded a nonprofit after-school program.
"It just feels really good to get that No. 1 spot," Knudsen said days after the Feb. 28 election. "I've been working hard for five months, and it shows it's working."
Comer, who trailed Knudsen by 367 votes — or nearly 3 percent of the total amount of votes — called it a "virtual tie."
"This is just a confirmation that the ward heard our message and liked it," Comer said. "And our message is the neighborhood guy who's been here his entire life wants to serve and make people's lives easier."
More on each candidate:
Brian Comer
Comer is in his third term as president of the Sheffield Neighborhood Association, where he organizes the community to engage in zoning proposals, park improvements and events.
Born and raised in the 43rd Ward, Comer graduated from Oscar Mayer School. He's a former renewable energy developer and integrated business executive with clients in renewable energy and financial services.
Comer also serves as an 18th District police beat facilitator and is a cofounder of the 43rd Ward Alliance, which brings together the ward's neighborhood associations to discuss issues and build a united voice.
"I've always been one who is committed to service, but I'm most directly running now because our mayor is leading our city in the wrong direction," Comer said.
Comer, who serves as an 18th District police beat facilitator, has told Block Club crime and public safety are "point number one, two and three" to his campaign's platform.
Comer said he'd support reorganizing the police budget so the agency spends less money on paying top brass and misconduct lawsuits and more money putting officers on the street. Comer also suggested offering incentives to boost officer retention.
"We have a 2,000-officer deficit here in the city, which represents about 80 officers who are not on the beat in the 18th District," Comer said.
Comer also said he'd go after more funding from the county, state and federal governments to address the city's crime as a public health issue.
To improve the CTA, Comer suggested adding more beat officers to patrol platforms, trains and buses; improving the agency's technology for more accurate schedules; and boosting worker benefits to attract and retain employees.
Other priorities include improving constituent services so the alderman's office can respond more efficiently to neighbors' needs, streamlining the city's business approval process to attract more small businesses to empty storefronts and increasing funding for public schools.
Comer pointed to his "mini-alderman" experience as president of the Sheffield Neighborhood Association, through which he's established a track record of responding to neighbors' needs, he said.
"My job as alderman is to make sure that residents know when something goes wrong in their everyday life, that my office is there to serve them," Comer said. "It shouldn't be something they have to keep following up with."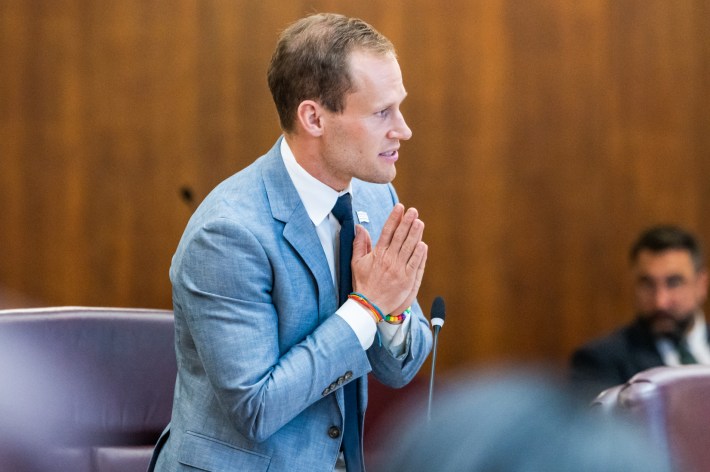 Timmy Knudsen
At 32, Knudsen is City Council's youngest alderman. He's also the first openly gay representative of the 43rd Ward.
Knudsen was a partner at Croke Fairchild Morgan & Beres before he was appointed alderman. He has counseled startup companies, founders and their investors, according to Lightfoot's office.
Knudsen also founded the pro-bono practice at his law firm, which represents LGBTQ asylum seekers in Chicago and Tijuana, Mexico. He's given legal services to more than 40 asylum seekers through this work, he said.
Citing public safety as one of the top issues affecting Chicago, Knudsen's first move as alderman was to reallocate his office's menu dollars to fund more security cameras and license plate readers across the ward.
"These cameras are great deterrents, and they're great eyes on the beat when there's not enough officers to fill our beats," Knudsen said. "They're also incredible for collecting data."
Knudsen also plans to work with the new 18th and 19th district police councils to bring more officers back to the area, he said.
"I think these police district councilors are going to be an incredible asset to the ward office in brainstorming and promoting safety from the community level," Knudsen said.
Knudsen said he supports a multi-pronged approach to addressing crime that includes reorganizing the budget to better invest in the South and West sides in addition to North Side neighborhoods like Lincoln Park, Old Town and the Gold Coast.
Knudsen has highlighted "fiscal responsibility" as his No. 2 focus in the ward, emphasizing that he supported the city's latest budget, which "invests in our priorities like public safety and makes an advance pension payment — all without a property tax increase."
To improve constituent services, Knudsen has started implementing technology that he hopes will help his office respond to 311 calls more efficiently.
Other issues important to Knudsen include fundamental rights, he said.
Knudsen also knocked on doors in 2017 to rally support for House Bill 40, which protects access to abortion in Illinois, Knudsen said.
"It's not a small thing that I'm the first gay alderman in the ward, and I know how that happened," Knudsen said. "It happened because of my experience and the past door-knocking on issues like that to protect a woman's right to chose."
With several City Council members leaving office, Knudsen said he sees an opportunity to build coalitions with other freshman alderpeople to bring a new approach to solving the city's problems.
"My goal is to work together with new-housers who want to be pragmatic and get things done," Knudsen said. "It's been fun to do that with the other appointees and bring in an approach that is truly fresh."
Subscribe to Block Club Chicago, an independent, 501(c)(3), journalist-run newsroom. Every dime we make funds reporting from Chicago's neighborhoods.
Click here to support Block Club with a tax-deductible donation. 
Thanks for subscribing to Block Club Chicago, an independent, 501(c)(3), journalist-run newsroom. Every dime we make funds reporting from Chicago's neighborhoods. Click here to support Block Club with a tax-deductible donation.
Listen to "The Ballot: A Block Club Chicago Podcast":