NEAR WEST SIDE — It took Laura Donaldson four attempts and several years to find a Chicago Housing Authority apartment, finally moving into a place on the site of the former Addams, Brooks, Loomis and Abbott Homes in 2016.
Now, Donaldson and other neighbors want the federal government to block a deal to hand over CHA land at the site for a Chicago Fire soccer training facility and preserve the land for its intended purpose: creating more public housing.
About a dozen neighbors protested Wednesday outside the Chicago office of the Department of Housing and Urban Development, blasting the federal agency's lack of action as the city moves to lease 24 acres of public land to the pro team owned by billionaire Joe Mansueto.
The area, which is part of Addams/Medill Park, is bounded by Roosevelt Road, Ashland Avenue, 14th Street and Loomis Street.
City Council approved the deal to lease the land to the team in September despite pushback from some alderpeople and affordable housing activists. The exact terms of the deal have been shrouded in secrecy as housing authority leaders refuse to disclose details until after the feds approve the deal. Officials have told alderpeople the team would pay $8 million upfront for the land, plus up to $800,000 a year for 40 or more years.
City housing officials previously said they are seeking approval from Housing and Urban Development to finalize the agreement.
RELATED: This Land Was Promised For Housing. Instead It's Going To A Pro Soccer Team Owned By A Billionaire.
Don Washington, the executive director of the Chicago Housing Initiative, said at Wednesday's news conference it's the U.S. Department of Housing and Urban Development's job to ensure CHA is using its land properly and building long-promised apartments for low-income residents.
"It's public land to house people, not make profit for the city," Washington said. "I thought turning Black people and Brown people into cash was done, but clearly it is not. HUD has an obligation to do its job and protect people's rights to live on the land that they were promised."
A Housing and Urban Development spokesperson didn't respond to requests for comment.
A 2022 ProPublica investigation by Mick Dumke found Housing and Urban Development hasn't blocked a public housing land deal in Chicago in the past decade.
RELATED: The Chicago Housing Authority Keeps Giving Up Valuable Land While HUD Rubber-Stamps The Deals
Most of the former Addams, Brooks, Loomis and Abbott Homes — also known as ABLA Homes — were demolished in 2007. At the time, the city's housing agency vowed to create more than 2,400 units of improved affordable and mixed-use housing, partially for displaced residents.
But most of that housing was never built, and much of the site has since been used as part of Addams/Medill Park. The plan to now set aside the land for a private sports franchise has drawn criticism from community members and housing activists.
Donaldson said it shouldn't be such a struggle for people, especially those with disabilities like her, to find housing. The CHA needs to fulfill its commitment to build "accessible, affordable, integrated" apartments, she said.
"It should not take a person with disabilities that long to get housing," she said. "When I first started looking for housing, I was pregnant with my daughter. She's now turning 31 years old. That's too long to be waiting for housing."
Officials have said they conducted a community input process to hear what nearby residents thought of the Fire proposal, but Donaldson said she and many of her neighbors were never approached.
"If you don't know what to do with the housing for us, ask us," she said. "We are here. We can speak for ourselves. We should not suffer because you don't know how to come to us."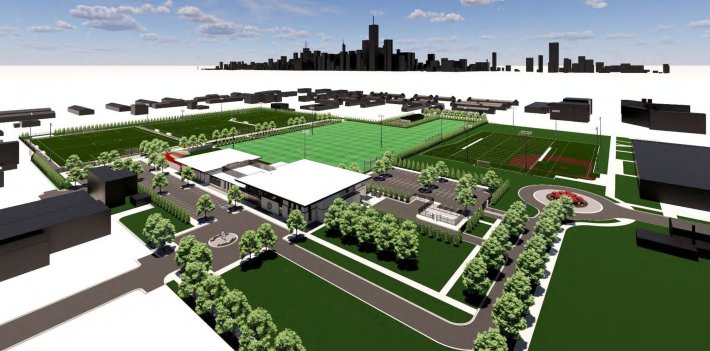 The proposal for the Fire complex includes a 50,000-square-foot, two-story headquarters for locker rooms, training and office space, as well as five and a half soccer fields and 150 parking spaces. An inflatable bubble over one of the fields would be installed for winter, officials said.
Fire officials have also discussed starting a youth mentorship program and an after-school soccer training academy.
City officials — including Mayor Lori Lightfoot, the local alderman and CHA Chief Executive Tracey Scott — have supported the project, claiming it will bring in additional funds for the CHA to built and improve housing and provide economic stimulation to the area.
Critics of the project have said the supposed economic benefits don't outweigh the loss of land that was intended for public housing. 
The proposed Chicago Fire facility isn't the only project on the Addams, Brooks, Loomis and Abbott Homes sites.
In September, officials held a groundbreaking ceremony for the National Public Housing Museum, a project that's been in the works for 15 years to renovate the last remaining building from Jane Addams Home at 1322 W. Taylor St. It's expected to open this fall.
The museum will use oral histories, art, photography and more to preserve the stories to come out of public housing in Chicago, reshaping the narrative of what public housing is and inform ingpresent discussion on housing policies, museum leaders have said.
It will also have 15 mixed-income apartments from a partnership with the city housing agency and developer Related Midwest.
And in January, construction began on the next phase of the Roosevelt Square development — building 222 apartments and upgrading 184 affordable apartments on former Addams, Brooks, Loomis and Abbott land. The new apartments will be in three mid-rise buildings at 1002 S. Racine Ave., 1257 W. Roosevelt Road and 1357 W. Roosevelt Road with studios to three-bedroom apartments.
This project phase is expected to wrap by 2024.
Listen to "It's All Good: A Block Club Chicago Podcast":