O'HARE — Denise, who is homeless, said she has slept at O'Hare Airport only when she's had to this winter.
"Everything is just so clean and warm compared to the shelters," Denise said. "The airport is the safest place."
About two weeks ago, Denise spent the night at O'Hare, trying to escape freezing cold. The next morning the airport was "swarmed with police officers," she said.
An officer asked Denise if she had a flight ticket — she didn't — and escorted her to the airport's Blue Line stop, she said.
"They told me I had to leave and that they won't let me back in," Denise said. "I asked them where I could go. They said, 'It's not our problem.'"
Mayor Lori Lightfoot vowed in mid-February to take action to "move people out" of O'Hare as homelessness at the airport made national headlines. Now, the terminals have been "flushed out," an employee at O'Hare said Tuesday.
And it seems like there are more police officers at the airport in recent weeks, several O'Hare employees said.
On Tuesday, teams of five or more officers patrolled as passengers moved into the airport from the Blue Line stop. Officers stood by the turnstiles and gave directions to people who approached them.
No people experiencing homelessness were in sight.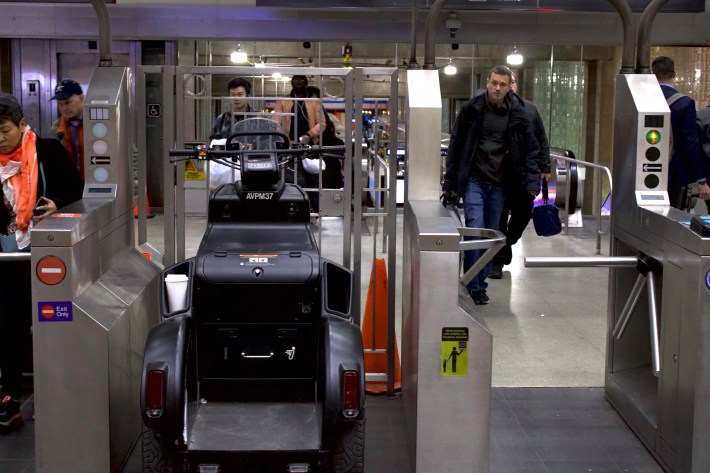 A police spokesperson said in a statement the department's airport unit has "added additional resources" and is "paying special attention" to baggage claim areas as part of new cross-agency efforts to "address the population of unsheltered individuals at O'Hare."
There are now overnight security checks at the O'Hare Blue Line station, with CTA customers arriving between 10 p.m. and 4 a.m. asked to show a boarding pass or employee badge, an aviation department spokesperson said in a statement.
Aviation department "security personnel work with the Chicago Police Department to enforce existing laws, which make clear that it is unlawful to be at Chicago's airports without any airport business," the aviation spokesperson said in the statement.
O'Hare does not allow people to be at the airport unless they are flying or work at the airport. But people who have stayed there previously told Block Club there was an "unspoken rule" that you would be unbothered if you kept to yourself.
But an O'Hare employee said officers now occasionally stop people to ask where they are going. The airport has been "cleaner and safer for everybody," she said.
"There's less people harassing me when I come to work. I was getting sweared at regularly before," the employee said. "You don't see people roaming around anymore. Hopefully they're being helped elsewhere."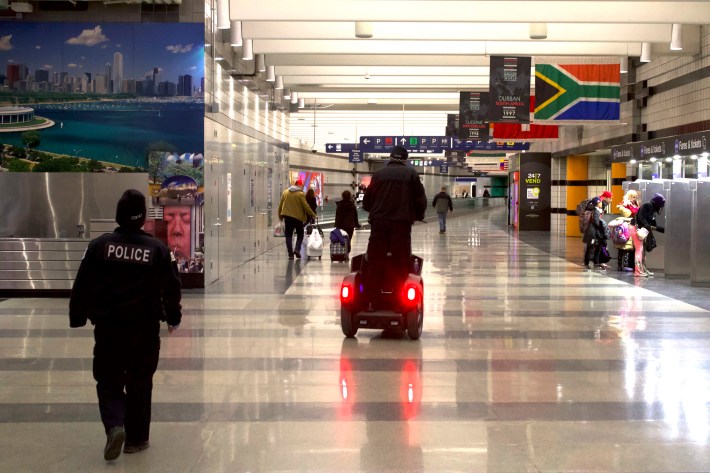 But housing activists say the enforcement change has criminalized struggling people and taken away a reliable refuge.
Monica Dillon, who runs The Northwest Side Homeless Outreach volunteer group, said shelter infrastructure around O'Hare is already limited. For many who use the airport, "I don't know where else to tell them to go," she said.
"Word of mouth has spread, and people know it's not a good time to go to the airport," Dillon said. "It's not welcoming there right now."
Dillion said political pressure resulted in "abrupt and disruptive" changes for the city's most vulnerable population.
"During election time, they wanted to change the optics," Dillon said. "The airport having homeless people there, for them it looked bad for the city."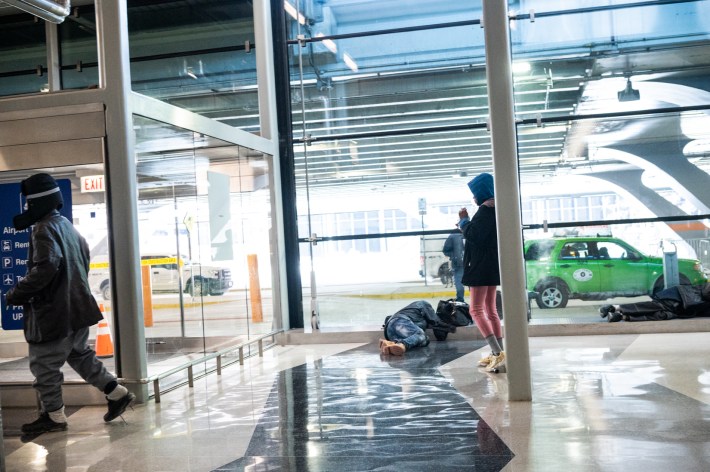 Other workers at the airport were confused by how people staying at the airport disappeared "what felt like overnight," said Michael Kozielek, who refills vending machines.
During the winter's "peak season," there could be dozens of people sleeping in the airport on any given day, Kozeilek said.
"But in the last few weeks, there's honestly been none," Kozielek said. "It being flushed out has not been typical. Somehow they got them all out of here. It's a big mystery how and where they went."
A pilot working out of O'Hare said there's "always a been a decent police presence" at the airport, though in recent weeks he's noticed heavier patrols from CTA private security on the Blue Line platform.
A CTA spokesperson said in a statement the agency increased security presence at the station when it resumed 24-hour service there recently. More outreach workers have been added to the transit system this year, the spokesperson said.
Haymarket Center's O'Hare outreach program, a nonprofit with an office by the Blue Line stop to connect people to social services, did not answer requests for comment.
Officials at Haymarket previously told Block Club they've been busier assisting people seeking shelter at O'Hare. Homelessness in the city has worsened since the pandemic, forcing more people to seek refuge in public spaces, advocates and experts said.
Doug Schenkelberg, executive director of the Chicago Coalition of the Homeless, said O'Hare has been "the place to go when given bad options."
The "crackdown" at the "gateway to the city" is concerning, Schenkelberg said.
"You don't address homelessness by getting people experiencing it out of the line of sight," Schenkelberg said. "We're falling back to reactionary approaches."
Schenkelberg and Dillon said Lightfoot has underdelivered on promises to combat homelessness, with more people now in need of help while the city still lacks affordable and permanent housing.
The Mayor's Office did not immediately respond to a request for comment.
Denise said some people sleeping at O'Hare struggle with substance abuse and can cause problems, like public urination and throwing garbage. But the shelters are even less sanitary, and Denise was robbed near one recently, she said.
"It's sad how the city handles the homeless," Denise said. "It's sad wherever you try to go."
Listen to "It's All Good: A Block Club Chicago Podcast":