HUMBOLDT PARK — Several low-income people who receive health care from a safety-net hospital in Humboldt Park went without crucial services last week after the hospital locked out clinicians over a personnel dispute, according to a lawsuit.
Local health care provider Aunt Martha's has run a clinic out of Humboldt Park Health at 1044 N. Francisco Ave., formerly Norwegian American Hospital, since late 2020. Aunt Martha's offers a range of health care services, from pediatric care to dentistry, to mostly low-income people.
Last week, Aunt Martha's staff was barred from entering the Humboldt Park Health clinic they operate, an eviction the provider's leader said happened shortly after they reported a physician for acting inappropriately with a patient, according to the lawsuit, filed Feb. 27 in Cook County Circuit Court.
Many appointments had to be canceled, and nearly 200 patients didn't receive care because of the week-long eviction, Aunt Martha's officials said.
Judge Allen Price Walker ordered Humboldt Park Health on Tuesday to allow Aunt Martha's to serve patients through the end of April, effectively reversing the eviction.
Aunt Martha's plans to find a new home in Humboldt Park after the legal fight, said Jessica Cummings, chief legal and administrative officer for the provider.
"We are very happy that we are able to continue operating the clinic with the hospital," Cummings said. "We know that our patients rely on us for high-quality medical care, and we're able to go back in there and serve them and provide those services they need and deserve.
"This is about our patients. Not having the ability to be there all of last week and serve them, that is really why we took the steps that we took."
In a written statement after this story was published, Humboldt Park Health spokeswoman Sofia McDowell said the organization's "foremost focus" during the closure was "to ensure there [was] no disruption whatsoever to access to care and quality and safety of patient care."
Move To Reinstate Physician 'Unacceptable,' Provider Says
The conflict between Humboldt Park Health and Aunt Martha's started with an incident involving a physician and a patient, according to the lawsuit.
A young, Spanish-speaking woman went to the Aunt Martha's clinic in September seeking "family planning services," the lawsuit said. Aunt Martha's cannot disclose specifics, citing patient confidentiality.
A medical resident told the woman, who is uninsured, the service couldn't be performed at the clinic, but she could get treatment at Humboldt Park Health for nearly $1,000, according to the lawsuit.
When the woman said she couldn't afford that, the physician said he'd personally help her pay for the service, then asked for her phone number so they could meet outside the clinic, according to the lawsuit.
The physician — employed by Humboldt Park Health — invited the woman into his car after confirming she was an adult, according to the lawsuit. He drove them to a nearby bank before offering to take her home, but she declined the offer and got out of the car, according to the lawsuit.
The woman filed a complaint about the incident, triggering an investigation.
The physician initially denied the incident occurred, but when confronted with evidence and video surveillance, he admitted to meeting the patient outside the clinic and driving her to a nearby bank to facilitate under-the-table services, according to the lawsuit.
Aunt Martha's officials pushed for the physician to be fired in the wake of the investigation, but Humboldt Park leaders decided to keep him on staff, saying he understood what he did was wrong, Aunt Martha's officials said.
Humboldt Park Health's attorney also "felt that discharging him from his residency would negatively impact his future and that he deserved another chance to continue in the program," according to the lawsuit.
Strongly against that decision, Aunt Martha's officials started the process of ending their partnership with Humboldt Park Health, including settling financial obligations, Aunt Martha's officials said.
The identity of the physician involved or whether he is still on staff was not immediately clear.
McDowell, the Humboldt Park Health spokesperson, didn't answer specific questions about the physician, but in a statement said the hospital's residency training initiative is a "highly successful program boasting a diverse group of medical residents that are deeply committed to health equity" and has received "numerous recognitions."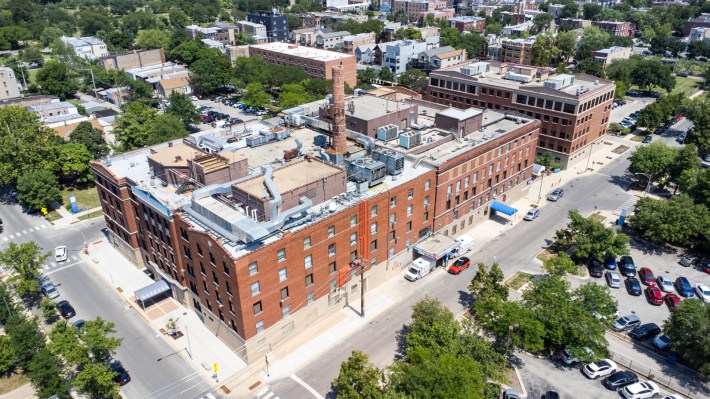 The clash came to a head Feb. 24, when Aunt Martha's received an eviction notice from Humboldt Park Health via email, locking out all employees effective immediately. Cummings said there was no reason given and Aunt Martha's hadn't violated terms of the lease.
"All patients have a right to access essential health care services without the threat of a physician attempting to take advantage of them," Cummings said.
"When we learned this doctor would be fully reinstated, even after he admitted to acting inappropriately with a patient, we made clear this was unacceptable. We never expected that Humboldt Park Health would abruptly lock us out of our facility and effectively cut off our patients from the vital health care services they need, simply because we stood up for what is right."
The Humboldt Park Health Aunt Martha's clinic was back up and running Tuesday afternoon following the judge's ruling.
Founded in 1972, Aunt Martha's serves more than 125,000 children and adults at 25 health centers across the state, according to the provider. Of its 300,000 patient visits last year, 96 percent were low-income and 31 percent were uninsured.
Cummings said the organization is working on finding a new home, but there is no timetable in place because they need federal approval to relocate.
Listen to "It's All Good: A Block Club Chicago Podcast":