This story has been updated.
DOWNTOWN — Special events will dominate Grant Park this summer, with the controversial NASCAR race able to take up at least part of the park for nearly six weeks for its inaugural Chicago race, new records show.
Grant Park will be booked 84 days between May 18 and Aug. 13 for setting up, hosting and teardown for events, according to Park District records obtained by Block Club Chicago. Nearly half of those 84 days will be dedicated to preparing, running and cleaning up the July 1-2 NASCAR race.
Reports from Crain's last summer forecasted a two-week takeover of the park for the race. Then, August records showed the city extended organizers' access to the site to 21 days before the race and 10 days after, Crain's reported.
Now, race leaders can start setting up 26 days in advance, and they have 13 days to clean up, records show.
Asked why the Park District has given NASCAR 39 days for teardown and setup, spokesperson Michele Lemons said the time allotted for setup does not necessarily mean the entire park will be closed.
The records also show the processes to stage Sueños Music Festival, NASCAR and Lollapalooza will take place nearly back to back, leaving just a handful of days not free of obligations to large, private events.
Taste of Chicago is missing from the park's events calendar. The status of that event, a city tradition normally staged in early July and organized by the city's Department of Cultural Affairs and Special Events, is not clear.
A Park District spokesperson referred questions about the Taste to the events department, where officials did not immediately respond.
Ald. Brendan Reilly did not respond to multiple requests for comment on the status of the Taste.
After Block Club published this story, he told reporters at City Hall that the city planned to hold the Taste on the same weekend as NASCAR, but at Polk Bros Park near Navy Pier instead of Grant Park.
"This was a planning disaster," Reilly told The Daily Line, adding that he requested the schedule be held at this time.
The Grant Park summer events schedule:
Sueños
Setup: May 18-26
Festival: May 27-28
Teardown: May 29-June 1
NASCAR
Setup: June 5-30
Race: July 1-2
Teardown: July 3-July 15
Lollapalooza
Setup: July 17-Aug. 2
Festival: Aug. 3-6
Teardown: Aug. 7-13
It is not immediately clear how much of the park will be open to visitors as organizers prep for the events.
"Set-up and tear-down dates do not necessarily indicate full park closure but may represent dates of staggered and/or intermittent closures of specific park spaces for load-in/out of festival structures," Jennifer Olaya, the Park District's senior counsel, wrote in response to the records request. "The goal is always to maintain as much public access as possible in a safe manner during set-up and tear-down dates."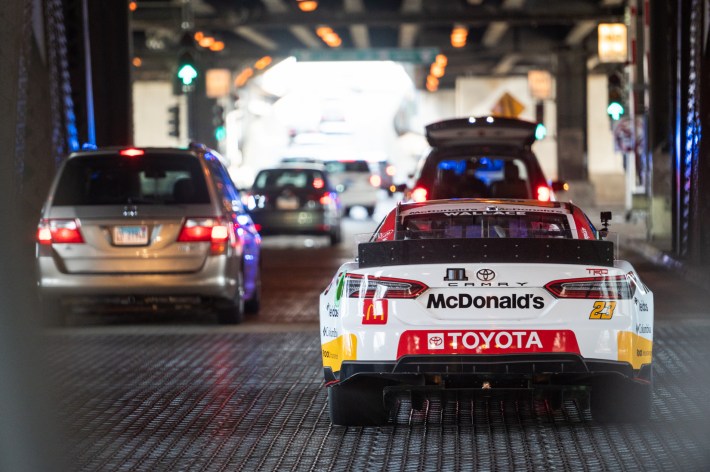 Mayor Lori Lightfoot announced the city's partnership with NASCAR in July, revealing the races will be held Downtown over the next three years on a track starting in Grant Park.
A Crain's report at the time revealed the permit for the event spanned 14 days: June 22-July 5. But more recent Park District records show the setup, teardown and the event itself will take 41 days in Grant Park.
The 2.2-mile-long race track will stretch through DuSable Lake Shore Drive, Columbus Drive, Balbo Drive and Jackson Drive. Drivers will pass through Grant Park and race within blocks of Soldier Field, catching sight of other Chicago landmarks along the way.
Tickets for this year's NASCAR festivities went on sale in February. The two-day event will feature performances from The Chainsmokers, Miranda Lambert, The Black Crowes and Charley Crockett.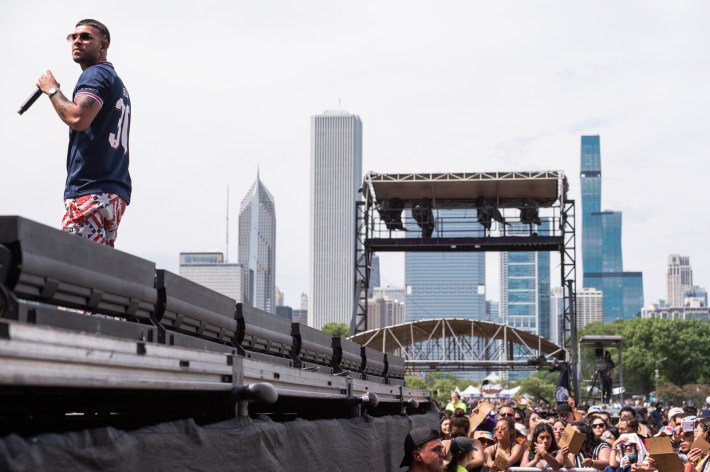 Details about the park's summer schedule come to light as neighbors have criticized the Park District for prioritizing private events over public park space.
West Siders have said summer festivals have essentially taken over Douglass Park. Their organizing over the past few years led to new rules in how the Park District approves major events.
Sueños, NASCAR and Lollapalooza all are under multi-year contracts, but "the permitees are nevertheless still required to follow the permit application process," and no permits have been issued, Park District officials said.
"The Chicago Park District is committed to balancing the needs and interests of all park users," Lemons said in a statement. "When working with event organizers permitted to use Grant Park, the Park District keeps public access top of mind with the goal of maintaining as much public access to the 300-acre park as possible."
The process has seen bumps, though: Belmont Cragin residents were caught off guard in February when Riis Park was announced as the site of a summer festival without their knowledge. Parks officials have denied the show was approved.
Park District officials have vowed to work more closely with neighbors before signing off on mega-fests in community parks, but some residents say the city should build a dedicated festival space.
RELATED: Softball Leagues That Called Grant Park Home For Decades Get Booted Due To NASCAR Deal, Big Music Fests
Local softball leagues recently learned they will not be able to play in Grant Park this summer. Officials cited a summer season filled with events that only made "a couple windows of time" available for a quick tournament or a couple games, but not a full season.
Grant Park has been home to numerous softball leagues and tournaments for more than 80 years, according to the Chicago 16-Inch Softball Hall of Fame.
A Park District spokesperson said in February leaders were "working to balance the needs and interests of all park users."
Tournaments were wildly popular in the '80s, when many industries and city departments had teams and leagues. Now, those leagues are looking to other parks as alternate venues, likely Union Park in the West Loop.
Listen to "It's All Good: A Block Club Chicago Podcast":