WICKER PARK — Politicians and dignitaries unveiled signs Monday to hang along Milwaukee Avenue in honor of the street's central place in many of Chicago's Polish-American communities.
A sign was displayed at the end of an event honoring Revolutionary War hero and Polish soldier Casimir Pulaski, whose namesake holiday was celebrated Monday in Illinois.
Last year, state legislators designated 15 miles of Milwaukee Avenue from West Town to Niles as an official "Polish Heritage Corridor." The bill was introduced by then-Rep. Delia Ramirez and Sen. Cristina Pacione-Zayas and signed into law by Gov. JB Pritzker in June.
Milwaukee Avenue is the main artery of the city's Northwest Side, home to numerous Polish enclaves and communities for more than a century.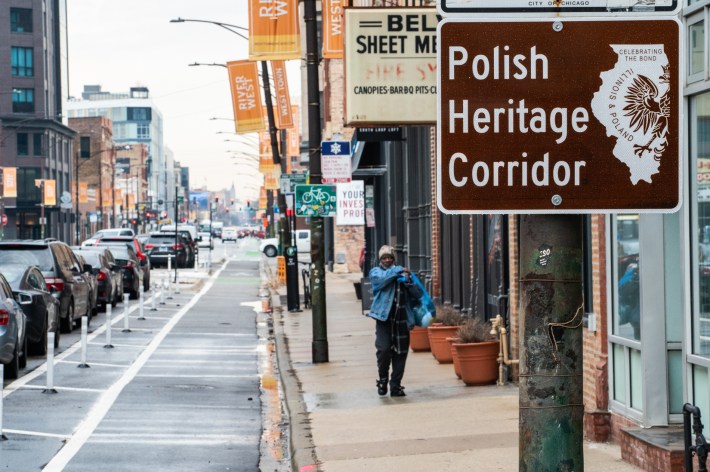 Officials hope the designation will support economic development for Polish and non-Polish businesses.
The signs have been posted at Sangamon Street in West Town and at the corridor's terminus in Niles, although more could be affixed along the route, Pacione-Zayas said.
The heritage designation was spearheaded by Dan Pogorzelski, a Metropolitan Water Reclamation District commissioner and longtime community activist who has worked to celebrate Polish-American history in Wicker Park, Avondale and across the city.
"This is going to be an opportunity for us to be able to continue to preserve culture through economic development, through the arts, and to acknowledge that the Polish community in the city of Chicago continues to be the essence of what we are all about," Ramirez said.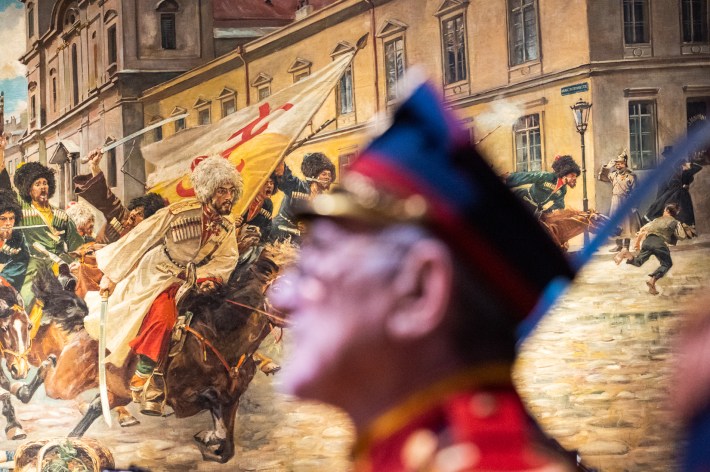 A state holiday since 1986, Pulaski Day honors the Polish soldier who volunteered to fight in the Revolutionary War and was made a brigadier general by George Washington.
Pulaski — known as the "father of the American cavalry" — trained American troops and fought in numerous battles before he was killed at the Siege of Savannah in 1779.
Pulaski has become a hero in Polish-American communities and the namesake for the holiday in Illinois and Pulaski Road, which stretches through the Northwest, West and Southwest sides.
Pulaski Day is "a marriage of two cultures," said Sen. Robert Martwick, a Polish American.
The general sacrificed his life for liberty and democracy, which inspires Martwick's own time in public office, he said.
"He believed in freedom, and he believed in democracy, and he was willing to do whatever it took to bring it about. That is dedication," Martwick said. "How does that apply to our life today? … General Pulaski went to battle and gave his life so that as a consequence of that revolution, that we will be granted the gift of having a revolution every two years without a single drop of blood."
Other officials — including state Comptroller Susana Mendoza, city Treasurer Melissa Conyears-Ervin and Rep. Lindsey LaPointe — spoke between performances of the Polish National Anthem, traditional folk dances and several videos showcasing the Polish American Museum's history and collection.
Cook County Treasurer Maria Pappas jokingly used her time to nominate Pulaski as the third candidate in the upcoming runoff for Chicago mayor.
"Give it some thought. Crime? He grew up, Prussia, Russia, Austria, all right next door. Who would know more about crime than him? And riding through it? Everyone would beware of him," Pappas said. "Imagine his mighty sword just tearing budgets to shreds."
Other speakers focused on Pulaski's fight for democracy in the United States, comparing the general's bravery and values to that of Ukraine in the face of Russia's invasion.
"That's what we celebrate here today: A great general who was a military hero in his country came to help us with our democracy over 200 years ago, just as Poles today are helping to preserve democracy in Ukraine," said Illinois Treasurer Michael Frerichs.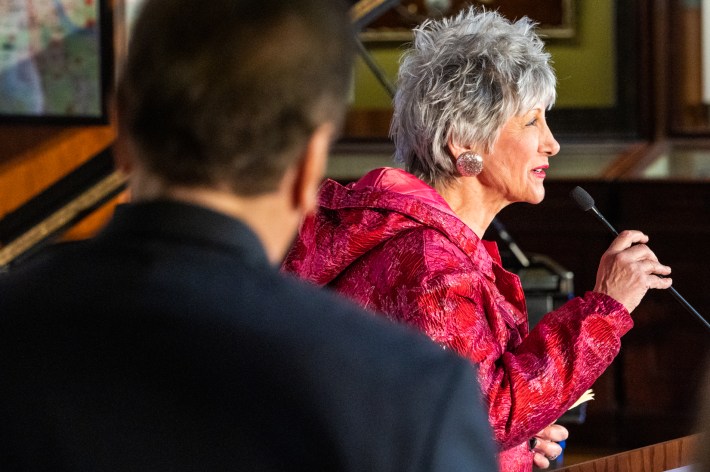 Serhiy Koledov, consul general of Ukraine, thanked Poland for taking in millions of Ukrainian refugees over the past year and providing his country with billions in military and economic aid.
And U.S. Rep. Mike Quigley quoted a letter Pulaski wrote to Washington about how he was drawn to fight in the Revolutionary War because it was "where freedom is being defended. To serve it and to live or die for it."
The same urgency can now be said of the war in Ukraine, where "democracy is at stake," Quigley said.
Pulaski "is more than just the man we honor," Quigley said. "It is that spirit and the language that he wrote to Washington that is at stake today."
Listen to "It's All Good: A Block Club Chicago Podcast":