JEFFERSON PARK — Lori Orlinsky was folding laundry and couldn't find a pair of socks. After Orlinsky wondered out loud where they were, her daughter Ellie gave the answer:
"Well, Mommy, they went to the White Sox game," the then-4-year-old said.
That gave Orlinsky, a Jefferson Park children's book author and writer, the premise for her fourth book, "The Adventures of Lefty and Righty: The Windy City." The book was released last week.
The picture book follows Lefty and Righty, two socks who escape from a dryer in Jefferson Park and head to a Sox game. On their way, they get distracted by all of the "sights and sounds" of Chicago.
With illustrations from retired teacher Kenn Vidro, the book is a "love letter to Chicago" and encourages kids to explore their city, Orlinsky said.
"It's part of my way of giving back to the city that gave me so many memories and opportunities," Orlinky said.
Orlinsky has lived in Chicago since 2005. Her career as an author took off in 2019, and she decided to pursue writing full-time, she said.
"Lefty and Righty" is the first book in a series about the socks' adventures. It features iconic Chicago attractions and cultural norms: hot dogs without ketchup, baseball, the CTA, the Willis Tower, Navy Pier, the Shedd Aquarium and more.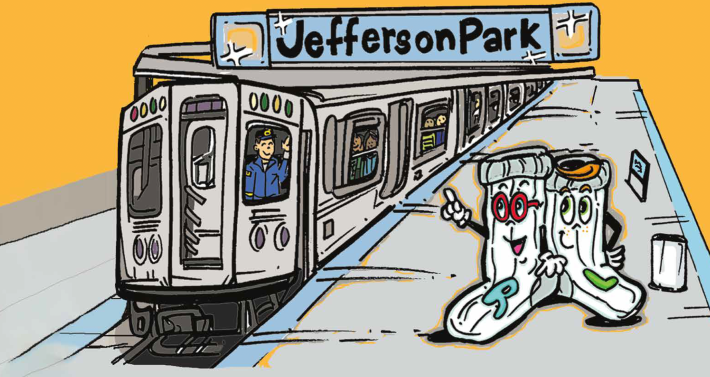 The book was a family effort, Orlinsky said. Her three daughters helped pick the spots Lefty and Righty visited based on their favorite attractions, and they edited the text to simplify the words, she said.
Orlinsky's husband made sure the illustrations of Guaranteed Rate Field and the White Sox scoreboard were perfect, she said.
The family members are some of the few White Sox fans on the Northwest Side, Orlinsky said with a laugh — but baseball families who love the Cubs shouldn't dismiss her book, as the game the socks attend is the Crosstown Classic.
Proceeds will benefit the White Sox Charities, which helps young people with education, literacy, baseball initiatives and more.
"We are huge, rare, avid White Sox fans in our neighborhood," Orlinsky said. "… We thought, what a perfect way to give back by giving back to the White Sox Charities."
"Lefty and Righty," made for children 3-10, will be available inside the team's sensory and nursing rooms for mothers, Orlinsky said.
Orlinsky and her daughters are hosting seven book signings in the city and nearby suburbs, including one April 16 at Guaranteed Rate Field.
The family is not new to giving back. One of Orlinsky's daughters, Hayley, now 10, raised $55,000 for Lurie Children's Hospital by selling handmade bracelets.
Orlinksy's first book, "Being Small (Isn't So Bad After All)," went viral in part because of Hayley's bracelet project, which garnered national media attention and praise from high-ranking politicians and actors.
"Lefty and Righty" will be sold at local Barnes & Noble bookstores, Amazon and other Chicago bookstores.
Orlinsky said she hopes the book inspires Chicago learning in a fun way and reaches kids outside of the city.
"I hope this book will encourage kids who live in the Midwest to come to the city," she said.
Listen to "It's All Good: A Block Club Chicago Podcast":