SOUTH SHORE — South Shore neighbors are donating money to support a community gardener, healer and activist who recently broke her wrist in a fall.
Dianne "Netsa" Hodges, leader of the South Merrill Community Garden, fell Feb. 14 at the Bryn Mawr Metra stop as she tried to catch a train, she said. She fractured two bones, temporarily sidelining her from her many projects on her Merrill Avenue block and in the South Shore community.
Hodges, 74, has received hospital care as doctors attempt to heal the fractures — including a treatment to stretch her limbs, which makes her look like she's connected to the Matrix, she said.
Rita Stewart, Hodges' mentee and neighbor, started a GoFundMe shortly after the accident to raise $5,000 for alternative health care, "high-nutrition foods," vitamins and supplements not covered by insurance to complement Hodges' hospital care, Stewart said.
Hodges will use the money raised to pay for sessions at the Totally U Healing Spa, a frequency- and energy-based center in suburban Bolingbrook.
"I've been in this dynamic of healing and energy work for about 50 years," Hodges said. "That's what gave me the energy to work on transforming a block that was called Murder Merrill."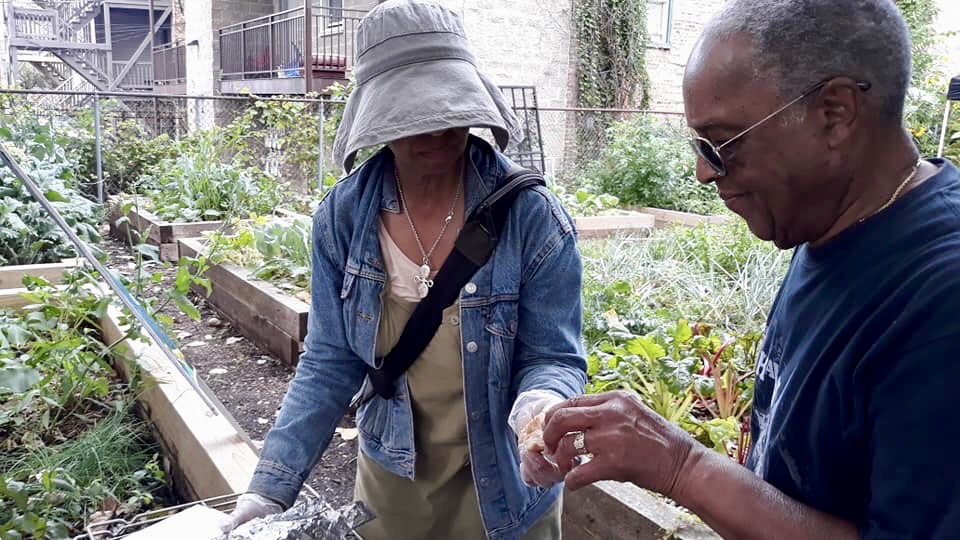 The South Merrill Community Garden, Hodges' primary project in the 7000 block of Merrill Avenue, is more than just a space for neighbors to exercise their green thumbs.
Last year, the spot hosted a free jazz series, poetry readings and other cultural events alongside programs for youth and older people and public safety initiatives.
The garden recently got a $22,000 city grant to build a retractable sunshade as part of a larger redesign, Hodges said. The GoFundMe won't be used toward the garden's upkeep, as Hodges is "very protective of the garden" and wants to keep it separate from her personal needs, she said.
"I hate being broken down like this," Hodges said. "But [the injury] has allowed me to sit back, reflect, refresh and renew myself and get myself prepared to go back out there."
Hodges hopes to be fully recovered by May. She plans to get more kids and parents at O'Keeffe School of Excellence — one block north the South Merrill Community Garden — involved with the garden this year, she said.
To get involved with the South Merrill Community Garden, visit the garden's Facebook page. Organizers are looking for help as they prepare for spring plantings and the Sunny Merrill Sunflower Parade on May 13, Hodges said.
The garden is next to the Genesis Cooperative, where Hodges lives and is a shareholder.
Hodges worked to create a public community room at the Genesis co-op. With her neighbors' help, she's established a 1,000-foot "safety zone" around O'Keeffe with volunteers standing watch on the corner every week and has advocated for improved internet access in the community.
Hodges and her neighbors have also partnered with the childhood healing nonprofit Lawrence Hall to open a satellite youth center east of Jeffery Boulevard. The space is for local kids who don't feel safe crossing Jeffery to visit Lawrence Hall's main campus amid neighborhood violence and conflict, she said.
"It's important to have these satellites — these places where people can get help — around the corner from their home, where they're not going to go a distance to get assistance," Hodges said.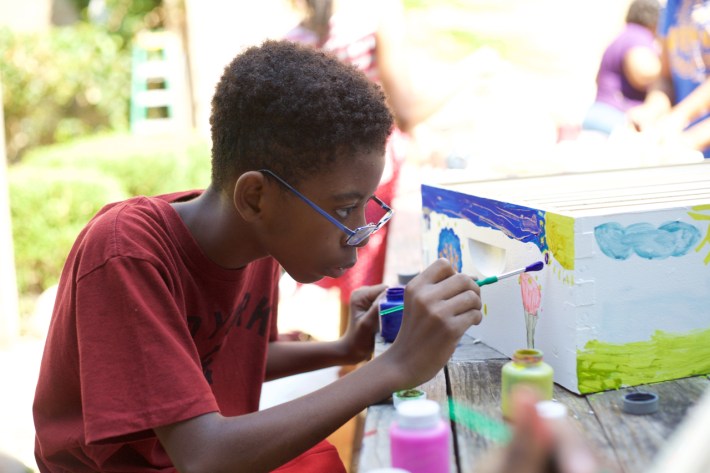 Stewart, a life coach and a Genesis Cooperative tenant, organized the fundraiser for Hodges. Stewart has been "moved to tears" by Hodges' plentiful efforts to make a difference in the community, and she wanted to pour back into Hodges what she's poured into the neighborhood, Stewart said.
"Dianne has given so much of her energy to the wellbeing of the community," Stewart said. "We forget that when people are giving up energy, they're also in need of energy."
During Stewart's two years in South Shore, Hodges has "become my mentor and [schooled] me in what activism looks like and what a changemaker is," Stewart said. Hodges has also been Stewart's connection to a "community of healers, nurturers and visionaries" in the neighborhood, she said.
"She's really committed to making a change here," Stewart said. "We can get her strong and keep her focused here inside of South Shore. … We can help her get what she needs and feel safe while she does it."
Listen to "It's All Good: A Block Club Chicago Podcast":