LINCOLN SQUARE — Two ordinances aimed at making the city's streets safer for bicyclists, pedestrians and commuters won key approval from aldermen Friday. 
The Smart Streets Pilot Program ordinance would use cameras on city vehicles and other infrastructure to identify drivers parked illegally in bike lanes, bus lanes and loading zones, and mail them a ticket. 
The pilot would last two years and include portions of the 1st, 2nd, 4th, 27th, 28th, 34th, 42nd and 43rd wards. Mayor Lori Lightfoot and several alderpeople proposed the ordinance in January. 
The other ordinance would require the city's department of transportation to incorporate upgraded infrastructure for pedestrians, bicyclists and transit users when redesigning and reconstructing roads.
If passed, the transportation department would also need to create design guidelines standardizing the pedestrian-, bike- and transit-friendly infrastructure, and provide annual updates to City Council on the type and location of improvements underway. 
Ald. Matt Martin (47th) first introduced that measure last year. A revised version submitted Friday included Alds. Daniel La Spata (1st) and Rossana Rodriguez-Sanchez (33rd) as co-sponsors.
"We've had a very productive working relationship with CDOT, as it pertains to arterial resurfacing that are actively underway in terms of design. So I think in a lot of ways, this codifies how CDOT has been approaching redesigns for these major street improvements," Martin told Block Club ahead of the meeting.
The ordinances come as alderpeople and transportation advocates increasingly push for safer roads for everyone who uses them.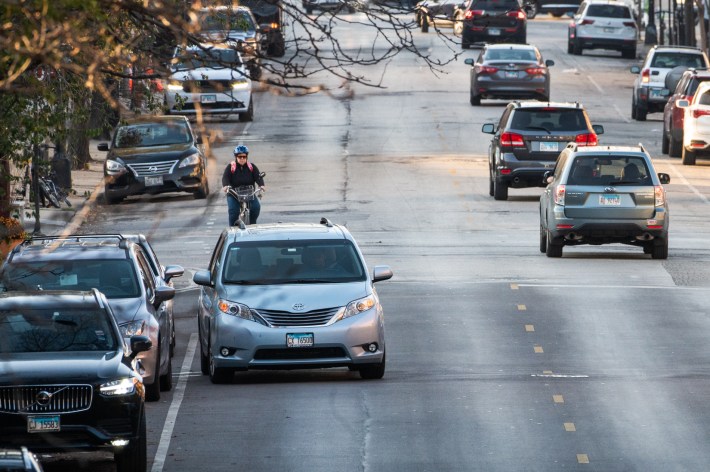 Several bicyclists and pedestrians were killed in crashes in 2022, including multiple children. There have been 50 reported crashes, three of them fatal, along Milwaukee Avenue's busy bike lane since 2020, Block Club and the Illinois Answers Project reported.
Henry Cardenas, attended Friday's virtual meeting and urged aldermen to support Martin's safety measure. His 2-year-old son, Rafi Cardenas, was killed by a driver last year while he was riding a scooter in Lincoln Square. 
"If we solely rely on drivers to make safe decisions on the road, we are going to continue to hear harrowing stories from broken families, as you just heard today," Cardenas says. "We need infrastructure that prioritizes pedestrians over the convenience of drivers."
Ald. David Moore (17th) supported both measures but raised concerns about the camera program expanding too quickly to the entire city, saying "It's not a one size fits all." Before the pilot is considered for a citywide expansion, he'd prefer it go back to City Council for review, he said. 
In contrast, Ald. Andre Vasquez (40th) asked if the Smart Streets measure could be brought to his ward before the pilot program is over and was told by the law department that could happen if there are studies available to justify the expansion. 
Rodriguez-Sanchez also asked for more support from the Department of Transportation and related city agencies to help educate neighbors about the new rules if the Smart Streets measure passes because aldermanic offices have limited budgets. Tom Carney, first deputy commissioner of the department, said they recently hired a new staff member focused on community outreach who would collaborate with aldermen on education of the new law.
The council's Committee on Pedestrian and Traffic Safety unanimously passed both measures Friday. The full City Council is expected to vote on both at their March 15 meeting.
Listen to "It's All Good: A Block Club Chicago Podcast":