PORTAGE PARK — Johan Balaguera wears his culture on his arm — literally.
A tattoo on his right inner forearm depicts a coffee plant with its beans being ground and poured into a cup, representing the plant of his motherland, Colombia. The plant show his cultural roots, while the beans — which are ground and processed in the U.S. — honor his home, he said.
Balaguera's family opened Pizza y Pan Pa'Ya, a Colombian bakery and pizza spot, at 3125 W. Montrose Ave. in Albany Park in 2016.
Now, Balaguera is opening a second location, this time closer to home in Portage Park. The new location at 6344 W. Irving Park Road, called Pan y Pizza Pa'Ya, is part of an unforeseen, yet natural, business expansion, he said.
It opened two weeks ago in the former Al's Pizza spot, which closed last year.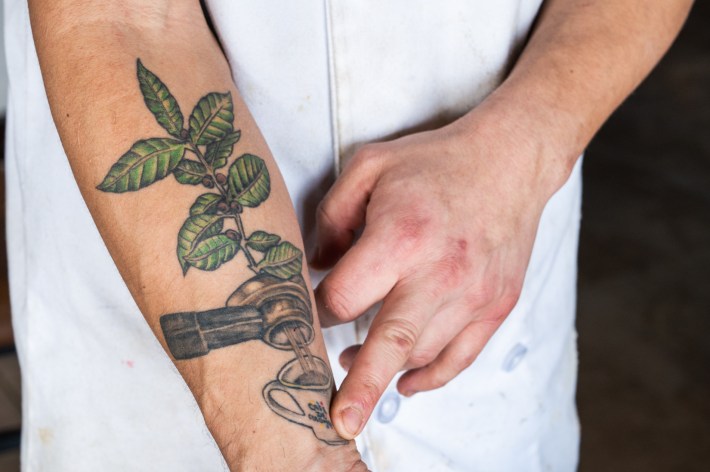 The family-run business is a popular spot for its freshly-made Colombian sweets, bread, fried goodies and deep-dish pizza with a twist. The not-so-secret pizza ingredient is butter in the crust, Balaguera said.
He runs the Portage Park spot along with his parents, who have worked in the industry for decades and inspired him and his brother to join. At the Montrose location, Balaguera's brother and their father, Alfredo, run the place. In Portage Park, Balaguera takes charge with his mother, Olga, by his side.
They are constantly helping each spot run smoothly.
"I am [my brother's] boss here and he is my boss there," the younger brother said with a laugh.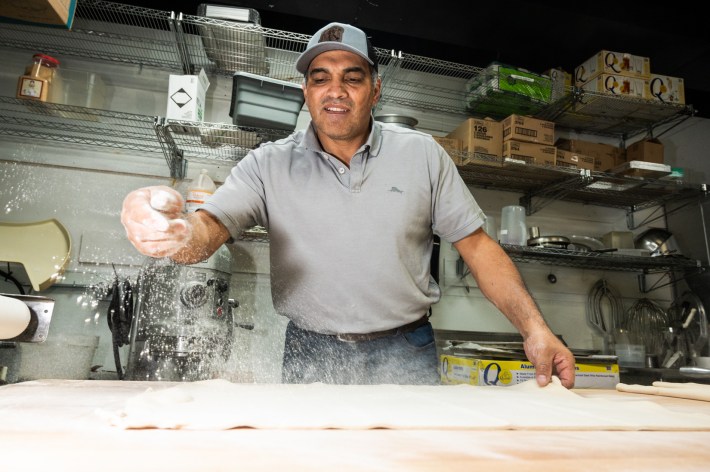 The new location came to fruition somewhat serendipitously. The storefront is on Balaguera's daily drive to the Albany Park location, and after Al's Pizza closed, he eyeballed it, thinking it would be nice to open a second bakery there.
In May, the Albany Park store's landlord reached out to the family with the idea of opening a second location in one of his other properties — which turned out to be the same Portage Park storefront Balaguera had been eyeing, he said.
"As soon as he told me the address, I was like, 'You gotta be kidding me,'" Balaguera said.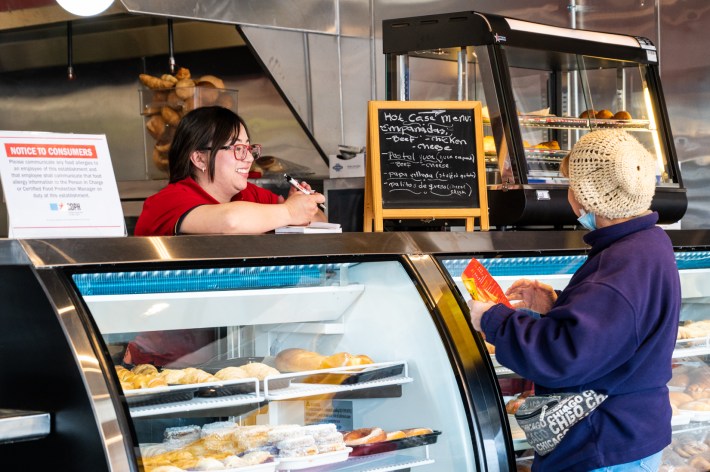 Although the family wasn't looking to open a second location, they'd had discussions about ways to expand their footprint on the Northwest Side and bring in more money, he said. When the Portage Park opportunity fell into their lap, they decided they were "ready to roll," he said.
After about 10 months of remodeling the kitchen, building up a staff and going through city channels to be business ready, Pan y Pizza Pa'Ya's second, larger location has welcomed new and old faces and brought more life to the busy corner, the family said.
"Our customers from the Montrose location that live around the area are the ones bombing us right now," Balaguera said. "We had people that were going once a week over there and almost every day since we opened here … they came ready."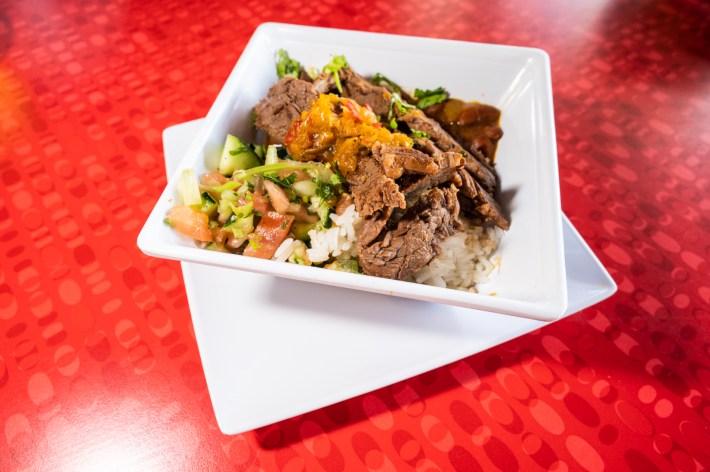 Because of the larger storefront, which has a side dining room for parties and events, the Portage Park spot is able to offer lunch and a wider variety of Colombian pastries and breads compared to Albany Park, Balaguera said.
The expanded menu has new items like more varieties of arepas — a Colombian filled ground maize pancake dish — and a mixto bowl lunch option: white rice, beans and a protein choice, sautéed with vegetables and an oily sauce.
Balaguera, who loves to cook and bake, has been experimenting with new desserts like tiramisu and perfecting the business' pizza menu — adding sweet sauces and toppings cinnamon, caramel and sweet plantains to make their Colombian-style pizza stand out, he said.
"We're already working on getting our pizza known in Chicago, he said.
A small but notable difference between the Pan y Pizza Pa'Ya locations is the store's logo: the Portage Park spot represents a woman farmer from the hills of Colombia, whereas the Albany Park logo is a picture of a man farmer holding deep-dish pizza.
"In the design in you can see there is a folklorish girl and that's my mom and the other one is my dad," Balaguera said. "So we want to immortalize them in something they can represent."
Olga Balaguera, the family matriarch, was humble about the logo and is happy to show her culture to more of the Northwest Side with the new business, she said in Spanish.
"We want to bring some of our culture here and show our people from the farm, not the city of Colombia," Olga Balaguera said. "I am very happy with the support and grateful that the community has accepted us. … I am happy to put our mark here."
The Portage Park location plans to add delivery and online ordering in the coming weeks with DoorDash, UberEats and Toast, the family said.
Even though Johan Balaguera has been working 20-hour shifts at the new restaurant and bakery, he's no longer bummed about waking up at 4 a.m. to open, he said.
"Now I like getting up at 4 a.m. since it's so close to my house and there's great scenery and energy here," he said.
Pan y Pizza Pa'Ya in Portage Park is open 7 a.m.- 9 p.m. everyday.
Listen to "It's All Good: A Block Club Chicago Podcast":