WOODLAWN — South Side community leaders are calling for Black and Brown solidarity in Woodlawn amid the controversial opening of a shelter for asylum seekers and other migrants in a closed elementary school.
Panelists highlighted ongoing efforts to support migrants and longtime Woodlawn residents alike — while urging continued collaboration between the two groups — at a community meeting Thursday hosted by Ald. Jeanette Taylor (20th) at Harris Park, 6200 S. Drexel Ave.
The city's rollout of a shelter for hundreds of migrants at the former Wadsworth Elementary School outraged residents who felt blindsided by the plan. It also inspired residents to help their new neighbors and created tensions and confusion in the community.
A "false idea of scarcity" that's emerged in discussions about the shelter must be resisted, said Fasika Alem, program director for the United African Organization in Washington Park. The city has enough resources to support both the migrants in Wadsworth and longtime Woodlawn neighbors, Alem said.
"Asking a community that is underresourced to take on the burden of supporting people is also a difficult argument to make. [But] we need to address this issue that there is enough," Alem said. "The community is going to support asylum seekers."
To that end, organizers with the #SanctuaryForAll campaign launched in January are running a donation drive for clothes, shoes, toiletries and cleaning supplies.
They'll hand out items "to asylum seekers and long-term residents alike," said Benji Hart, an organizer with Southside Together Organizing for Power. The group organizes working-class Black South Siders around human rights issues.
Donations to the mutual aid effort can be dropped off during regular hours of operation at Taylor's office, 5707 S. Wentworth Ave., and Southside Together Organizing for Power's headquarters, 602 E. 61st St.
RELATED: South Siders Organizing To Help New Migrant Neighbors At School-Turned-Shelter: 'Woodlawn Is A Welcoming Community'
Black Woodlawn residents must see the parallels between their elders' struggles during the Great Migration and the plights of today's asylum seekers and migrants, said panelist Clinton Davis, an attorney and Southside Together Organizing for Power board member.
"Yesterday, we were them. We were migrants seeking refuge and fleeing an oppressive South," Davis said. "At this time, it's kind of disingenuous if we turn our backs and act as if we don't need to support someone who's going through a struggle that's very familiar to us."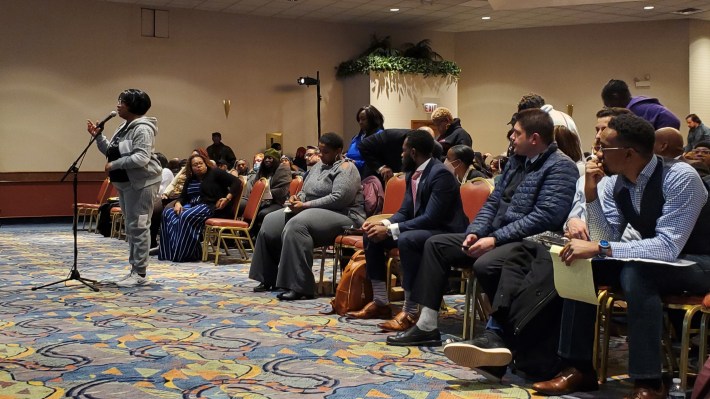 #SanctuaryForAll organizers are also demanding the $1.5 million the city used to renovate the old Wadsworth school into a shelter "be the start of turning the space into a community resource that can be used after the asylum seekers leave."
Organizers also want the city to fund economic development, affordable housing, multilingual education and other programs in Woodlawn, as the Wadsworth shelter rollout "proves that Mayor Lightfoot has the resources to house, feed and care for all of Chicago's residents," they said.
Xanat Sobrevilla, an organizer with Organized Communities Against Deportation, encouraged Woodlawn residents to continue making demands of local leaders — and showing solidarity with neighbors new and old until their demands are met.
"It's about making sure that our demands are to the wealthy, to the people holding the resources and making sure that we get to receive and thrive as individuals," Sobrevilla said. "… It's a collective liberation that we seek as people — Black, Brown, poor people."
Taylor has made numerous demands of the city relating to housing, immigration, economic development and other issues in response to the city's plans for Wadsworth.
They include a $5 million fund to help community organizations in the ward develop long-term plans for helping shelter residents, a pledge that the increased police presence for the shelter would not lead to more tickets or traffic stops in the community, and a community-led process for renovating other vacant schools in the ward, among others.
Taylor intends to "make the city keep their word" and be responsive to Woodlawn residents' needs and concerns now that the shelter is open, the alderwoman said.
As the #SanctuaryForAll effort continues, volunteers and faith groups with the Chicago 4 All initiative are also organizing to bring migrants material, emotional and spiritual resources.
Bilingual, nondenominational services are held through Chicago 4 All every Saturday at Concord Missionary Baptist Church, 6319 S. Kimbark Ave.
Twenty-three migrants participated in a recent service and received care packages, clothing and other resources, said Christine Riley, director of homeless services with the city's Department of Family and Support Services.
Chicago 4 All volunteers are gathering hygiene products, washcloths and other goods that can be used to assemble care packages. Organizers are also accepting cash donations. For more information, email info@chicago4all.org.
About 250 residents were housed in the former school as of Thursday, including includes 216 men and 31 women, Riley said.
The next meeting on the Wadsworth shelter will be held virtually March 22.
Listen to "It's All Good: A Block Club Chicago Podcast":