EAST SIDE — Paintings, sculptures and other artwork created by women are the focus of an exhibition started by a Southeast Side textile artist, which is returning after a pandemic hiatus.
A free opening reception for the exhibition, titled "Sharing the Spirit of Women in the Arts," is 1-4 p.m. Saturday at Under the Bridge Studios, 10052 S. Ewing Ave. in East Side.
An array of established artists, teens who have never shown in a gallery before, street artists, formally trained painters, art therapists and more will be featured in the exhibition, organizer Maria Villarreal said.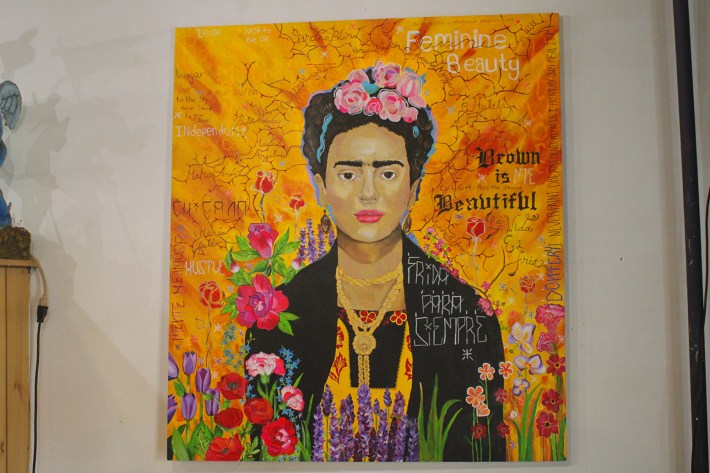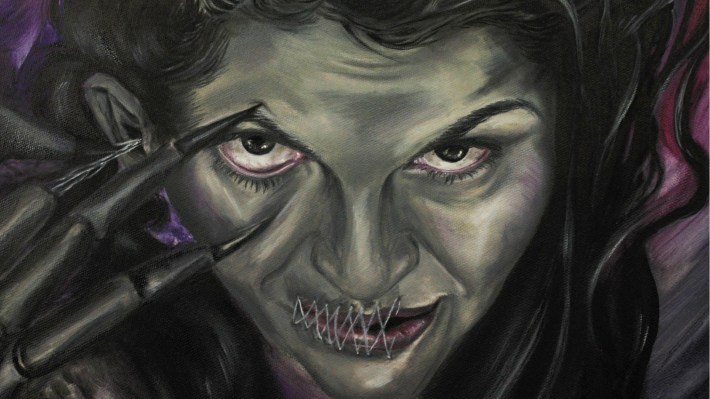 Many of the women on display "took the word 'spirit' to heart" and reflected their deep emotions, femininity, cultures and inspirations in their pieces, Villarreal said.
Featured artists include surrealist Claudia Charo, teen artist Samantha Vega and Villarreal, who contributed textile piece "Hope" to the show.
After this weekend, the exhibition is open to the public 1-3 p.m. Saturdays through March, which is Women's History Month.
Several artisan vendors will sell their creations at a March 18 event as part of the exhibition, while some pieces in the show are for sale by request.
Villarreal's show coincides with another exhibition of women artists at the neighboring Buena Vista Projects, a new gallery and studio at 10056 S. Ewing Ave. "When I Die, Remember Me" opens 1-7 p.m. Saturday and runs through April 1.
Local artists like Liz Born, of Hoofprint Workshops, and Amanda Joy Calobrisi, a professor at the School of the Art Institute of Chicago, share space with artists like East Coast-based Kathleen Judge.
"Each artist here is really unique and really powerful," artist and founder John Salhus said.
The women's exhibition is one of two shows Villarreal regularly organizes at Under the Bridge, alongside an annual show for Día de los Muertos. She runs the gallery with her husband, prolific urban artist Roman Villarreal.
Sharing the Spirit offers a needed platform for women at all stages in their careers, Villarreal said.
About half of the artists are women Villarreal is friends with and worked with in the past, while everyone else — like Vega, a young artist with whom Villarreal connected through SkyART in South Chicago — are "all new to me," she said.
"A lot of women, we don't get enough show — at least out on the South Side," Villarreal said. "I want to bring that [energy of], 'Hey, you are somebody. Give me your work. Don't judge yourself.'"
Under the Bridge's collaboration with Buena Vista Projects is the second between the next-door neighbors. They worked together on November's Día de los Muertos event.
The Villarreals have welcomed Salhus, who moved his practice from Bridgeport to East Side last year, with open arms, Maria Villarreal said.
"I told him, 'There's no competition here, John,'" she said. "We need art on the Southeast Side, the South Side — we need to wake up the people."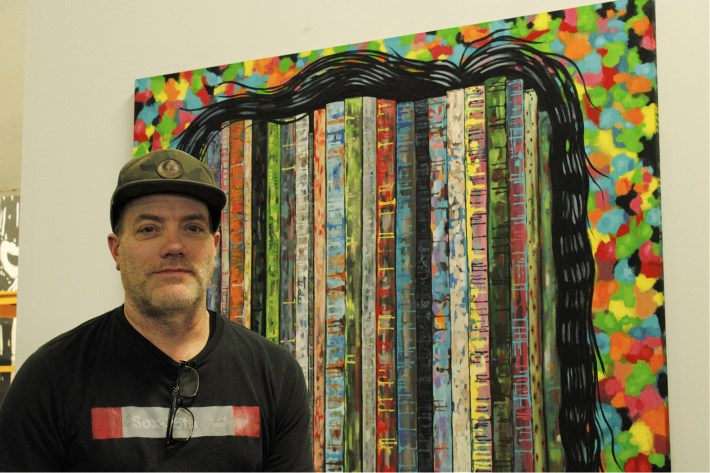 Salhus hosted a show at Buena Vista Projects in the fall with two artists he's known for decades — when the space was unfinished — but "When I Die, Remember Me" marks the gallery's official launch, he said.
Salhus has transformed long-vacant former auto parts store into a gallery, studio and artist's loft. He has a "grand idea" to renovate the building's second-floor apartment and host artists-in-residence who would display on the first floor, he said.
Buena Vista Projects is "not so much a gallery — as in a commercial gallery — as it is a place for artists to come and do experimental projects," Salhus said. "They would have the whole space to do something big."
Salhus plans to host three or four shows per year at Buena Vista Projects, and he welcomes the idea of letting the Villarreals use the space if they need more room for an exhibition or event at Under the Bridge, he said.
The neighboring art spaces offer an exciting opportunity to make Salhus' new Southeast Side community a destination for artists all over Chicago, he said.
"We've got Logan Square, we've got Humboldt Park, we've got Bridgeport, all coming down to here" for this month's exhibitions, Salhus said. "They're going to all intermingle, and it's like a cross-pollination. That's really, really cool."
Listen to "It's All Good: A Block Club Chicago Podcast":