WICKER PARK — A cocktail bar and restaurant that offers "potion-making" classes where people use magic wands to assemble drinks is opening this spring in Wicker Park.
The Cauldron, 1612 W. Division St., opens May 4 in the former home of The Bedford bar and restaurant in the basement of the historical Home Bank and Trust Company building.
The space includes the bank's old vault and hasn't been used in an official capacity in several years, although it was the site of a 300-person illegal party in November 2020 during the peak of the COVID-19 pandemic.
The old bank basement is now being retrofitted into a fantasy-themed extravaganza, offering classes where people can make magical cocktails, a restaurant and bar and a speakeasy in the vault.
The Cauldron was founded in London by Matthew Cortland and David Duckworth and has expanded across the United Kingdom and United States. The Chicago location will be its sixth — and largest — outpost.
Cortland said he was inspired to launch the restaurant and bar as a merger of his passion for fantasy and technology with Duckworth's background in cocktails.
"I just love fantasy. As you can probably tell, I'm obsessed with trying to make magic real, taking stuff from imagination and seeing how we can adapt that and make it part of our everyday," Cortland said. "Even if you don't love wizards or magic or fantasy, that's OK. We want to show you a good time and smile."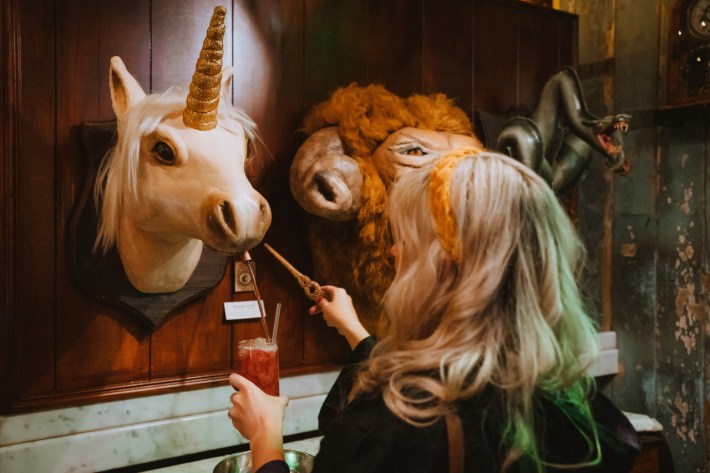 At the center of The Cauldron's concept is its "immersive potion-making experience," Cortland said.
Each attendee is given a "magic" wand that acts as "a control device for the environment around you," Cortland said. People are asked to complete a series of tasks, which then unlock ingredients for cocktails.
"There's a piece of interactive technology equipment that is like a fairy house. It's like an escape room meets a cocktail class," Cortland said. "So you use your wand to access ingredients by tapping in the correct code, the magic word into the fairy house, and out pop ingredients. But you follow a potions book with instructions of what you need to do."
Tickets for the classes will be sold in advance and are now available for the Chicago location. The class lasts about an hour and 45 minutes and features alcoholic and non-alcoholic options.
"Then we have other drinks that you can order that are made by the bartender, the head potion master," Cortland said. "You have a potion master to guide you through your experience to make sure you know you're on track."
The Cauldron will also be home to a more traditional restaurant and bar with an emphasis on British food. But there are major twists: The fish and chips are made to look like they're bubbling and smoking with a sea salt vapor.
"We have dry ice, so you smell the sea as you're consuming the fish and chips," Cortland said. "It's trying to make things as fun as possible for people."
And The Cauldron is converting the building's old bank vault into a a wizard-themed speakeasy. The space will regularly have live music and special "molecular" cocktails for sale.
Cortland said they also plan to host events, including drag shows, trivia and video game tournaments.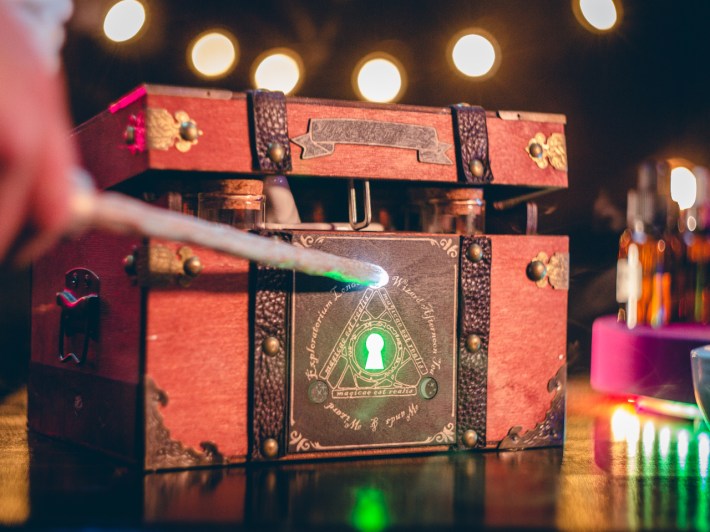 While the Cauldron may seem like something out of Harry Potter or Lord of the Rings, Cortland said the concept isn't based on any one world or franchise, but rather inspired by much of the same source materials that fantasy creators were.
"We tried to go back to the same source material a lot of those authors, a lot of those movies did," he said. "Magic has been around a long time. Potions have been around."
The Cauldron's expansion to Chicago has been a long time coming, Cortland said. The company had hoped to open in the city several years ago but got delayed by the pandemic. After looking at various locations across the city, the basement space and bank vault sold the owners on Wicker Park.
"This is a great city; we really need to be here," Cortland said. "Chicagoans are down to have a good time. And we're down to show them a good time. So I think Chicago is just a really good fit, and the venue specifically really lends itself to do something that is unusual."
Listen to "It's All Good: A Block Club Chicago Podcast":