LAKEVIEW — Alderman-elect Bennett Lawson has ties to Lakeview going back to his childhood.
Lawson, who grew up in a White Sox-loving family in suburban Rockford, first visited the neighborhood in seventh grade when his friend took him to a cross-town classic game at Wrigley Field.
Lawson and his college friends would spend Saturdays taking the train down from Loyola University to Belmont Avenue, stopping for haircuts, piercings or shopping as they strolled toward Fullerton Avenue.
But the significance of the neighborhood didn't hit home until Lawson attended a 1998 vigil for Matthew Shepard, a 21-year-old gay man who died after two men brutally attacked him and tied him to a fence in a Wyoming field. Lawson, who had recently come out as gay, was around the same age as Shepard and went to the rally with his first boyfriend.
"That was the first time I realized how important this neighborhood is," Lawson said. "It's about more than just baseball, the lake and the excitement — it's that things happen here, and there's a strong sense of community."
Lawson, who ran unopposed to succeed Ald. Tom Tunney as 44th Ward alderman, spoke to Block Club Wednesday morning following the election.
After spending an hour greeting constituents outside the Belmont station and sitting down for breakfast at the nearby Ann Sather, Lawson discussed how he plans to follow Tunney's legacy while addressing rising crime, improving street safety and rebuilding in the wake of the pandemic.
"I didn't expect this to be so emotional but in a positive way," Lawson said. "I had such a great outpouring of support from people I've worked with for years and years that it's a little overwhelming, but I also know that I've got some work to do."
Lawson has served as Tunney's chief of staff since 2007. Before that, he worked as the ward's director of community outreach.
Tunney, who owns Ann Sather, also swung by the restaurant Wednesday. He said Lawson was the "right choice" to succeed him and his chief of staff "earned it."
"Bennett is going to do a really good job from day one, and he'll have a head start," Tunney said. "He already knows a lot of the aldermen, and he knows how this system works, which is going to be a real benefit to get him off on the right start."
Lawson has led and participated in initiatives throughout his tenure in the 44th Ward, including a community-driven zoning analysis of every parcel within the ward that's helped with planned developments, Tunney said.
Lawson also helped with the Whole Foods and Mariano's developments, according to his campaign website. He also works closely with the police district on crime prevention strategies.
Lawson's also used the role to support Chicago's LGBTQ community, assisting with projects like the Center on Halsted's construction, the redevelopment of the old Town Hall Police Station into an LGBTQ senior living facility and the construction of Howard Brown Health's health clinic in the nearby 46th Ward.
"A big part of the job is to establish trust by showing you know what you're doing and that you're able to manage residents, businesses and institutional development while keeping people satisfied," Tunney said. "Bennett has done that, and he's going to be very good at it."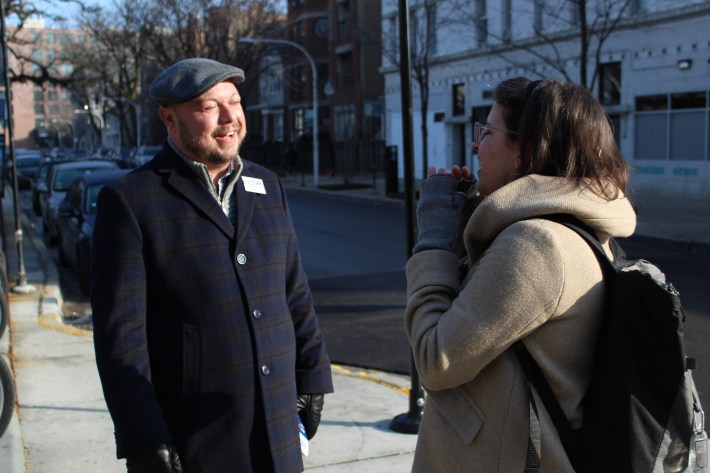 Public Safety, Infrastructure And LGBTQ Advocacy
Public safety will be among Lawson's top priorities as alderman, he said.
The 44th Ward has seen rising crime in recent years as the amount of officers in the 19th District, which encompasses most of Lakeview, has dwindled.
Lawson will work closely with 19th District officers and the new 19th District Police Council to improve the community's relationship with police, he said.
RELATED: Here's Who Won In The Police District Council Races
"We have to make real strides to get our crime numbers down and our arrests up," Lawson said. "We're not going to solve crime with more police or more arrests, but we have to get a handle on the spike we're experiencing now."
Lawson will also focus on supporting officers with days off and mental health resources to prevent burnout and boost retention, he said. He also suggested incentivizing officers to stay in Chicago after completing their training and rehiring retired officers to training roles so their institutional knowledge can be passed down.
"We need to support the younger officers and get our numbers up," Lawson said. "We're really low, and our community feels it. We need more police to solve this."
Another issue important to Lawson is better public infrastructure, he said. He plans to create a Safe Streets Council that will recommend pedestrian and bike safety improvements.
"We need a plan for bikes, because right now I feel like it's very haphazard," Lawson said. "We need to be smarter about how we plan these things, so we're going to work with the new [mayoral] administration to really have [the Chicago Department of Transportation] be a partner in what we're doing here on the North Side."
To improve transportation via the CTA, which has struggled with higher crime and ghost trains and buses, Lawson said the city needs more officers assigned to patrol the trains and a real-time GPS-enabled tracker system.
Small businesses also need support, Lawson said. He proposed examining potential tax credits for legacy businesses and removing red tape at City Hall that can delay openings by months.
Lawson also plans to create an arts, parks and green council that will be used to connect people behind neighborhood events and programs, such as community gardens, playground improvements, murals, art fairs and more.
"Really, I'm just looking to bring a lot of heads of people together to work on things," Lawson said. "Even if it's just a quarterly breakfast to share ideas, that's better than where we are now where we have lots of silos of people doing things on their own block that could be beneficial ward-wide."
Lawson also plans to continue work advancing the LGBTQ community by supporting local organizations like the Center on Halsted and Howard Brown Health while making sure those kinds of resources are also available on the South and West sides, he said.
"We need to make sure there are safe spaces everywhere," Lawson said. "More and more people have realized that our community needs to be protected, respected and embraced, but there's still violence happening in peoples' neighborhoods, especially against trans women of color."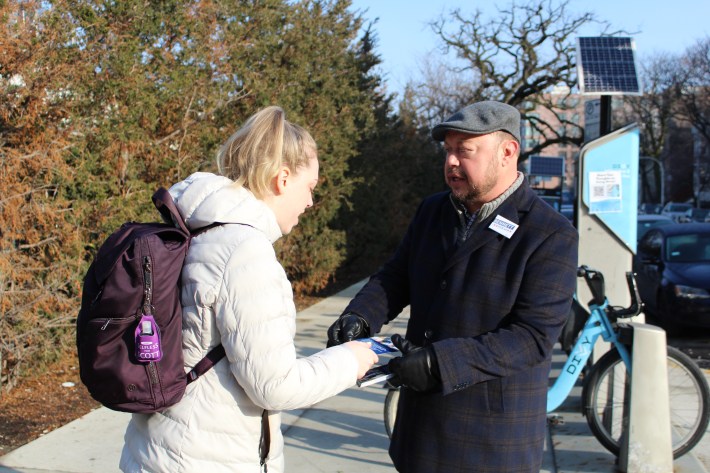 'Big Shoes To Fill'
Lawson and Tunney have promised a smooth transition when the longtime alderman steps down in May.
Lawson will use the ward's weekly email newsletter to send out a survey for constituents to share their thoughts, concerns and appreciation for the ward as he prepares for his term, he said. Residents can sign up for the newsletter on the 44th Ward website.
Tunney will spend his final months as alderman assisting in that transition while weighing his options post-retirement, he said. He plans to play an active role in supporting mayoral candidate Paul Vallas in the April 4 runoff election. Tunney endorsed Vallas ahead of the general election.
"I've got a lot of choices," Tunney said. "I might do something civically on my own terms. If Paul is elected mayor, I might be able to help him out if he so chooses."
No matter the role, Tunney will remain an advocate for Chicago's business community, he said.
"I've looked at all the candidates, including our current mayor, and I don't think there's an appropriate level of respect out of any of them — maybe Paul is probably the best — for our businesses," Tunney said. "They need to be heard because they are the employers, economic engine and tax base of our city. They need someone to advocate on their behalf."
Tunney promised he's "not going anywhere."
"Tunney leaves big shoes to fill," Lawson said. "Everyone knows him as someone who is very hands-on and has been in the community for 40 years. To have his confidence and have contributed to his success means a lot to me."
Subscribe to Block Club Chicago, an independent, 501(c)(3), journalist-run newsroom. Every dime we make funds reporting from Chicago's neighborhoods.
Click here to support Block Club with a tax-deductible donation. 
Thanks for subscribing to Block Club Chicago, an independent, 501(c)(3), journalist-run newsroom. Every dime we make funds reporting from Chicago's neighborhoods. Click here to support Block Club with a tax-deductible donation.
Listen to "The Ballot: A Block Club Chicago Podcast":