JEFFERSON PARK — It's too soon to tell, but Ald. Jim Gardiner is extremely close to keeping his seat and avoiding a runoff with challenger Megan Mathias.
Gardiner has 49.97 percent of the vote as of Thursday morning after he received 462 votes from his home precinct, which had a tech issue and delayed the vote count, according to the Chicago Board of Election Commissioners.
Gardiner needs at least 50 percent of the vote plus one vote to win outright and avoid a runoff.
Second in line is his Mathias, who has 16 percent of the vote. Portage Park business owner James Suh came in close behind her, receiving 14.08 percent of the vote.
While all in-person votes have been tallied, mail-in ballots are still being counted and could fluctuate the overall percentage, said elections board spokesperson Max Bever.
The 45th Ward has received 3,841 mail-in ballots, Bever said. Another 1,992 ballots are still outstanding, not all of which will be submitted or counted. About 339 mail-in ballots from the ward to be processed and added to the vote total by Thursday night, Bever said.
Mail-in ballots may continue to trickle in until March 14, Bever said.
"Voters do seem to enjoy voting by mail, but that also means election results are not immediate," Bever said. "I suspect everyone will need to hold tight until the official proclamation of election results on March 15 to see where every single vote lands."
Simply put: It's not over until it's over, Bever said.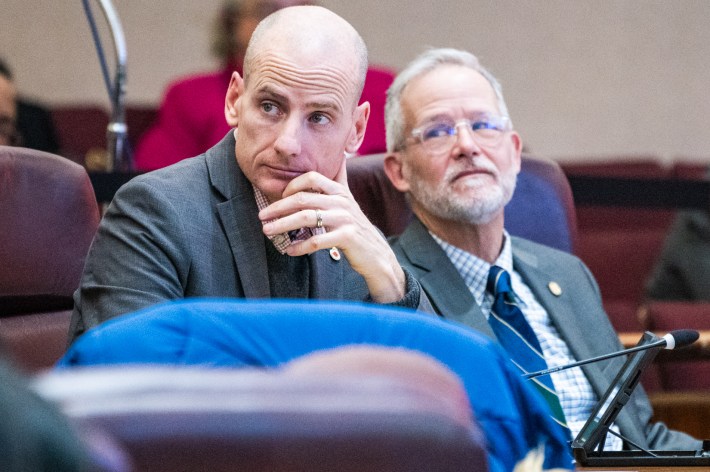 Gardiner did not return a call seeking comment, but on Tuesday he told the Tribune he hopes to avoid a runoff.
"Let's just see how it goes," he told the paper. "Obviously we would like to see this be done with tonight."
The ward covers parts of Old Irving Park, Portage Park, Jefferson Park, Gladstone Park, parts of Edgebrook, Wildwood and small parts of Norwood Park.
Mathias said she is confident the race will head into a runoff and is proud of the volunteers who helped get her to second place, she said.
"We feel good. … Second place is the win," Mathias said Wednesday. "That is where we wanted to be."
Should there be a runoff, Mathias plans to reach out to the other challengers and find common ground on shared concerns that could help her beat Gardiner, she said.
The race has been heated and contentious at times, with five challengers vying for the City Council seat. Fellow candidates Ana Santoyo, a longtime activist and library page, received 5.09 percent of the vote as of Tuesday night; organizer and historian Susanna Ernst received 11.83 of the vote, and Jefferson Park resident Marija Tomic came in with 3.58 percent.
Gardiner, who is under federal investigation and has faced a slew of scandals in his first term, was elected in 2019 after beating former Ald. John Arena.
Gardiner is on leave from the Fire Department, where he's an EMT.
The alderman has touted his role in bringing more businesses and development to the ward, including a massive overhaul at the former Sears site and a senior housing complex opening this spring.
But Gardiner's faced criticism from his challengers and some constituents in the past four years. He is facing multiple lawsuits and scandals after allegations he withheld ward services from critics, used foul language to describe women and other potential misconduct. The FBI, the Chicago Board of Ethics, the Circuit Court Clerk's Office and the Office of the Inspector General have launched investigations into Gardiner's conduct.
Late last year, video surfaced of the alderman confronting a challenger's campaign volunteers as they gathered signatures from Norwood Park residents. His challengers said he's not stopped intimidating those who oppose him while campaigning.
Some constituents and council members have called on Gardiner to resign amid the controversies. He also had an order of protection against him by a former girlfriend.
In depositions made public last month, a former staffer said the alderman went out of his way to silence opponents and obsessed over critical comments on his ward's Facebook page.
Texts between Gardiner and his former aide from 2019 also revealed how he used his aldermanic influence to send city inspectors after critics, including business owners.
Gardiner denied this in his own deposition. His campaign has said he is the victim of a "multi-layered campaign of political harassment, misinformation and intimidation by people unwilling to accept the defeat of the previous administration four years ago."
Gardiner received heavy support from police and firefighter unions, as well as individual donations from people like Willie Wilson, who donated $10,000 to the alderman's campaign.
Should there be a runoff, it will take place April 4.
Subscribe to Block Club Chicago, an independent, 501(c)(3), journalist-run newsroom. Every dime we make funds reporting from Chicago's neighborhoods.
Click here to support Block Club with a tax-deductible donation. 
Thanks for subscribing to Block Club Chicago, an independent, 501(c)(3), journalist-run newsroom. Every dime we make funds reporting from Chicago's neighborhoods. Click here to support Block Club with a tax-deductible donation.
Listen to "The Ballot: A Block Club Chicago Podcast":