WEST TOWN — Luciana Domenica Pacilli, 12, has turned her family's dining room into a studio.
And now Luciana is working on her own fashion line: Crying Tiger Streetwear.
"We literally have no dining room now," said J.B. Gerolium, Luciana's mother. "It's sewing machines surrounded by paint palettes and a clothing rack. At dinnertime, we push the sewing machine aside, eat our pasta and get right back to it."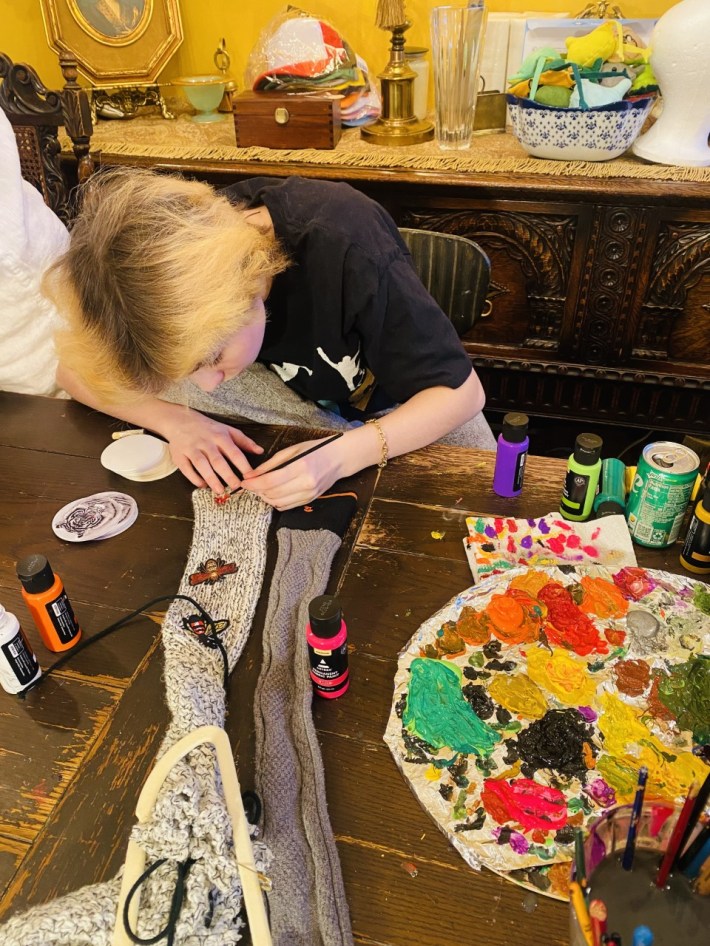 Pacilli's unisex, upcycled clothing line will be displayed this weekend at Dovetail Chicago, 1452 W. Chicago Ave., a curated vintage boutique that frequently showcases local designers. 
There will be an opening reception 5-9 p.m. Friday and another showing noon-5 p.m. Saturday.
The events are for people 18 and older. There will be complimentary refreshments. Regularly priced Dovetail merchandise will also be 20 percent off during the showings. 
Pacilli's Crying Tiger clothing line features a variety of thrifted items that she painted designs on and "breathed new life into," Gerolium said. Pacilli's Instagram showcases some of her pieces, which include pants, shirts, denim, hats and bags.
Attendees at this weekend's showings are welcome to bring their own clothing for Pacilli to paint. For $50, Pacilli will surprise participants with an original design and mail it back in two to four weeks.
A portion of all proceeds will be donated to the Iranian American Women Foundation. 
Pacilli lives with her mother in a rowhouse in Little Italy, and her grandmother lives in the house next to them.
The first step of Pacilli's process is putting on her Spotify playlist, which mainly includes songs from David Bowie, Fleetwood Mac and Radiohead, she said. 
"… Then I try to think about what suits each article best," Pacilli said. "I draw the design on with chalk and then start to paint it. Each of them take about two hours to create."
Gerolium is working on her own clothing line, too, and is an artist of many mediums, including interior design, fine art, sculptures, costume designing and much more. 
Pacilli has always grown up in a creative environment. When she was little, she'd play dress up and organize safety pins in the fitting rooms of various productions. 
An artist at heart, she also sings, plays multiple instruments and is "never not creating," Gerolium said. 
Pacilli said her favorite part about being an artist is making connections with other artists, whether that's through the bands she's a part of or by working on projects alongside other creatives. 
"Her ideas inspire me," Gerolium said. "They might not always be something I would do myself, but when she executes them, they turn out great. Watching her become her own person and artist has been one of the greatest gifts of being her mom." 
When Gerolium heard Pacilli was struggling with bullies at school and online, she decided they should go thrifting together and "just see what happens," Gerolium said.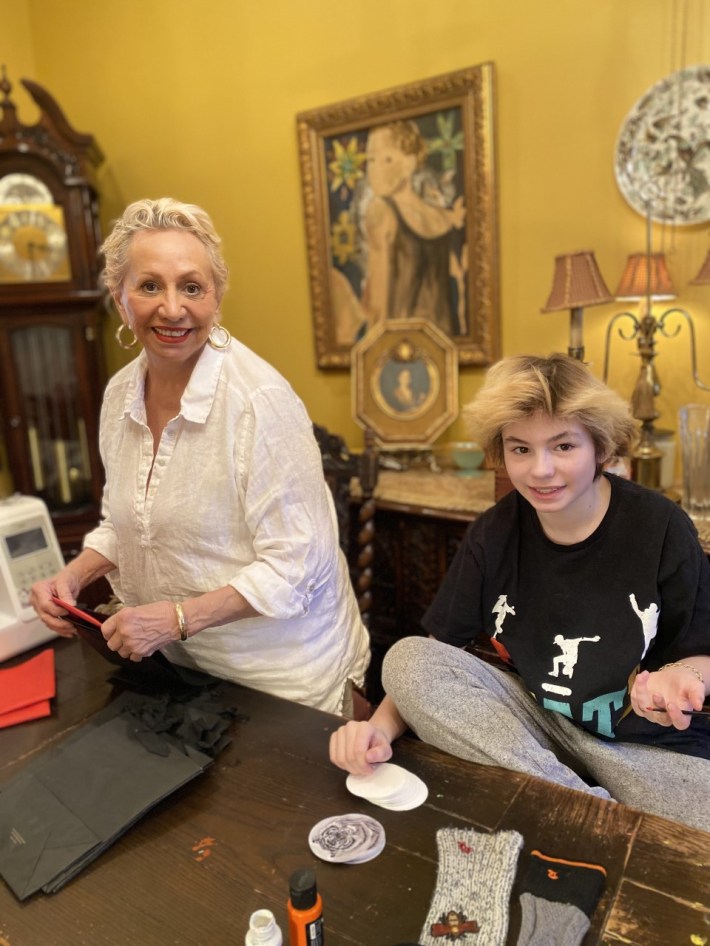 "We both love trying to manipulate clothing that already exists," Gerolium said. "She had a great time thrifting, and when we got home, she just had idea after idea after idea, so we started putting them into production." 
Each day for the past few months, Pacilli's grandmother, who they call Nonni, has climbed through the hole they punched in the wall to connect their houses to help with the sewing and bring Pacilli's visions to life. 
"There's a lot of communication and creativity here from morning 'til night," Gerolium said. "We always have music playing; my mom's been helping out. I'm usually in the other room cooking pasta, coming in and out and trying to photograph everything." 
Some of Pacilli's favorite pieces in the collection are the ones she painted frogs on because "they're kinda cute and simple."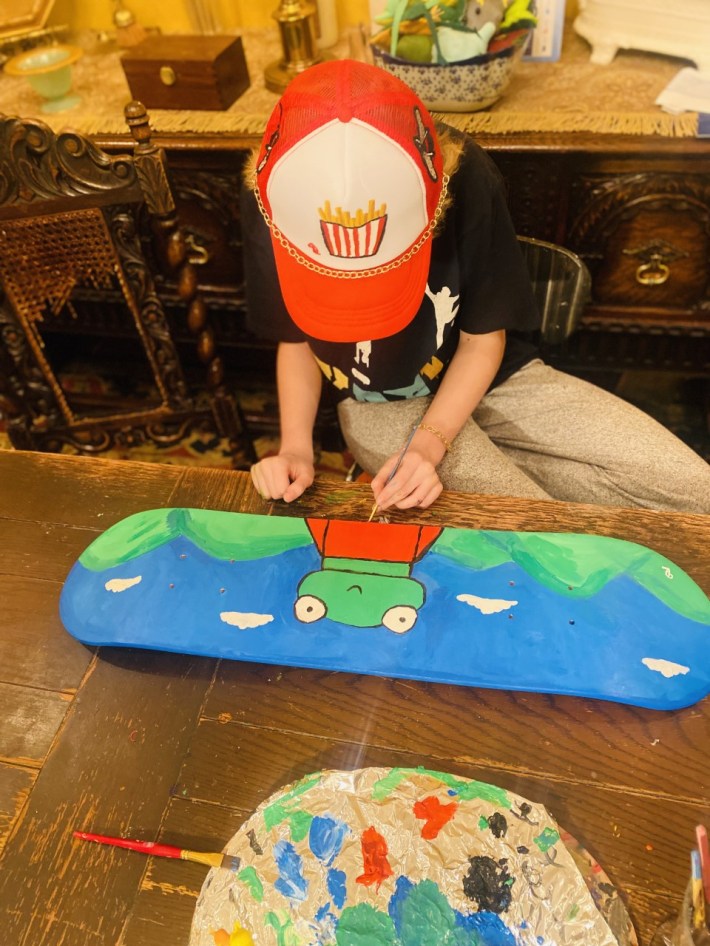 "We listen to music. We laugh a lot normally," Pacilli said. "Nonni sews a lot of the stuff, and my mom cooks and works on her collection, too." 
Dovetail isn't taking a commission from Pacilli's work because owner Julie Ghatan said she understands how challenging it is to be a young creative. 
Ghatan said Gerolium and Pacilli are long-time customers turned friends who she's always "clicked with." When Ghatan heard Pacilli's story and saw her work, she instantly wanted to be a part of it, she said. 
"When J.B. sent me the photos, I was totally blown away," Ghatan said. "I wasn't sure what to expect. When you hear a 12-year-old is painting on clothes, that could mean a lot of things. But her line and its imagery is very cool and so in style right now. I thought it would really appeal to my demographic."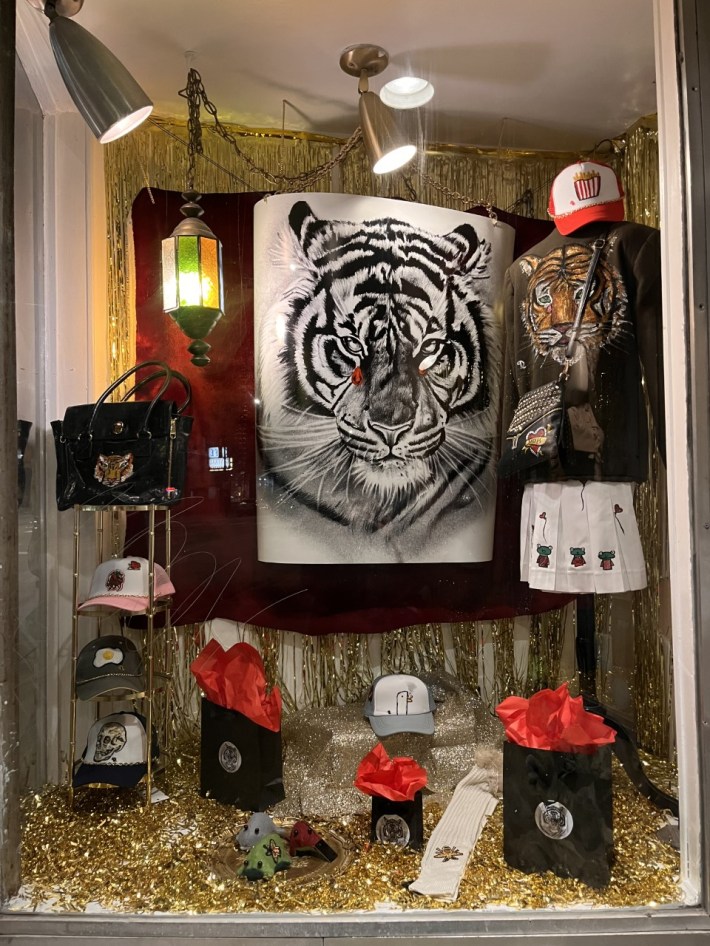 Helping Luciana launch her clothing line "speaks to [my] inner child," Ghatan said. 
"Her story is resonating with so many people because everyone's had their own bully, especially people in the creative community," Ghatan said. "By helping Luciana out, it's healing for me, too, in a way. It's important to me to have a part in showing a bully that what they're doing isn't working; it's only making her stronger." 
Pacilli's advice for other young artists is to "create something new every day" if possible. 
"The more you start doing it, the more you'll start figuring it out," Pacilli said. "Your work will look better and more things will appear." 
Gerolium said she hopes Pacilli's story helps people understand the power art can have. 
"The best way to heal and grow and become who you're supposed to be is to keep creating," Gerolium said. 
Listen to "It's All Good: A Block Club Chicago Podcast":