CHICAGO — The city's embattled top cop will resign March 16.
Supt. David Brown announced his resignation Wednesday, Mayor Lori Lightfoot said in a news release.
Brown is stepping down immediately after Lightfoot conceded her reelection bid Tuesday night, garnering 16 percent of the vote and failing to advance to a runoff. All of Lightfoot's opponents — including runoff contestants Paul Vallas and Brandon Johnson — vowed to fire Brown on day one of becoming mayor.
Lightfoot hired Brown, a longtime leader of the Dallas police department, just shy of three years ago.
In a statement, Brown said he's taking a new job out of state.
"I've accepted a job opportunity to be the Chief Operating Officer of Loncar Lyon Jenkins, a personal injury law firm with seven offices in Texas," Brown said in a statement. "I will be stepping down as Chicago Police Superintendent effective March 16, 2023 so the incoming mayor can begin the process as soon as possible to hire the next Superintendent."
"It has been an honor and a privilege to work alongside the brave men and women of the Chicago Police Department," Brown's statement continued. "I will continue to pray that all officers return home to their families safe at the end of their shift. May the Good Lord bless the city of Chicago and the men and women who serve and protect this great city."
First Deputy Eric Carter will be interim superintendent until the city's newest mayor is sworn in, Lightfoot said.
Vallas and Johnson issued statement's following the news, blasting Brown's leadership. Both said they would prioritize promoting someone from within the department to the top job.
"Superintendent Brown failed to make our city safer and his resignation is a positive step forward," Vallas said in a statement, according to NBC 5. "As mayor, I will appoint a new police superintendent and command team from within CPD that will prioritize community policing, end the failed friends and family promotion system and invest in building trust between the police and communities.
"Public safety is a civil right and as mayor I will work with CPD and all of our communities to make Chicago the safest big city in America."
Johnson said the department's next superintendent must commit to "meeting all requirements of the federal consent decree while addressing the root causes of crime."
"As mayor, my preference will be to appoint someone from within the current ranks of the Department, but most important is appointing the right person for the job – someone who is collaborative, competent and compassionate, and who truly cares about protecting and serving the people of our city," Johnson said in a statement.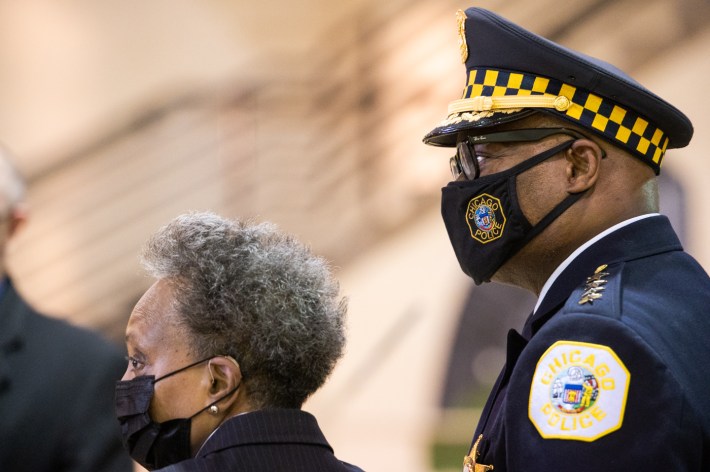 Brown took the job in April 2020 after Lightfoot fired his predecessor, Eddie Johnson. Brown had been retired from the Dallas Police Department four years when he came to Chicago.
Lightfoot praised what she considered to be Brown's accomplishments, including a "double digit" reduction in violent crime in 2022, "consistent progress" on the department's federal consent decree and new resources for "officer wellness."
Lightfoot also mentioned Brown's efforts to hire more than 950 new people last year and promote a record-number of women to senior ranks.
Brown had disappeared from his usual police pressers and the public eye during the lead-up to Tuesday's election. The Sun-Times reported last month the divisive top cop had already begun preparing his exit.
Lightfoot stuck by Brown to the bitter end, even as rank-and-file cops become more disillusioned by his leadership and Chicagoans stomached a substantial spike in violent crime since Lightfoot took office.
Lingering crime has led some affluent neighborhoods to hire their own private security, while lower-income neighborhoods have relied more heavily on community-based violence interrupters.
Brown went along with Lightfoot's other efforts to preventing violence, such as suing gang members, moving the city curfew for youth from 11 to 10 p.m. and limiting public access to live police scanners.
Brown was heavily criticized in the past year for cancelling officers days off as the department deals with a labor shortage. Several officers died of suicide in 2022, as officers and mental health experts said the department was running its forces into the ground.
An Office of the Inspector General report in August showed an estimated more than 1,000 officers had to work 11 or more consecutive days between April and May 31. After that, Brown announced a new time off policy in which most officers will have no more than one regular day off canceled per work week
Lightfoot's critics said she was not tough enough on Brown to march along changes demanded by the consent decree, including the end of a controversial foot chase policy. Brown fired a top official in charge of implementing the reforms, the Sun-Times reported.
Brown also fought stricter discipline for officers when the Civilian Office of Police Accountability, a watchdog agency for police misconduct, recommended they be fired. Cops with ties to white supremacist groups have remained on the force, as well the officers who shot and killed Anthony Alvarez.
Brown's resignation marks the first test for a new community-led body implemented to add another level of oversight to the police department.
The citywide Community Commission for Public Safety and Accountability was created by the 2021 Empowering Communities for Public Safety ordinance, which the City Council passed after years of community organizing. The newly elected police district councils in all 22 police districts also were established under the ordinance.
When there is a vacancy of the police superintendent or other key positions, the commission sends a list of prospective replacements to the mayor. The City Council must then confirm the mayor's pick.
At the beginning of the year, the commission sets goals for the police superintendent and the department, and will evaluate their performance.
The Commission can hold hearings about the police superintendent and members of the Police Board, and take a vote of no confidence in them, which would require the City Council to hold hearings and a vote, as well as a public response from the mayor.
It's not immediately clear when that process will start with Lightfoot set to leave office in May.
Listen to "It's All Good: A Block Club Chicago Podcast":