GAGE PARK — A Chicago police officer was fatally shot Wednesday afternoon while responding to a domestic violence call in Gage Park.
The slaying sent hundreds of officers and firefighters out to mourn and honor the officer, identified as Andrés Mauricio Vásquez Lasso, 32.
The shooting happened about 4:45 p.m. in the 5200 block of South Spaulding Avenue in Gage Park, Supt. David Brown said at a news conference outside Mount Sinai Hospital, where officers gathered when word of the shooting spread.
A woman called 911, saying a man with a gun was chasing her down the street, Brown said, citing preliminary information.
Officers in two cars went to the scene. Officers in the first car knocked on the door of a home on that block while officers in the second car encountered an 18-year-old man who had a gun and ran from officers, Brown said.
Officers chased the man, and "at close range, shots were exchanged" between an officer and the man, Brown said.
An officer was shot multiple times, Brown said. He was taken in "extremely critical" condition to Mount Sinai Hospital, where he died, Brown said.
The officers knew the call involved someone with a gun, Brown said. As officers identified the 18-year-old as the suspect, he turned "and immediately without warning or notice" shot an officer, who fired back, hitting the 18-year-old in his head, Brown said.
"They were there to protect this victim," Brown said. "They were willing to put their lives on the line to protect this victim."
The 18-year-old was hospitalized in critical condition, Brown said.
Brown said Vásquez Lasso had five years on the force.
The officer "had a bright future ahead of him," Brown said.
"I ask that this city cover this officer's family. This is a family of public servants. As you can imagine, they are taking this tragedy very, very hard," Brown said. "This is something that no family should have to face."
Brown said the officer's partners and officers throughout the department and the country are grieving the loss. The last Chicago police officer killed in the line of duty was Ella French, 29, who was shot in August 2021 during a West Englewood traffic stop. Two brothers have been charged in that shooting.
"Policing is a big family, people who know at some point they may be asked to make the ultimate sacrifice," Brown said. "But you never wish or hope that it actually happens; and tonight, this tragedy did. There are some broken hearts that will take a long time to grieve, to accept this."
Officials from the Civilian Office of Police Accountability headed to the scene to investigate the shooting, the agency tweeted. Investigators are reviewing body cameras, ballistic evidence and other surveillance footage to piece together what happened, Brown said.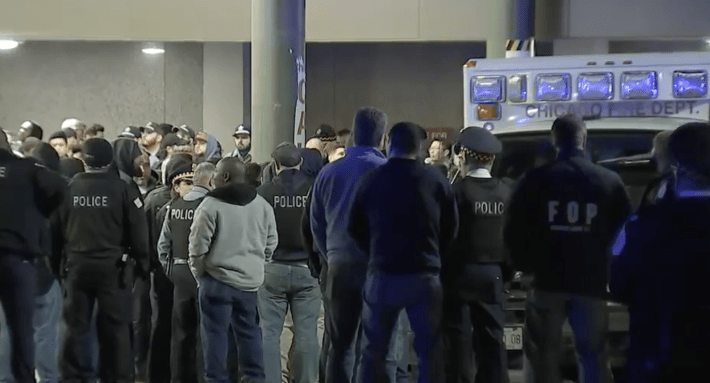 As news of the shooting spread, officers and firefighters converged outside Mount Sinai and the Cook County Medical Examiner's Office on the Near West Side, part of the somber ritual to escort the body of a first responder killed in the line of duty.
Among the people who gathered to pay their respects was Officer Danny Golden, Sun-Times photojournalist Tyler Pasciak LaRiviere tweeted. Golden was shot and paralyzed in Beverly last year trying to break up a fight.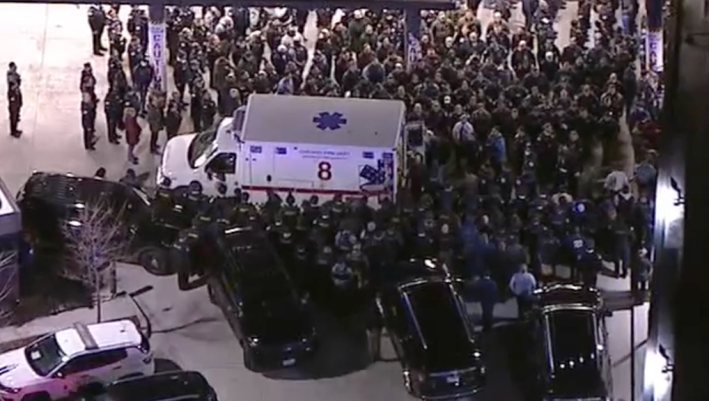 The shooting came the same day Brown announced his resignation and a day after Mayor Lori Lightfoot lost her reelection bid. Both rushed to Mount Sinai Hospital after the officer was killed.
Lightfoot urged officers to consult counseling and peer support services as they grieve.
"I want to remind people that every single day, on every shift, officers run to danger for our safety. … They need our thanks, they need our support, they need to know that everyone in our city has their backs," Lightfoot said.
Paul Vallas and Brandon Johnson, the two candidates heading to an April 4 runoff to replace Lightfoot, also released statements.
"The courageous men and women of the Chicago Police Department have suffered another tragic loss of one of their own to the ultimate sacrifice of protecting our communities. My heartfelt thoughts are with the officer's loved ones and the entire CPD family who are grieving during this difficult time," Vallas said. "This is a tragic reminder of what our police officers do each and every day, laying their lives on the line for us. This violence must come to an end."
"This is a sad and sorrowful day for our city, and my heart goes out to the family, friends and colleagues of the Chicago police officer whose life was taken in the line of duty in Gage Park this afternoon," Johnson said. "I am praying for healing for all those close as we await further details on this tragedy."
Subscribe to Block Club Chicago, an independent, 501(c)(3), journalist-run newsroom. Every dime we make funds reporting from Chicago's neighborhoods.