GRAND BOULEVARD — Harold Lucas, the "Godfather of Bronzeville," now has a plaque bearing his likeness in the Chicago Bee Library.
Those who knew the "larger than life" organizer gathered at the library at 3647 S. State St. Monday for an unveiling ceremony where they shared memories of Lucas, who died at 79 last year after a long illness.
Family and friends, including his daughter Sherri Lucas-Hall, Grow Greater Englewood Executive Director Anton Seals, Jr., Bronzeville Community Development Partnership Co-Director Paula Robinson and Ald. Pat Dowell (3rd) spoke of Lucas's deep and unwavering love for the community that raised him and called him their own.
"He used to call me a carpetbagger," said Dowell, who first encountered the activist when she was executive director of the Mid-South Planning Commission. "I graduated from the University of Chicago, so I was 'a tool of the university.'
"I worked very hard to change his perspective on that. … He brought me this book, 'Black Metropolis,' and said to me that if I was going to work out here I had to be authentic, and I had to know the history."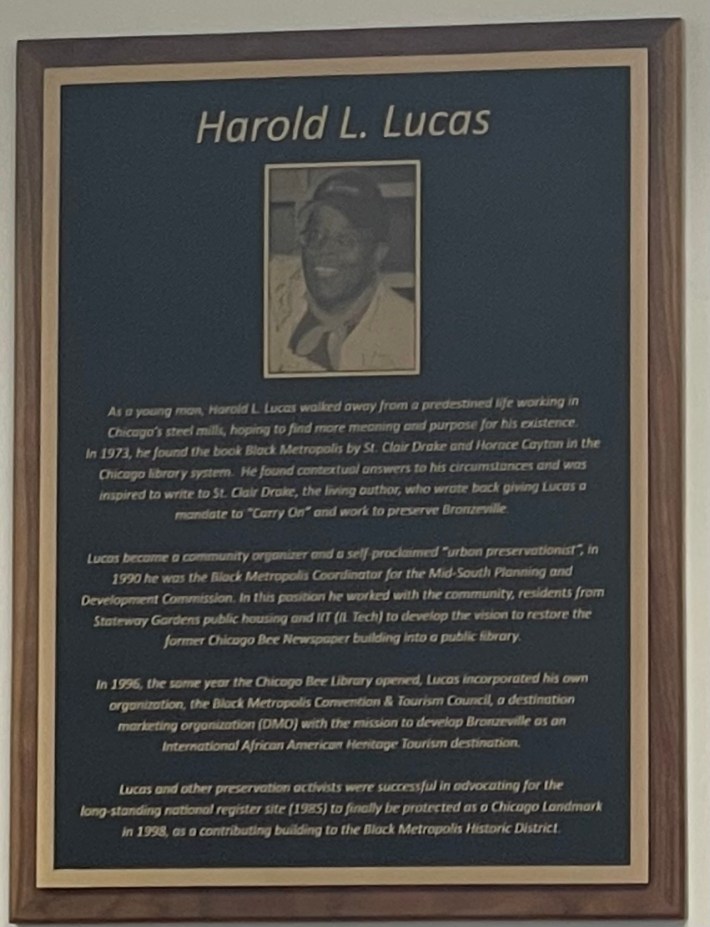 Lucas not only spent his life teaching the history of the neighborhood, he also worked to save important buildings like the Bee Library. It was he — along with Dowell, Robinson and others — who rescued it from the wrecking ball, convincing the granddaughter of prominent businessman Anthony Overton to let them buy it instead.
The group then asked residents living in nearby Stateway Gardens and the Harold Ickes Homes what they wanted to see there.
They wanted a library. Years later, the Chicago Bee Library opened to the public.
"He worked to save this building, literally singlehandedly," Dowell said.
Sherri Lucas-Hall remembered plastering flyers on light poles as a child in an effort to keep the South Side Country Club open. Her dad routinely brought her along when he was working in the community.
"He talked to me about the history of the city, the Great Migration and how people ended up in Bronzeville. These were just conversations for us, so I'm glad to see what has transpired since that time," Lucas-Hall said.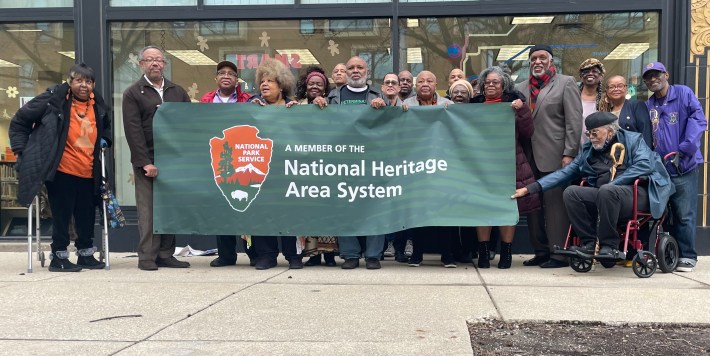 April Williams-Luster, deputy chief engagement officer for Mayor Lori Lightfoot, read a letter from the mayor congratulating the group on the designation of Bronzeville as a National Heritage Area, another effort led by Lucas. The bill — sponsored by former Rep. Bobby Rush — was signed into law by President Joe Biden at the end of the last congressional term.
The Bronzeville National Heritage Act designates a large swath of Bronzeville — from 17th to 71st streets — as a national heritage area, preserving over 200 historical assets like the Till-Mobley House Museum. The designation also means the area will receive up to $10 million in federal funds over 15 years to create jobs and generate revenue while continuing to preserve the area's history.
In addition to the plaque, the meeting room where the plaque will be on permanent display will be known as the "Harold Lucas Room," Robinson said.
When asked what her father would think of the day, Lucas-Hall paused for a second, then smiled.
"My dad wasn't big on ceremony. I think he'd be happy about the designation and for what will be happening in the community because he spent his whole life making sure this community was preserved. But he wouldn't want to be the center of attention," she said.
Listen to "It's All Good: A Block Club Chicago Podcast":