DOWNTOWN — Bill Conway will be Downtown's first 34th Ward alderman.
Conway took 67 percent of the vote to challenger commercial real estate broker Jim Ascot who garnered about 33 percent with all precincts reporting.
Conway, a Navy veteran and former prosecutor, is heading to City Council to represent the newly drawn ward covering parts of Downtown, Greektown and the West Loop.
The incoming alderman became emotional arriving at his election party at Carnivale Tuesday night, saying a lot of work went into his campaign to get across the finish line.
"I know the 34th Ward is going be a big part of Chicago's future and knowing that the folks there put their faith in me to advocate for them in City Council and provide the resources our community needs," Conway told Block Club. "… [I feel] grateful and honored and exhilarated and nervous and excited … All of that."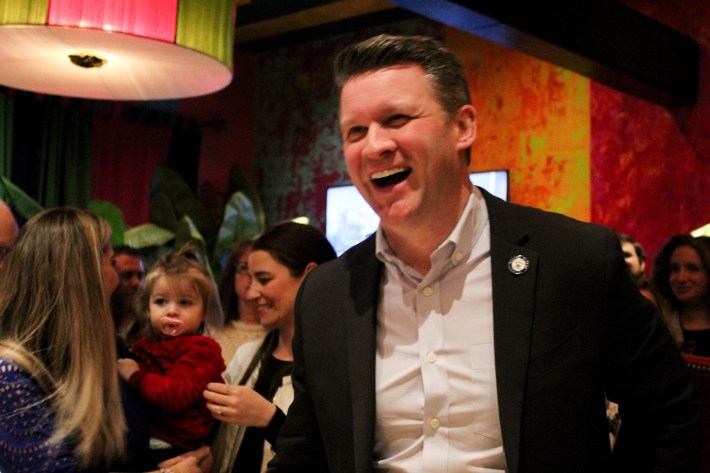 The 34th Ward long was on the Far South Side and has been represented by Ald. Carrie Austin, who faces federal indictment charges for bribery. Austin is retiring March 1, citing medical concerns. And the ward was redrawn in 2022.
Conway gained recognition after an unsuccessful bid to unseat Cook County State's Attorney Kim Foxx in the 2020 Democratic primary. That campaign was bankrolled in part by $10.5 million in contributions from his father, William Conway, a billionaire co-founder of The Carlyle Group.
In his second run for public office, Conway led in both funding and endorsements, raising over $500,000 in campaign contributions. He list of endorsements included heavy hitter like Gov. JB Pritzker, the Chicago Federation of Labor, International Union of Operating Engineers Local 150 and recently retired Illinois Secretary of State Jesse White.
Conway faced some controversy during his run for not participating in any debates or forums, despite multiple attempts to organize one. The incoming alderman dropped out of one forum and was unavailable for two others, but he said he participated in numerous meet-and-greets.
Currently a finance professor at DePaul University and running his own renewable energy company, Conway plans to be a "full-time alderman." He previously told Block Club Chicago he has a succession plan in place for his company.
In his victory speech Tuesday night, Conway said he's looking forward to working with "anyone who wants to build a safer and stronger city."
"When I get to City Council, I suspect there's gonna be a few folks that have different approaches on solving problems. But I think I'd start with what we share … My colleagues and I, we may differ on how to get there but I'm confident that we can find common ground," he said to a room full of supporters.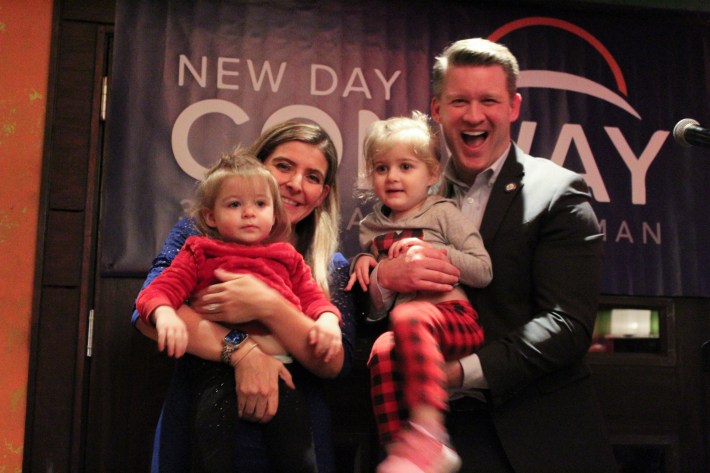 Conway ran on a platform that focused heavily on increasing public safety measures in the ward. He told Block Club in February that he hopes to use his military background and experience working for the Cook County State's Attorney's office to make the neighborhood safer.
Additionally he plans to dedicate part of is aldermanic budget to fighting crime, including buying additional license plate readers and cameras for the ward.
"More broadly … certainly advocate that we have the proper staffing and are embracing a community policing model, which really involves our police officers being out in our communities building relationships," Conway previously said.
Conway also hopes to be involved in choosing the next police superintendent. Both mayoral candidates in the April runoff, Paul Vallas and Brandon Johnson, have said they would boot current Chicago Police Supt. David Brown.
Conway remained silent on who he would be supporting in the runoff, saying he's purely focused on the 34th Ward — for now.
The new 34th Ward also includes a portion of LaSalle's financial district, which is slated for a makeover via mayor Lori Lightfoot's LaSalle Street Reimained initiative. The plan offers incentives to developers who convert vacant office buildings into apartments and condos.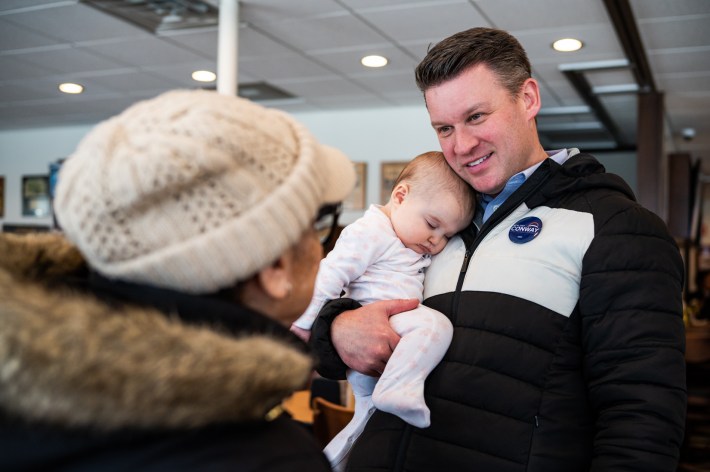 Conway will inherit a key role in reviving the Loop's Central Business District and providing stability for the areas west of the river in the West Loop neighborhood.
As the West Loop continues to boom in population and development, residents and community groups want to make sure they remain involved in the vetting process as they have been for many years in either the 25th and 27th Wards.
Conway will need to come up with his own process, which he said will likely take ideas from the surrounding wards to include residents in the decision-making process.
Listen to "It's All Good: A Block Club Chicago Podcast":