ALBANY PARK — Ald. Rossana Rodriguez-Sanchez (33rd) defended her City Council seat and avoided a runoff Tuesday night.
With all precincts reporting Tuesday night, the incumbent held 52 percent of the vote to Samie Martinez's 35 percent and Laith Shaaban's 11.4 percent. 
The ward covers parts of Irving Park, Albany Park and Avondale. 
Rodriguez-Sanchez hosted her election party at Noon O Kabab, 4701 N. Kedzie Ave. As the final two precincts reported voters, her supporters were on their phones repeatedly refreshing the live results website.
Once it was clear Rodriguez-Sanchez won, the room burst into cheers.
"When we came into office…our main goal was to make sure that we were creating an office that was a structure of care. That I added to the care, the health and safety and the 'buen vivida,' the wellbeing of the people in our communities," Rodriguez-Sanchez said.
Rodriguez-Sanchez, originally from Puerto Rico, was the ward's first Latina alderperson and the fifth Democratic Socialist elected to City Council when she prevailed in 2019 in one of the closest battles for a City Council seat. 
She beat then-Ald. Deb Mell by a razor-thin 13 votes, meaning no one could declare victory or concede defeat until mail-in ballots were counted. Mell conceded after 25 days of counting votes. 
During her victory speech Tuesday, Rodriguez-Sanchez said she ran four years ago because she was tired of the ward's "machine politics." Winning a second term proves neighbors appreciate her administration's focus on expanding democracy with initiatives like community zoning and participatory budgeting, which she introduced to the ward.
"An open participatory budgeting process where everybody can participate has allowed us to organize in the community," she said. "We have a community driven zoning process because we don't take contributions from developers…and that means that we don't allow outside economic interest to wade into community processes because we are the community and we are the ones that should be in charge of how our community is going to be developed."
Rodriguez-Sanchez also thanked supporters for helping secure a second term during her speech and pledged to continue her fight for progressive policies and getting Brandon Johnson elected mayor in the April 4 runoff.
"I need you to celebrate today. Take the weekend. But after this weekend, we go back to [knocking] doors and we're going to get Brandon Johnson elected Mayor of Chicago," she said
Rodriguez-Sanchez has been an outspoken advocate of allocating funds to city-run mental health clinics and creating a network of social workers and medical professionals to answer mental health crisis calls.
She introduced the Treatment Not Trauma ordinance two years ago, based in part on the Crisis Assistance Helping Out On the Streets program, known as CAHOOTS, which has been used in Eugene, Oregon, for more than 30 years.
Rodriguez-Sanchez also invited the Alliance of Local Service Organizations and Metropolitan Family Services to bring violence interrupter teams to Albany Park and Irving Park to help address gun violence in those neighborhoods. 
Rodriguez-Sanchez has also advocated for more affordable housing in the ward and has helped push through the construction of the Maria Elena Sifuentes and Oso Apartments affordable housing developments. 
RELATED: Here's How 33rd Ward Candidates Say They'll Preserve Affordable Housing As Neighborhoods Change
She vowed to expand the anti-deconversion ordinance City Council passed in 2021 to the Albany Park area. 
That anti-gentrification measure imposes up to a $15,000 fee on developers who tear down single-family homes and multi-unit buildings but is currently limited to Pilsen and the area around The 606. 
"Protecting the naturally occurring affordable housing units is something really important for us right now … and looking at the anti-gentrification ordinance to try to prevent that makes a lot of sense," Rodriguez-Sanchez previously told Block Club.
She's also a proponent of the Bring Chicago Home measure and would continue to push for its passage, she said. 
The measure would hike the city's real transfer taxes on sales of properties worth $1 million or more to fund homelessness services in the city, including permanent and temporary affordable housing for the growing number of unhoused Chicagoans.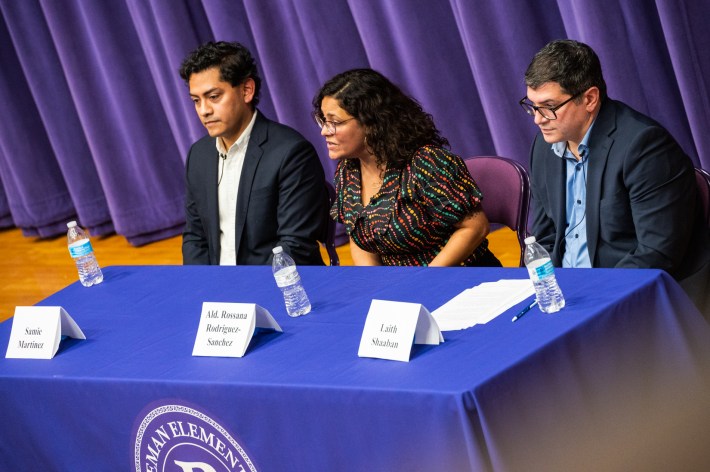 Subscribe to Block Club Chicago, an independent, 501(c)(3), journalist-run newsroom. Every dime we make funds reporting from Chicago's neighborhoods.
Click here to support Block Club with a tax-deductible donation. 
Thanks for subscribing to Block Club Chicago, an independent, 501(c)(3), journalist-run newsroom. Every dime we make funds reporting from Chicago's neighborhoods. Click here to support Block Club with a tax-deductible donation.
Listen to "The Ballot: A Block Club Chicago Podcast":