LOGAN SQUARE — Ald. Daniel La Spata won the most votes in the competitive 1st Ward race Tuesday — but he might have failed to secure enough to avoid a runoff.
With 25 of 26 precincts reporting Tuesday night, La Spata held 49 percent of the vote. His closest challenger is West Town attorney Sam Royko, who secured 23.7 percent of the vote.
Longtime community leader Stephen "Andy" Schneider came in third with 19.3 percent of the vote. Former 1st Ward Ald. Proco "Joe" Moreno received the fewest number of votes, at 7.3 percent.
Candidates must get at least 50 percent to avoid a runoff.
From the stage of Wicker Park rock club Subterranean, La Spata told a crowd of supporters there are a little more than 100 votes left to be counted and he believes the election will be called in his favor.
"We're doing big things, and there's some really big things to come," La Spata said after touting his accomplishments over the past four years.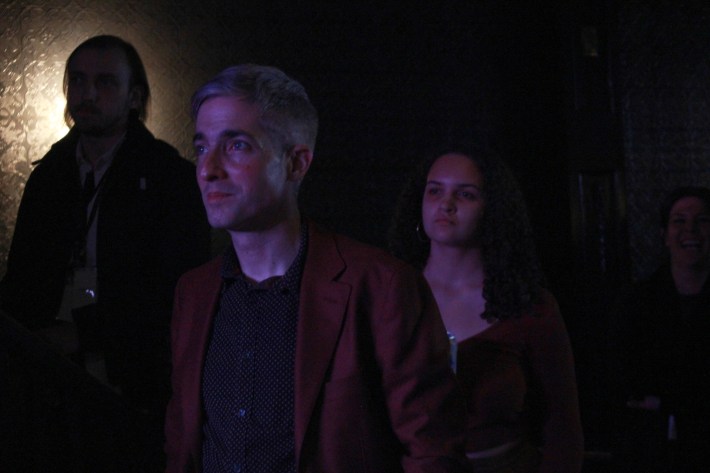 The 1st Ward stretches from the eastern portion of Logan Square down through most of Wicker Park, parts of East Humboldt Park and portions of West Town.
La Spata could be headed for a runoff against Royko, the second-highest vote-getter.
Royko is a West Town lawyer and the son of late columnist Mike Royko. He formed the Greater West Town Community Coalition after his girlfriend was carjacked in 2021, which eventually led him to launch his bid for office.
In interviews and at public events, Royko has cast himself as tough on crime, pledging to boost police staffing levels and tackle the root causes of violence if elected.
La Spata is a former community organizer who stormed City Council in 2019, easily defeating Moreno, a nine-year incumbent.
La Spata has been a vocal proponent of affordable housing and bicycling infrastructure, including protected bike lanes. He's a member of the Democratic Socialist Caucus and is on several City Council committees.
Dozens of La Spata's supporters packed into Subterranean Tuesday to support his bid for reelection, enjoying drinks and a lot of food.
"I think Daniel is genuine, he's real," supporter Daniel Strom said. "I'm a biker and I love that Daniel is one of the greatest defenders of cyclists in the city. He's a passionate defender of public transport. He's someone who really understands participatory budgeting."
Katie McMillen, a 1st Ward resident, also praised La Spata for his participatory budgeting process, which gives residents more say in infrastructure projects in the ward.
"I think it's great to have an alderman who listens to his constituents and does what the people want them to do, instead of what developers and special interests are looking for," McMillen said.
La Spata faced an uphill battle this election cycle as all three of his challengers — Moreno, Royko and Schneider — each ran well-funded campaigns and amassed a contingent of supporters.
Public safety and zoning and development issues dominated the campaign.
La Spata didn't attend a Wicker Park candidate forum, but in an interview with Block Club he said the ward has gained more affordable housing under his leadership and he's pushed for "evidence-based services and policies" to strengthen the area's local economy and keep residents safe.
Both Royko and Moreno made public safety and enhancing police the focus of their campaigns, setting themselves apart from La Spata. Schneider, however, highlighted his involvement in numerous Logan Square projects over the past decade.
During the campaign, La Spata was the target of not one but two attacks.
A man threw a drink at him in October as he was biking through West Town with supporters. Bob Zwolinski, who lost a 2016 election for Illinois state representative, took credit for the incident.
And two people smashed the windows of La Spata's campaign headquarters in Logan Square earlier this month, leading to a police investigation. La Spata said he believes it was "political retribution."
Without explicitly mentioning the incidents, La Spata said "hate, anger, malice and noise" hung over the campaign.
"There's something of a sad tinge of what this campaign proved is still present in Chicago politics. There's a lot of darkness in Chicago politics, people are still willing to express their anger, not with their voice, not at the doors, but through community violence," La Spata said in his remarks from stage. "That is a sadness, but I know that this room never responded to that in kind. When they went low, we went high. When they went lower, we went higher."
After most of the results were in, around 11 p.m., Royko's election watch party at French restaurant Jack's Bistro Wicker Park was still going strong. Royko was all smiles as he chatted with supporters over drinks.
Royko declined to be interviewed, citing exhaustion, but in a statement provided to Block Club by his campaign he said, "We're cautiously optimistic" and "fighting forward."
Listen to "It's All Good: A Block Club Chicago Podcast":