UKRAINIAN VILLAGE — Hundreds of Chicagoans gathered Friday for a vigil to mark the anniversary of Russia invading Ukraine and to urge global leaders to support Ukraine's resistance.
Shivering in the 20-degree weather, Nick Sidelnik said the cold couldn't deter him from showing support because the temporary discomfort was incomparable to what Ukrainians are going through.
"Every day is painful," said Sidelnik, who was raised in Ukrainian Village and now lives in Park Ridge. "It's hurtful and it's terrible to listen for news about our loved ones, wonder if they're still alive, if they have enough food, if they're warm.
"We're freezing out here right now, our hands our cold, but what about the soldiers? They're out there in the trenches. …
"Here, we go home to our warm houses. They don't get to go home. Their homes are being destroyed, and they have nowhere to go back to."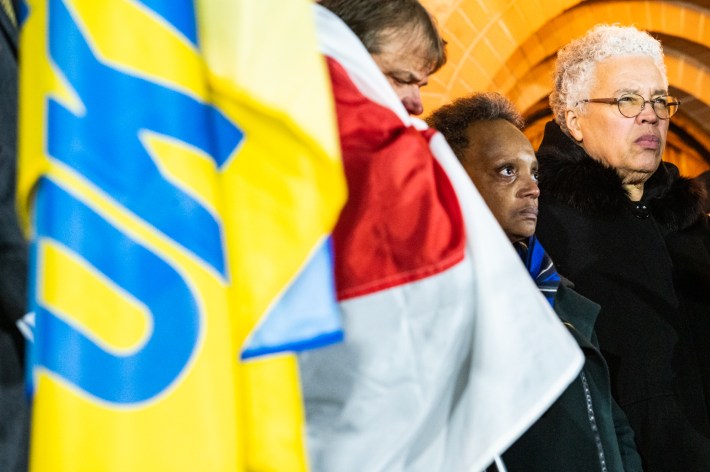 Church leaders, politicians and community members gave speeches and sang while attendees held candles on the steps of Saints Volodymyr and Olha Ukrainian Catholic Church, 739 N. Oakley Blvd. 
Then, attendees proceeded to St Nicholas Ukrainian Catholic Cathedral, 835 N. Oakley Blvd., for a service.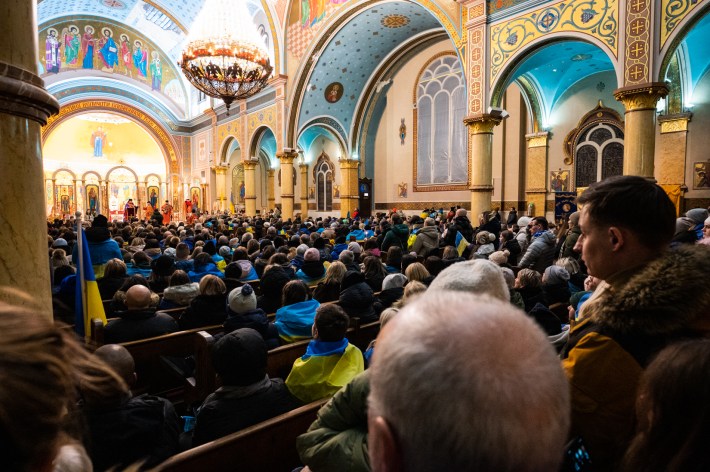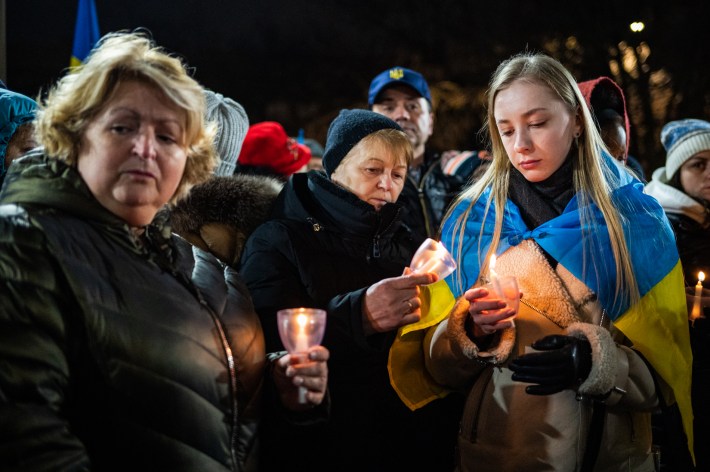 More than 8,100 civilian Ukrainians have been killed and more than 13,400 injured during the invasion, though those numbers are likely be to "considerably higher," according to the United Nations human rights office.
Millions of Ukrainians have also been displaced, forced to flee the country for their safety. Chicagoans have opened their arms to the refugees and those still in Ukraine in different ways: raising money for those in need, helping them travel, helping young students feel more at home, giving them a home and more.
Chicago's Ukrainian community and supporters have gathered near these churches numerous times over the course of the war to grieve together and demand more support for Ukraine. 
"I don't want to come back to St. Nicholas next year for a second anniversary," Rep. Michael Quigley, a member of the Ukrainian Caucus, told the crowd Friday. "I want to come back here and talk about what victory means. Victory means the restoration of the Ukrainian borders. Victory means holding those accountable for their crimes."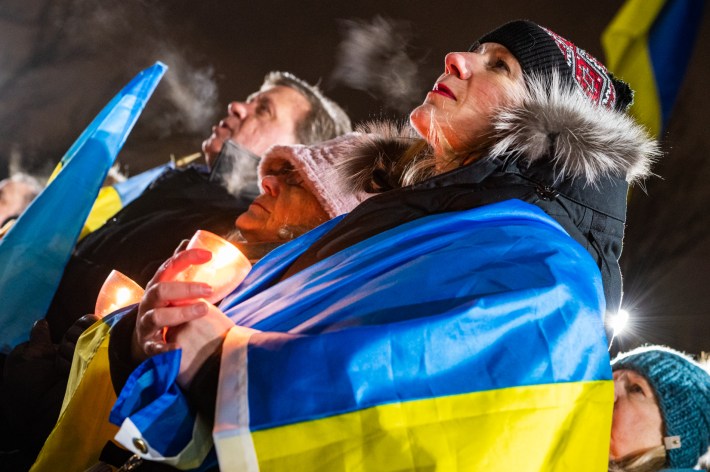 People lined the streets near the churches, holding 365 signs that detailed the atrocities Ukrainians have suffered each day since the war began. 
Solomiia Basarib, who lives in the suburbs but attends Saints Voldymr and Olha with her family, said it was important to her to hold one of these signs at the rally because she "wants the whole world to know what's going on." 
"It's really important for everyone not to forget what's going on," Basarib said. "My boyfriend is in the military and he's still in Ukraine. It's been very stressful here. I have a lot of worry for him and for our life together."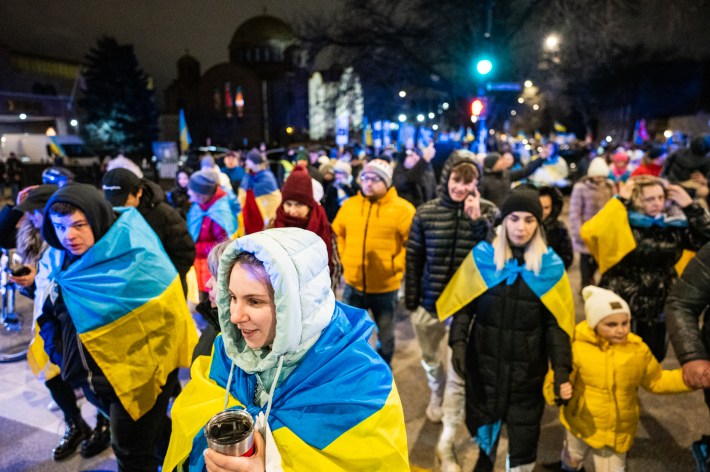 During the rally, the sound of a heartbeat played over the loudspeakers along with a recording describing some of the major turning points throughout the war, including the recent news that thousands of Ukrainian children have been captured and sent to "re-education" camps in Russia. 
The crowd was silent for 365 seconds to represent each day of fighting.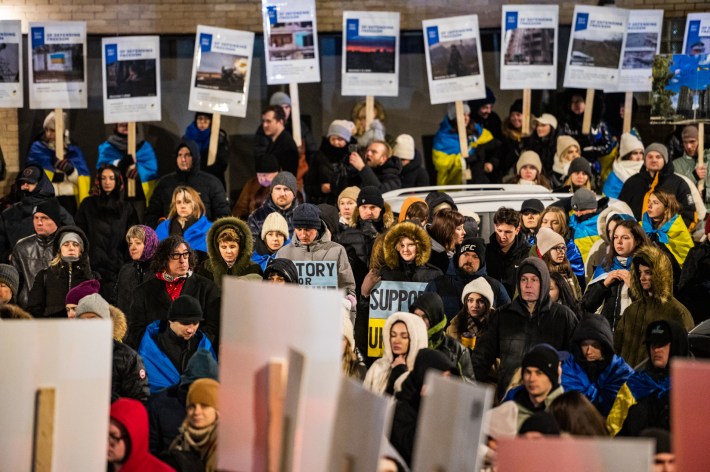 "I'm here today because there's a war in Ukraine that isn't necessary, and it's been going on far too long," said Halyna Stetsiouk, who lives in the suburbs. "Our family and friends are in danger. It's hard because we're born and raised there, so we want to be a part of this. This is how we can support our countrymen and raise awareness." 
Mayor Lori Lightfoot said she keeps the Ukrainian flag she got at last year's rally in her car window to remind people the conflict is ongoing. She urged the federal government to provide more support to Ukraine.
"Every single day, we see the resolve of the people of Ukraine," Lightfoot said. "They will never be broken by the murderer Putin. They tell us in graphic detail what price freedom has. Our job and our responsibility here, in one of the largest Ukrainian communities in the United States, is to make sure they hear our voices lifted up in support and solidarity."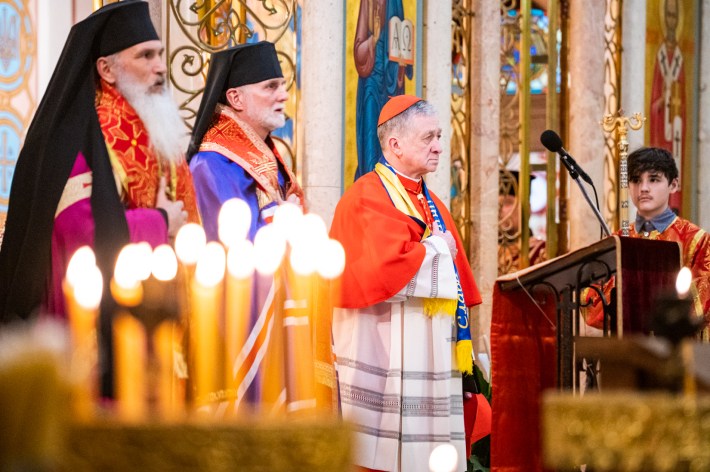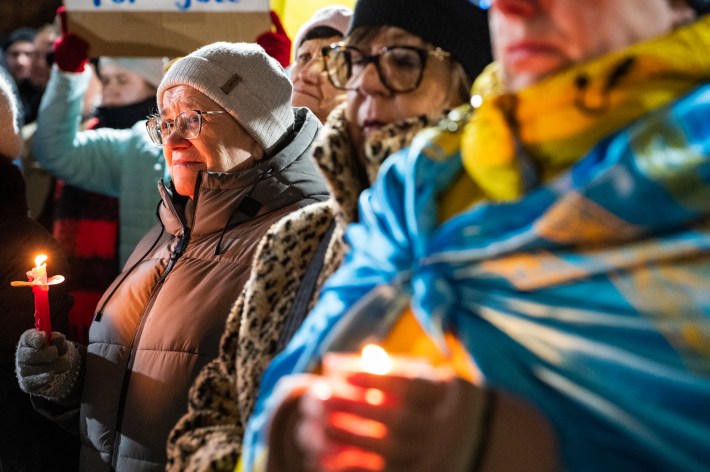 Natalya, a Ukrainian woman holding one of the 365 signs, said she hopes people continue talking about the war so nobody forgets what's happening to her family overseas. 
"It's hard to keep watching the news and seeing so many people dying, buildings being destroyed, how many people are losing their homes," said Natalya, who wasn't comfortable sharing her full name or where she's from. "I know that it's even harder for the people who are there. The least we can do is stand here.
"We just need the world to know that we're still here." 
Listen to "It's All Good: A Block Club Chicago Podcast":