ROGERS PARK — A men's shelter is setting up a permanent location in Rogers Park after a prominent housing provider's plans for the new facility were approved by the city.
North Side Housing and Supportive Services' proposal to open a 72-bed shelter at 7464 N. Clark St. received approval from the city's Zoning Board of Appeals last week. The approval was the final step needed before opening the shelter, which North Side Housing hopes to do by the summer, according to officials.
The Zoning Board of Appeals granted a special use permit for the facility to operate and also granted a reduction in the required parking at the facility from six spaces to zero.
One of only two men's shelters on the North Side, the organization's shelter has been operating out of a Super 8 motel at 7300 N. Sheridan Road since 2021.
North Side Housing can only afford to put up 50 men in the hotel and does not have the funds to operate indefinitely out of the hotel. It found a possible permanent home in the former medical offices on Clark Street, where it sought to add to its housing capacities and help put a dent in Chicago's homelessness crisis.
Plans call for a 72-bed shelter, with 18 shared sleeping rooms containing four beds each. There would be five bathrooms, a shower facility, a kitchen, communal areas and offices for support staff.
A proposal to house a drop-in service at the facility, which would allow those experiencing homelessness to come in for meals or services, was scrapped after some opposition from neighbors.
The shelter will be open 24 hours a day, 365 days a year and will require its residents to adhere to an 8 p.m. curfew. Security will be on-hand at all times, and visitors or loitering are not allowed at the facility, said Laura Michalski, executive director of Ravenswood-based North Side Housing.
The building on Clark Street works well for the shelter as it's already has doctor's offices that can be easily converted into communal residences and it has room for on-site support services, she said.
Plus, she said Rogers Park has been a welcoming neighborhood since they moved to the Motel 8 and throughout North Side's approval process for the new, permanent shelter.
"We really found great support, both as we were at the Super 8 motel but as we found this particularly property. We really found the community itself was welcoming to us," Michalski said at the Zoning Board of Appeals meeting held Feb. 17.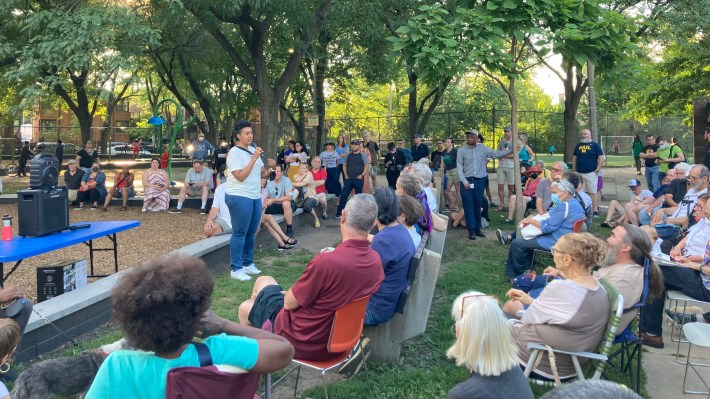 The shelter proposal is supported by Ald. Maria Hadden (49th) and two city agencies that work to address homelessness.
Hadden's office held three meetings on the shelter plan, some of which grew contentious as neighbors sparred over the proposal. Despite a "large disinformation campaign" against the shelter, Hadden said a survey of just over 1,200 people, 76 percent of respondents in favor of the project.
"This is a welcoming and passionate community where many folks were in agreement that we need to do something to help people experiencing homelessness," Hadden said at the Zoning Board of Appeals meeting.
At an unrelated event, Hadden said this week the shelter is looking to open by June.
Representatives from the city's Department of Housing and the Department of Family and Support Services also spoke in favor of the project at the meeting, saying shelter facilities for men are very much in demand.
"We've very excited to work in partnership with [the Department of Housing] to be creating new sustainable improvements within our shelter system," said Kimberly Howard, director of homeless services for the Department of Family and Support Services. "These shelter beds operated by North Side Housing are currently a critical part of our shelter system."
RELATED: Rogers Park Homeless Shelter, Now Operating In Motel, Hopes To Open Men's Shelter On Clark Street
Seventeen community members spoke in favor of the shelter at the zoning meeting, while resident Steven Weinberg was the lone objector.
Weinberg, a critic of Hadden's, accused the alderperson of running a "misinformation campaign" related to the shelter. He said the shelter should not open on Clark Street because not enough has been done to stop homeless encampments and drug dealing at Touhy Park and on Howard Street.
North Side Housing said virtually all of its clients are successfully transitioned from the temporary shelter to permanent, supportive housing, which North Side also operates. An average stay at the shelter is 80 days, though clients can stay as long as needed until they find permanent housing.
North Side Housing has operated a men's shelter since 1984, first in a church in Lakeview before moving to the Preston Bradley Center in Uptown in 2011. The Preston Bradley Center, a landmarked building home to social services groups, was deteriorating rapidly, so the group had to find a new home.
It established in the Rogers Park hotel, where the city is helping to pay its $40,000 monthly expenses, said Peter Marchese, North Side Housing's board president. The city has not committed to help with those expenses beyond the spring, he said.
But the city has stepped up to help establish the permanent shelter, where costs will be more controlled and where more services can be provided for clients, Marchese said.
Listen to "It's All Good: A Block Club Chicago Podcast":