LAKEVIEW — Bookman's Corner, a longtime bookstore on Lakeview's Clark Street, has for years had a sign reading "Books: Rare, Medium, Well-Done."
It was an ad for the shop's literature collection — but also played to the humor and wit of its owner, John Chandler, who opened the shop in the 1970s.
Chandler, a beloved figure in the community, died Feb. 14. He was 87.
Jack Stanley, a longtime friend and customer of Chandler's, said he and his husband have made a "weekly pilgrimage" to Bookman's Corner, 2959 N. Clark St., for more than a decade, ever since they'd moved to the area.
The store was "organized chaos," with seemingly endless stacks and shelves of books, Stanley said.
"But the shining part of that whole store was talking to John," he said.
Stanley, a historian who collects books from the 17th and 18th centuries, said Chandler helped him find new reads and carried conversations "on just about anything."
Stanley said he and his husband would spend hours in the bookstore, and it became their favorite hangout. It was well-loved by many others, too, getting visits from world travelers.
Even in bustling Lakeview, Bookman's stood out: Every inch was covered in piles and boxes of books that shoppers would have to navigate around.
Chandler opened the shop in the '70s and developed meaningful relationships with neighbors and customers, sometimes even gifting them books and other presents, Stanley said.
"He's a little rough on the exterior, but once you got to know him, it was sort of like a hard candy," Stanley said. "Once you get in there, he was a true sweetheart and really pushed other people to learn and to read. His loss is very detrimental to so many people."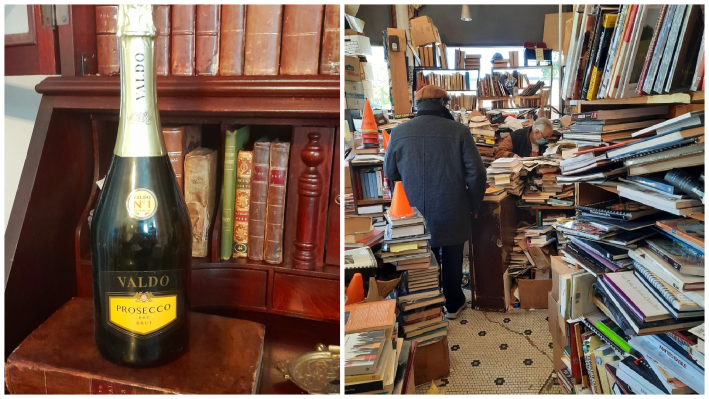 Stanley said he stopped by the shop nine days before Chandler's death and bought one last book — poetry by Alexander Pope from 1830. Chandler gifted him a bottle of champagne that day.
Chandler's impact on the community was "silently tremendous," Stanley said.
"It was fascinating — I would go to him and there would be people visiting him from 20 years prior, from California or England," Stanley said. "It was really quite amazing. He attracted this eclectic group of people."
Students also frequented Bookman's Corner, and Chandler enjoyed starting them off on books and helping them with reports, Stanley said.
"He was a really sweet guy who loved books and wanted to make sure everybody else did, too," Stanley said.
Although Chandler was born, raised and went to college in Michigan, he lived in Chicago for more than 50 years, according to Shelf Awareness.
"He seemed to have fallen into a lot of books, and that kind of kept him there," Stanley said. "He seemed to find his home here."
Chandler's family could not immediately be reached for comment. He is survived by his brother, Charles, as well as nieces and nephews, according to his obituary.
Donations to St. Jude Children's Hospital can be made in Chandler's memory, according to the obituary.
Subscribe to Block Club Chicago, an independent, 501(c)(3), journalist-run newsroom. Every dime we make funds reporting from Chicago's neighborhoods.