CHICAGO — Schools need more bilingual staff, resources to help immigrant families and contract provisions to protect undocumented students and staff, members of the Chicago Teachers Union said Wednesday.
Nearly a dozen CTU members gathered outside the Chicago Public Schools headquarters to call on Mayor Lori Lightfoot and the Chicago Board of Education to pressure charter schools contracted with CPS to agree to sanctuary protections, as well as to funnel more funds into bilingual resources.
Rebecca Martinez, director of organizing with CTU, said there is an urgent need for sanctuary in schools.
"Students, families, members are struggling with mental health, unprecedented violence in and around schools and right-wing, racist governors who are treating human beings as pawns in a crisis," Martinez said.
Since August, more than 4,000 migrants have arrived in Chicago from Central and South America. It's unclear exactly how many school-aged children are among them, but a WGN investigation found 24 elementary schools in Chicago added at least 20 new students to English as a Second Language programs, with two schools adding 100 kids.
A spokesperson for the Department of Family and Support Services didn't respond to request for information on the number of school-aged migrants who have arrived in Chicago.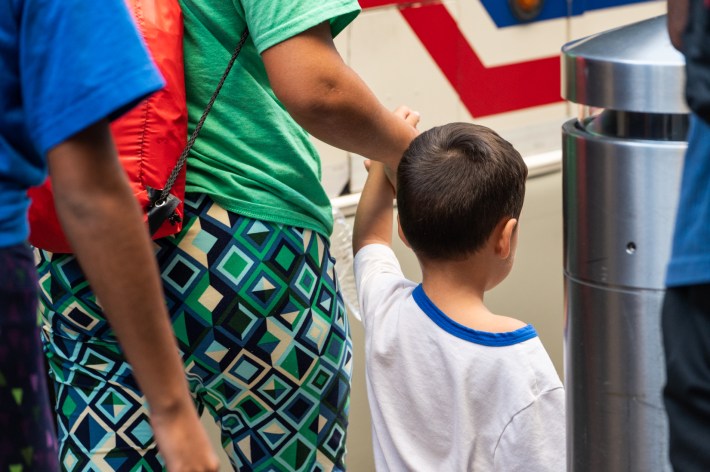 CPS and its charter schools were already struggling with a lack of bilingual staff and resources before Texas Gov. Greg Abbott began sending asylum-seekers to Chicago on buses over the summer — now the shortage has worsened, Martinez said.
"So pretty much [parents] are navigating the school system without a lot of care," she said.
A spokesperson for CPS said in a statement the schools district has a long history of welcoming new arrivals.
"CPS aims to provide every student with a high-quality and holistic education which includes serving our diverse multicultural students with bilingual and dual language support as they enroll in school and throughout the school year," the spokesperson said. "We are committed to serving every new student, including those students who have arrived in recent months with their families from Central and South America."
There's been an increase of 900 bilingual or ESL educators since 2020, and the vacancy rate for bilingual educators is 2.5 percent, according to the CPS spokesperson.
The spokesperson deferred any questions about charter school contracts to their leadership.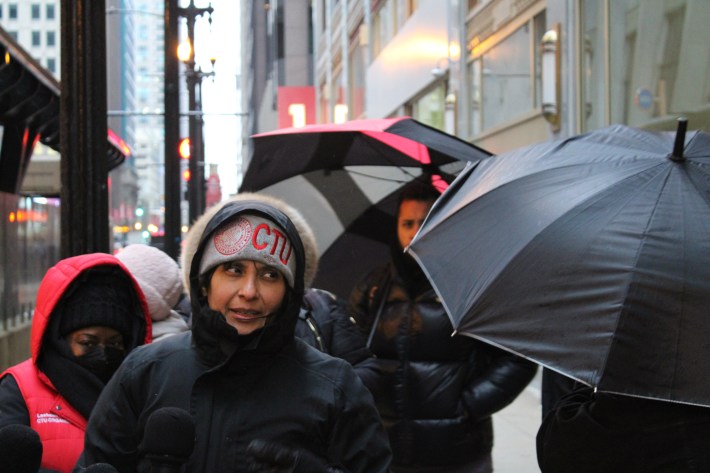 Contract negotiations are ongoing with 12 charter schools where teachers are advocating for sanctuary provisions, said Jen Conant, chair of CTU's charter division. Some charter schools are willing to negotiate on this issue while others haven't responded to the demands, Conant said.
Sanctuary provisions, which are already adopted by CPS, include not unnecessarily disclosing students' immigration status, not allowing Immigration and Customs Enforcement into school buildings unless legally required, training for staff about sanctuary status and support for students, no discrimination toward employees based on immigration status, resources on DACA for families and allowing time for staff to attend immigration appointments.
It's unclear which charter schools are agreeing or declining to negotiate on sanctuary terms.
"Our educators get up every day to provide the best education possible to our students, and they deserve to be supported by their employers if they need that," Conant said. "And providing protection for students is a basic, important human right."
Anna Stella-Tayler, a special education teacher at Asian Human Services Passages Charter School, said she and fellow teachers had to go on strike to get sanctuary provisions at their schools. She now is fighting to make sure other charter schools guarantee the same for students.
"We think that it is essential that we commit to their safety and their well being in our buildings and make sure that they feel welcomed and protected," Stella-Tayler said. "That's why in addition to protection from discrimination and unnecessary risk from immigration services, we also think that they need and deserve robust bilingual services and trauma support."
Juan Carlos Hernandez, a teacher at Acero Garcia Charter School in Archer Heights, said it's not enough for schools to just be sanctuaries for students. Teachers and staff also deserve to be protected under provisions, said Hernandez, himself a DACA recipient.
"What kind of message does it send to your parents when you say that it is okay to let ICE into the building to take your kid's teacher?" he said.
Listen to "It's All Good: A Block Club Chicago Podcast":