NORWOOD PARK — Ald. Anthony Napolitano (41st) and his challenger, Paul Struebing, pitched themselves to Far Northwest Side voters during a community meeting Thursday night, days before the election.
Napolitano and Struebing — the two candidates for 41st Ward alderman — talked about their ties to the ward and their visions for public safety during the Big Oaks-Union Ridge Neighborhood Association's meeting, which was held at St. Monica's Beyenka Hall, 5115 N. Mont Clare Ave.
Napolitano, a former police officer and firefighter, was elected in 2015 and was reelected in 2019. Struebing is an Edison Park resident and attorney. The candidates were asked to introduce themselves and give speeches.
Safety
Napolitano said increasing public safety is top of mind for voters and is what he will focus on if he is reelected. That starts at the top, Napolitano said — so he's endorsed Paul Vallas for mayor. Vallas has promised to fire police Supt. David Brown.
Napolitano also took aim at Struebing's public safety plan to hire more officers to fix the department shortage, saying alderpeople do not control police hiring.
Napolitano — who has landed donations from firefighter and police unions — has said he's fighting for more police officers to be assigned to the 16th Police District. He's also supported proposals that aim to give officers protected days off and scrap the Civilian Office of Police Accountability, the department watchdog.
Napolitano said he hopes to encourage people to become police officers. Having an administration that supports police officers is the first step to getting more people into the job, he said.
Napolitano also said he helped the 16th Police District get its first strategic decision support center last year. The center will have 15 cameras in the district and combines crime analytics, real-time camera footage and technology with experts and other resources to try to reduce crime.
Struebing said that while he agrees more officers need to be hired, better legislation needs to be passed to protect officers' days off.
The department has struggled with a mental health crisis and rising suicides among officers, with some officers saying it's partially due to low morale and high workloads that see many of their days off canceled.
"They've lost their summers. They've lost time with their families. … On City Council, I will work very hard to make sure that laws get passed such that mandatory overtime is capped so that we cap the number of canceled days off," Struebing said.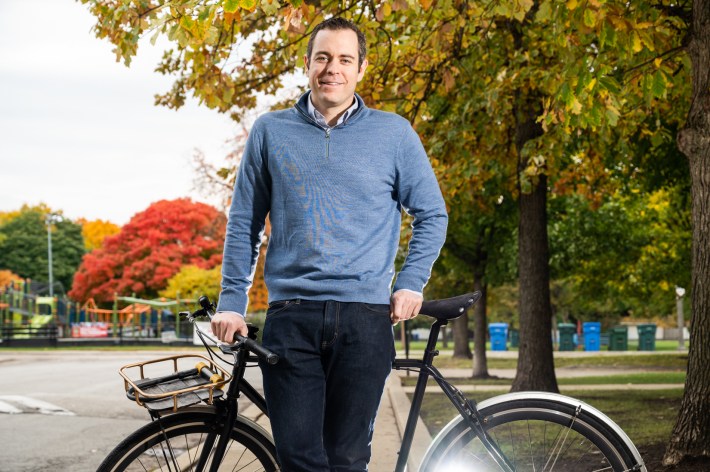 Struebing said he'd also want to work with other city agencies and social service groups to shift the responsibility of officers to others who can better assist for calls that involve mental health crises and wellness checks, he said.
"We ask too much of our police, and they work really hard and try to do everything that we ask, but we can't expect them to do everything," he said.
Those kinds of policies have been gaining steam in Chicago. The city is experimenting with crisis teams where mental health experts respond to mental health emergencies, shifting work away from police, though those teams have not yet expanded to the Far Northwest Side.
Struebing's public safety plan goes beyond crime, he said: He also wants to create and maintain safe streets for children, cyclists and pedestrians; redesign roads that make drivers slow down; and look at environmental issues like the lead service replacement program, he said.
Struebing spearheaded a push for a safety overhaul of Northwest Highway in 2021, helping gather about 800 signatures on a petition asking officials to examine how to make the street safer for pedestrians and bicyclists.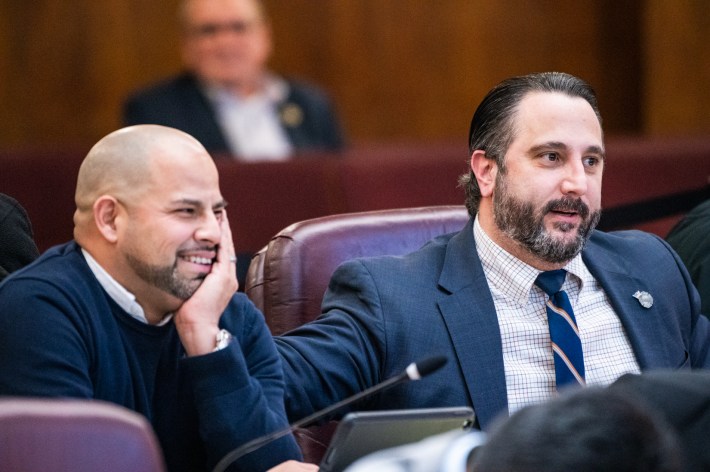 Other Priorities
Struebing also wants to invest in the ward's commercial corridors to attract more independent businesses and make them into shopping destinations, he said.
"We need to build business districts that are more comfortable and interesting for shoppers," he said.
Napolitano said he'd used capital funding to help with street and sidewalk improvements and school and park upgrades, including Taft High School's new turf football field, Norwood Park's improved field house and new tennis courts and upgrades to Oriole Park's gym.
"We brought major infrastructure to the ward," Napolitano said. "It's never enough, but we're always gonna fight for more. In the last four years, [we've spent] over $100 million in infrastructure improvements, including new sewer mains."
The two candidates took aim at each other, too.
"Most importantly, I'm running because I'm going to be a guy who shows up," Struebing told the crowd. "Over the last four years, Anthony has missed 70 committee meetings."
Napolitano attended 77 percent of City Council and committee meetings May 2019-December 2021, according to publicly available attendance record data analyzed by WBEZ.
After the meeting, Napolitano told Block Club it is a "blatant lie" to say he's missed 70 meetings. When meetings went remote because of the pandemic, the clerk's office had trouble tracking virtual attendance, he said.
"I've never missed a council meeting in eight years," Napolitano said.
The alderman has not missed full City Council meetings since he was elected, according to attendance records, but he has missed some committee meetings, he said. He is a member of nine council committees.
"I only miss committee meetings if there's something going on in the ward, and the ward always comes first," he said.
The election is Tuesday.
Subscribe to Block Club Chicago, an independent, 501(c)(3), journalist-run newsroom. Every dime we make funds reporting from Chicago's neighborhoods.
Click here to support Block Club with a tax-deductible donation. 
Thanks for subscribing to Block Club Chicago, an independent, 501(c)(3), journalist-run newsroom. Every dime we make funds reporting from Chicago's neighborhoods. Click here to support Block Club with a tax-deductible donation.
Listen to "The Ballot: A Block Club Chicago Podcast":