ROGERS PARK — The candidates hoping to represent Rogers Park in City Council agree the area needs more affordable housing and immediate solutions to help residents experiencing homelessness, but they have different plans for how they'd do that.
Incumbent Ald. Maria Hadden (49th) and challengers Bill Morton and Belia Rodriguez appeared at a forum Tuesday at Loyola's Rogers Park campus. The League of Women Voters of Chicago hosted the event, questioning the candidates about housing, homelessness and public safety.
Hadden is running her first reelection campaign while Morton and Rodriguez come into the race with backgrounds in business development.
Morton and Rodriguez critiqued Hadden's first term, pledging to do more to address public safety in the Far North Side. Hadden touted her record on strengthening protections for older people, improving local schools and making efforts to address homelessness.
Neighbors can watch the entire forum at the League of Women Voters of Chicago's Facebook page.
The election is Tuesday. If no candidate garners at least 50 percent of the vote, the top two vote earners will proceed to a runoff April 4.
Homelessness
A homeless encampment in Touhy Park long has been a source of debate among neighbors and now is a key issue in the election.
The encampment caused the park to close late last year, but the Park District will reopen the park this spring and return programs after fewer people sought refuge in the encampment during the winter, a parks spokesperson said.
Asked how they would address homelessness, Hadden said she supported the Bring Chicago Home ordinance. The proposed law would increase a real estate tax on property sales exceeding $1 million, directing that funding toward housing efforts for people facing homelessness.
Hadden was among the alderpeople who pushed for a City Council hearing on the ordinance in hopes of adding a referendum question to February's ballot. That effort derailed when 25 alderpeople skipped the meeting.
Hadden said she successfully lobbied for 1,200 new housing units for those facing homelessness in the current budget, but the city needs at least 800 more units on top of that.
"We need services and funds to prevent people from losing their homes," Hadden said. "We're going to continue to see people living unsheltered as long as we are underfunding the situation."
Rodriguez, who said she lives near Touhy Park, does not support Bring Chicago Home. The city has enough funding to address the issue, but there need to be better policies and planning around homelessness, plus added urgency to work towards a solution, Rodriguez said.
"This isn't a money issue; this is a plan issue," Rodriguez said. "We need to find housing for these people, and we need to return the park back to the community."
Morton said he supports Bring Chicago Home. He also said he would have prevented an encampment from forming in the first place.
"I would have nipped that in the bud," he said. "I would have found the first couple people housing so it wouldn't be a thing."
Affordable Housing
The trio pinpointed different aspects as key to increasing housing affordability or ensuring people are able to stay in their homes.
Not enough is being done to increase housing supply in the neighborhood, Rodriguez said. She said she would relieve pressure to redevelop the existing, naturally occurring affordable housing.
Morton said he would address "tenant-landlord issues" in an effort to fight unjust evictions and other harassment of tenants.
Hadden said she has sought to foster "development without displacement" as a way to address issues like gentrification. Her priority is adding affordable housing to the neighborhood, Hadden said.
One such proposal is to build 110 affordable apartments at the northeast corner of Howard and Paulina streets, directly across from the Red Line. Rodriguez and Morton objected to parts of the plan or Hadden's handling of the proposal.
Hadden called the proposal a "great project" and said that, unlike some of the public housing north of Howard Street, the new proposal would include units for households making 60 percent of the area median income, or nearly $44,000 for a household of one.
"About 56 percent of our households earn $50,000 or less," Hadden said. "This is housing for people here."
Morton criticized that approach, saying the city needs to reduce crime along Howard Street before adding housing. He also lamented the lack of neighborhood-wide community meetings on the project.
"We have gang activity, violence, drug dealing. We need to take care of these issues first," Morton said. "This is the wrong location for this."
Adding affordable housing to the north of Howard area further concentrates such housing in one section of the neighborhood, Rodriguez said.
"It shouldn't be concentrated in Rogers Park, on Howard Street specifically," Rodriguez said. "I would absolutely love to see [the 110 affordable apartments] in Rogers Park. I'd love to see it spread out."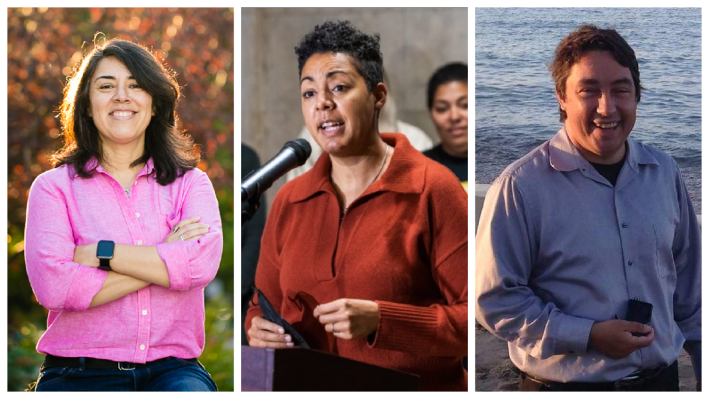 Public Safety
Morton said he would improve safety by holding daily briefings with city agencies, including local police brass.
"That's the only thing we can do is work together and get community input on the issue," he said.
Morton also talked about safety on the CTA, claiming Rep. Kelly Cassidy was "assaulted on the Red Line and said she would never take the Red Line again."
Cassidy quickly denied that, posting on social media no such incident ever took place and saying Morton's comment was "complete fiction" and Morton needed to "keep my name out of his mouth."
Rodriguez said she would make public safety a priority and would hold meetings with stakeholders to improve conditions. She would work with the mayor to "have more programs in place to prevent crime."
"I would absolutely look to prioritize it right now, which is something I feel isn't happening," Rodriguez said.
Hadden said she has addressed crime in part by using a $100,000 city microgrant program to fund organizations working in youth development and violence prevention. She has also sought funding for social programs, including guaranteed basic income, ideas she said could help prevent crime.
"So much of the crime we've seen increase in the last few years are crimes of desperation," Hadden said.
Subscribe to Block Club Chicago, an independent, 501(c)(3), journalist-run newsroom. Every dime we make funds reporting from Chicago's neighborhoods.
Click here to support Block Club with a tax-deductible donation. 
Thanks for subscribing to Block Club Chicago, an independent, 501(c)(3), journalist-run newsroom. Every dime we make funds reporting from Chicago's neighborhoods. Click here to support Block Club with a tax-deductible donation.
Listen to "The Ballot: A Block Club Chicago Podcast":