HERMOSA — David Ortiz Jr. and Antonio Beniquez, who started The Barracks boxing gym a couple years ago, are turning to a community group and the public to further their mission of helping underserved youth.
The Barracks, 1919 N. Springfield Ave., offers weekly boxing training to kids and young adults in the Humboldt Park-based Puerto Rican Cultural Center's violence prevention program.
The partnership started in the summer after a case manager with the Puerto Rican Cultural Center began training at The Barracks.
Now, the two organizations are trying to expand the program with an online fundraiser to pay for a van and other transportation-related expenses. It had raised $1,530 toward its $30,000 goal as of Tuesday.
While the program has grown in recent months, one persistent barrier to getting more kids into the ring is the lack of transportation, leaders said.
Jordan Gearey, the Puerto Rican Cultural Center case manager who helped launch the program, has walked a group of kids from the cultural center's office on Division Street in Humboldt Park to The Barracks at the Logan Square-Hermosa border every Friday.
But that system isn't sustainable and can put kids in harm's way, Ortiz said.
Kids from Carl Schurz High School, Foreman College and Career Academy and other nearby high schools have shown interest in the program, but the gym "is a decent way's away from those schools if you don't have a car," Gearey said.
A passenger van will allow the two organizations to safely transport kids from across the Northwest Side to the gym, Gearey and Ortiz said.
The money raised will also go toward registering the van and paying for insurance, gas and maintenance, according to the fundraiser.
"Folks who do have that expendable income and are passionate about this community on the Northwest Side and want to see life-changing work happen, I think this would be a great place to do it," Gearey said.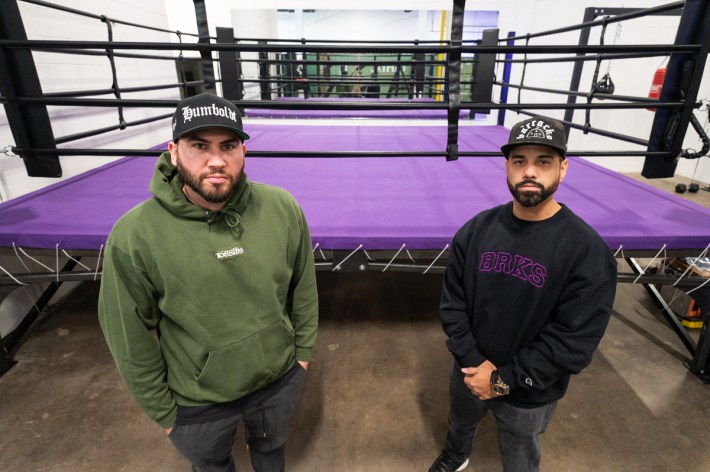 Realizing the area lacked a quality boxing gym, longtime friends and creative collaborators Ortiz and Beniquez opened The Barracks in 2021 to build a community around the sport.
RELATED: The Barracks Boxing Gym Opens At Logan Square-Hermosa Border, Offering Classes For Kids And Adults
The gym is in the middle of where the two grew up, in Albany Park and Humboldt Park, respectively, and offers boxing training for kids and adults. Ortiz, who has coached his son to a national ranking, and other trainers teach the classes.
Getting The Barracks off the ground during the pandemic wasn't easy, and the owners feared the business would only survive a few months, Ortiz said.
"It was hard. It was really hard," he said. "People weren't taking chances. They were staying home."
But memberships started picking up in the spring, Ortiz said. That's around the time that Gearey came in on his own to train independently. The two got to talking about a partnership, and the program grew from there.
It was just Gearey and one kid from the cultural center at first, but Gearey's crew grew over time, Ortiz said. About 10 kids and young adults accompanied Gearey to The Barracks for boxing training on Friday. The program serves people 14-24 years old.
Boxing can have a profound impact on young people, especially those who are at-risk of being victims of violence, Gearey and Ortiz said. The sport teaches discipline and resilience, and it can boost self-confidence, they said.
"You're not seen as a homeless kid. You're not seen as a kid who's on probation. You're not seen as someone … who needs to be looked after all the time so you're not getting into s—. They're seen as fighters, people who are training," Gearey said.
The Puerto Rican Cultural Center partnership is just the beginning for The Barracks as a community hub. Ortiz and Beniquez have looked for ways to expand their community outreach, and they're in talks with several foundations to fund more programs and memberships, Ortiz said.
"I want to offer free or discounted memberships to youth in the neighborhood, so parents and families don't have to worry about choosing between a need and a want," Ortiz said.
To donate to the Puerto Rican Cultural Center program, go here.
Listen to "It's All Good: A Block Club Chicago Podcast":