HYDE PARK — A Hyde Park ice cream and sweets shop will build an outdoor event space its owner has dreamed of for more than a decade thanks to a city grant.
Owner Jackie Jackson plans to build a "chocolate garden" in the back patio of Kilwins, 5226 S. Harper Ave in Hyde Park. The renovated area will host up to 200 people for community events, birthday parties, book club events, family reunions and anything else neighbors may need, Jackson said.
"In the back of Kilwins, there's a huge space that is underutilized," she said. "I've had this vision for 11 years … just to have a space for people to come and use."
The city awarded Kilwins a $250,000 community development grant to build the chocolate garden, officials announced last week.
The grant will help pay for excavation, concrete, plantings and electrical work, Jackson said.
The sweets shop will also look to install heating lamps and an enclosure so events can take place there through the fall season, she said.
The garden would charge a "minimal" fee to groups to staff and clean up their events, Jackson said. Kilwins would also hold its own regular community events like poetry nights, karaoke nights, kids nights and day parties.
Jackson wants to offer affordable rental fees and host frequent events as a show of appreciation to Hyde Park neighbors who have supported her store through difficult times, she said.
"In times of the pandemic and when the incident happened in my store with the gunshots [in] November 2021, my customers have been very supportive, patient and loyal," Jackson said. "I'm very excited about bringing this for the community."
Jackson credits the Big Boyz Grill-Off, an annual barbecue whose organizers clean up the back patio to set up dozens of grills, for inspiring her to finalize plans for the garden.
"Seeing how willing [Gary Heflin and other organizers] were to come and have an event in that space, even when it was so raw and unattractive, showed me there's a real need for it," Jackson said. "I'm just so happy that it's finally coming to fruition."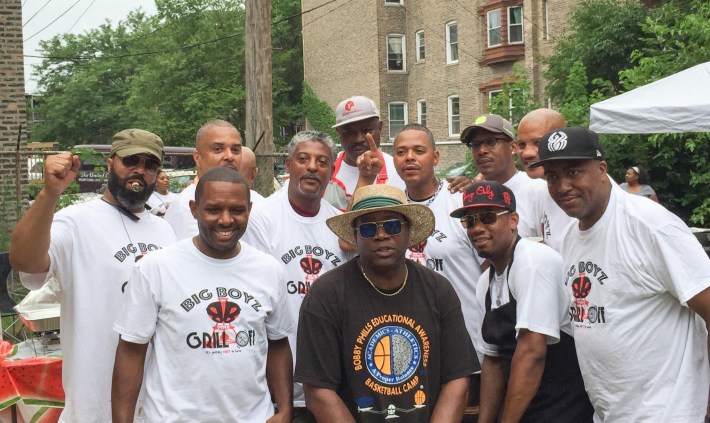 As Jackson rolls out the chocolate garden, she's preparing to open a Kilwins in Andersonville in April and another location at the One Chicago development in River North before Memorial Day, she said.
Jackson also received a $1 million city grant last year to open a Fatburger in Chatham. Construction on the burger joint is getting started and it's expected to open late this summer, she said.
"Summer is my busiest season [with the Kilwins locations], so if I don't maximize that, it will be really challenging," Jackson said. "I want to open Fatburger when I can dedicate more time."
The expansions are all "a part of my exit plan," as Jackson plans to step away from the day-to-day operations of her companies in the near future, she said last year. She's priming her proteges in her various businesses — including her daughter, Janel — to take over, she said.
The city also awarded a $5 million community development grant this month to Revive 6300 to build high-end offices on the site of the Washington Park National Bank building in Woodlawn.
Other grants include $3.1 million to Demera Ethiopian Restaurant for a Bronzeville location and $250,000 to La Catrina LLC to redevelop a vacant East Side property into a banquet hall.
Listen to "It's All Good: A Block Club Chicago Podcast":