HYDE PARK — University of Chicago Medicine unveiled its latest design for the first freestanding cancer center in Chicago, making the project 30,000 square feet bigger and almost $200 million more expensive.
The updated plans for a cancer center on the Hyde Park campus include 80 inpatient beds, 90 exam rooms, a dedicated breast center, radiation oncology services and more within a seven-story building. The center could be expanded to 10 stories after it's completed, if needed, officials said.
The ground floor has been redesigned from an initial proposal to be "a community hub for cancer prevention, screening and diagnoses," while other changes to the plans include private infusion bays and "shell spaces" reserved for technologies that have yet to be developed, officials said.
All told, the 575,000-square-foot facility on 57th Street between Maryland and Drexel avenues is now expected to cost $815 million, officials said.
Initial plans announced in February 2022 called for a $633 million, 544,000-square-foot hospital with 128 inpatient beds.
"Our leadership wanted to make sure the cancer hospital did not compromise on meeting the needs of patients and the community, and that we could accommodate any of the cancer-related technologies and medical advancements in the future," spokesperson Lorna Wong told Block Club Thursday.
Inflation in construction costs accounts for about $100 million of the increased price, while additional spaces and services added another $100 million or so to the tab, university officials told Crain's.
The state health review board approved UChicago Medicine's request to start the design process for the facility in March. University officials have sought feedback from patients and South Siders for most of the past year to refine the design, they said.
The university submitted its design Tuesday as it asked the review board for permission to start the center's construction. A meeting date to rule on the application has not been set. Written comments on the plans are accepted through June 7.
Construction for the cancer facility is set to begin later this year, pending state approval. It is expected to open in 2027.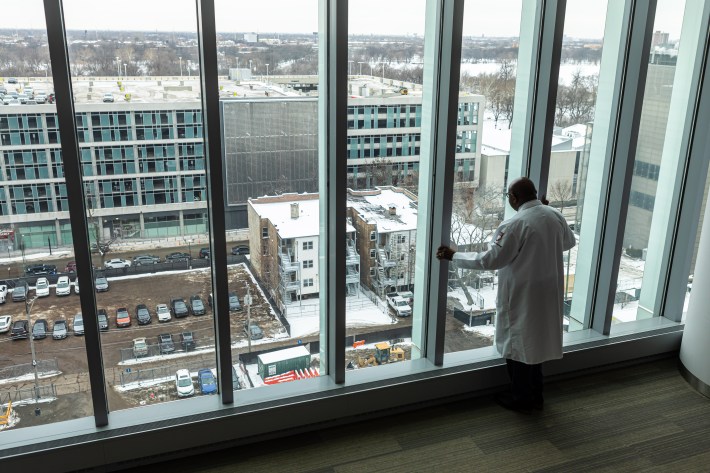 The cancer center would allow more South Siders to receive treatment near their homes and free up beds elsewhere in the university's hospital system, officials have said.
The university's health care system "is essentially being stretched to its limit," Kunle Odunsi, director of the university's Comprehensive Cancer Center, told Block Club last year.
The center will relieve some of those capacity challenges, which have arisen amid many years of divestment from the South Side by the health care industry, officials said.
The hospital would consolidate treatment, preventative and remission services that now take place in at least five buildings on UChicago Medicine's campus.
"South Side patients should not have to leave their neighborhoods to access world-class, human-centered cancer care that similarly attracts patients regionally, nationally and internationally," UChicago Medicine President Tom Jackiewicz said in a statement.
UChicago Medicine is one of two systems in Illinois with a "comprehensive cancer center" designated by the National Cancer Institute, alongside Northwestern University's Robert H. Lurie cancer center.
Mayoral candidate and state Rep. Kam Buckner and officials at St. Bernard Hospital in Englewood have submitted letters of support for the center.
Watch our "On The Block" TV show on The U, CW26 and MeTV.
Listen to "It's All Good: A Block Club Chicago Podcast":