RAVENSWOOD — A Ravenswood tattoo shop offering a safe and inclusive space for people to get ink is expanding to bring on more artists and host fundraisers for local nonprofits. 
Oleander Tattoo, 5254 N. Damen Ave., took over the space next door at 5256 N. Damen Ave. and completed the renovation earlier this month.
Cassandra Knox opened Oleander in 2021 after working at a few tattoo shops in Chicago where the "boys club" environment could be too hectic and loud for some customers, she said. 
"Having death metal blasted while you're getting your ribcage tattooed, and you're a young 19-year-old who is literally getting your first tattoo?" Knox said. "Stuff like that can taint somebody's experience, and then possibly they don't want to get a future tattoo." 
Knox's goal with Oleander was to create an inclusive space with a more relaxed vibe. Its popularity has grown over the years — and she realized she needed more space to accommodate the number of artists and customers interested in working with her, which led to the recent expansion, she said. 
"We were contacted a lot by artists that were primarily women unhappy at other shops they were at and were looking for a change, but I couldn't accommodate that because I didn't have the space," Knox said. 
Knox is waiting on final city licenses to welcome clients into the new space, which she hopes will open by the spring, she said.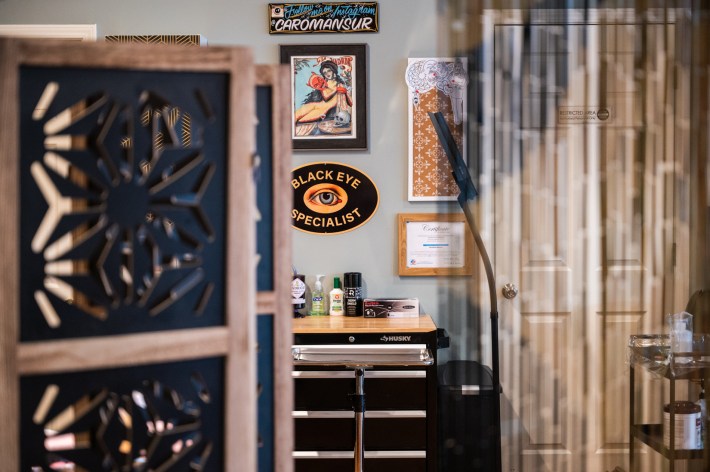 Once Knox can open the expanded space, she can bring on more tattoo artists, create additional seating areas for clients and host more events at the shop like "flash event" fundraisers, she said. 
Flash tattoos are pre-drawn designs people pick to get tattooed, she said. 
Knox has used "flash events" to fundraise for groups like Felines and Canines animal shelter; Awakenings Art, a Ravenswood art gallery which helps survivors of sexual violence create and display art; and Resilience, which supports survivors of sexual violence. 
"It's just so nice to get that feedback from clients of ours. Because we have all different kinds of clients, male or female and everywhere in between. People just like our shop, and it's nice to feel like we're doing what I set out to do," Knox said. 
Knox grew up in New York with a lifelong fascination with the artistry around tattoo culture. Her father was a photographer and her mother was a painter, and their backgrounds encouraged her to draw from very young age, she said. 
"It was always something that I was decently good at. And despite having a ton of other interests … I always gravitated towards creative fields," Knox said. "And since I was pretty young, I've always been kind of obsessed with tattoos. Especially people that were heavily tattooed. I just found it very fascinating."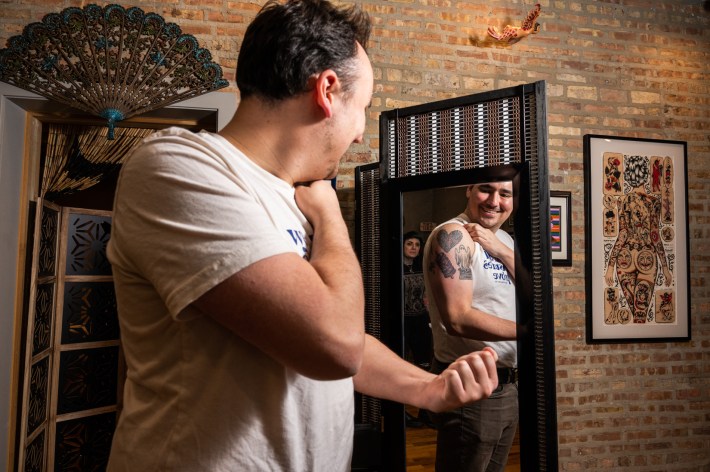 Knox's father took her to get her first tattoo when she was 16, and by the time she was 18, Knox was a fixture at local New York tattoo shops and got a job working behind the counter at one. 
"I was very involved in the punk rock and hardcore scenes as a teenager. And tattooing, being tattooed, is also heavily a part of those subcultures," Knox said. "I was fortunate where I just sort of naturally fell into a position where I was able to be around people that were tattooers."
It was around then Knox also realized becoming a tattoo artist was a viable career path that would allow her to travel anywhere she wanted while still doing something she liked, she said.
"I had a lot of friends at the time that were going to college, going to art school, and not happy with it. Getting out being in debt," Knox said. "This was something that I saw as a thing that I could do and learn and make into a career without having to go to school for it."
Knox started learning more about the trade in New York but didn't start her formal apprenticeship until she moved to Chicago in 2009. 
"I honestly never got into tattooing with the intention of opening my own shop. I got into tattooing because I love tattooing. Because I love art. I love talking to people," she said.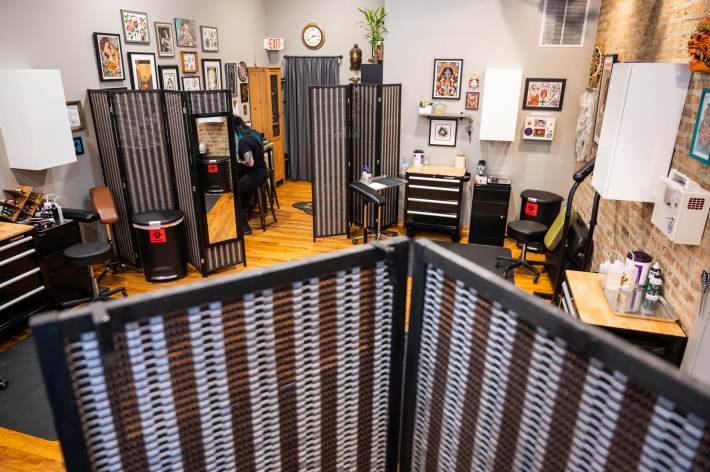 Knox changed course about owning a shop after she saw customers treated rudely in walk-in shops. She wanted Oleander to embrace everyone interested in getting ink regardless of their gender, religion or background, she said. 
"It can be like an anxious, nerve-racking experience for some people. You're already feeling vulnerable and maybe a little nervous, and then, if somebody is not super kind to you or there's crazy loud music blasting, those are all things that can impact somebody's experience," she said. 
Instead, Knox wanted Oleander to be a shop where someone felt like they were dropping by a friend's house and listening to relaxing music, she said. 
Curtains give clients more privacy when they're getting tattooed, there are plants everywhere and Knox stocks the shop with snacks and water and the bathroom with sanitary products, she said.
"Just little things like that makes a huge difference. And that's something that we get the most feedback about — that people feel comfortable in our shop," Knox said. "This business grew out of a need for more spaces like this. More spaces where people from all walks of life can feel comfortable and get a good, clean, solid tattoo."
Listen to "It's All Good: A Block Club Chicago Podcast":