PILSEN — A brunch spot is opening this weekend in Pilsen's bustling 18th Street corridor.
Pochos, owned by Irene Acosta and Miguel Hernandez, opened at 2025 W. 35th St. in McKinley Park in 2019 and quickly became a neighborhood favorite. But the duo couldn't find a way to keep the restaurant in the area, and they instead found a spot near the 18th Street Pink Line station at 1727 W. 18th St., they said.
After months of construction and renovations, Pochos will open at the new location Saturday. Hernandez and Acosta said they were sad to leave McKinley Park, but the excitement from the community about their new spot has been great, and they're happy to reopen.
"We take a lot of pride in having put together this space," Acosta said. "And I'd like to highlight the fact that we didn't build this — but 'we,' like our customers and our management and employees, we built it all together."
The owners are grateful to customers who supported them during COVID-19 lockdowns and restrictions in recent years, Acosta said.
"For us to have been able to survive that, it's solely due to the fact that we had such a good customer base, and the support they gave us during that time propelled us to be able to live here now," she said.
RELATED: Pochos Moving Its Popular McKinley Park Brunch Spot To Pilsen's 18th Street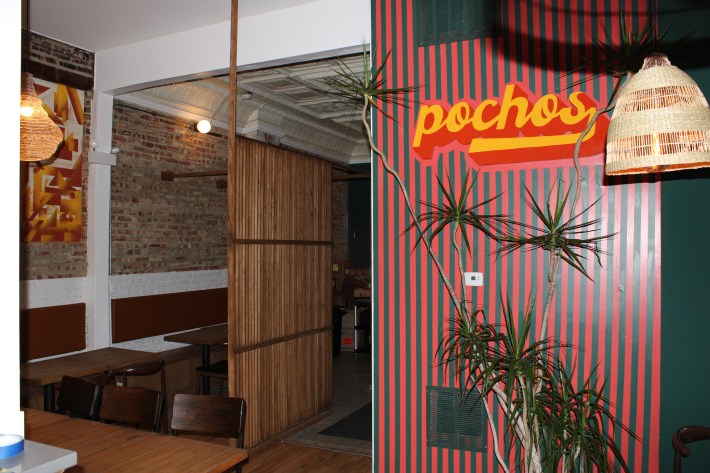 Customers can expect a similar menu to what was available in McKinley Park: chilaquiles, pancakes, French toast along with a few new dishes, Hernandez said.
The coffee bar will operate as a grab-and-go for commuting customers during the week, Hernandez said.
The owners designed the interior of their restaurant to be reminiscent of traveling to Mexico, and they wanted to stay true to the building's original structure, Acosta said. They maintained the original flooring, brick walls and decorative ceiling panels, and they customized a lot of woodwork, she said.
The tilework around the coffee bar ties into the cool tones of a sprawling mural on the west wall of the building, and the lamp shades are meant to make people think of woven baskets from Mexico, Acosta said.
"I think our angle to our restaurant is to highlight the natural beauty, natural deliciousness of food, and in our space we also wanted to make an ode to nature and let a lot of the natural elements speak for themselves," Acosta said.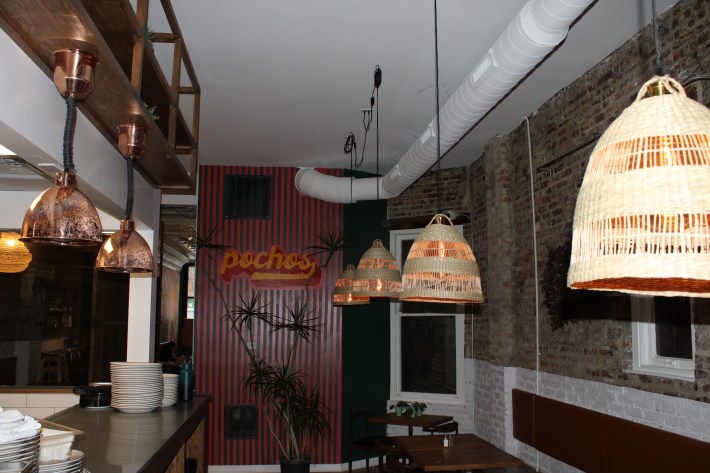 The co-owners are Mexican American and have described the restaurant's food as "a play on our culture," melding Mexican and American breakfast favorites.
The eatery's name is a nod to their roots, embracing the term "pocho," which can be used as a derogatory term to refer to someone of Mexican descent who lacks fluency in Spanish.
Hernandez and Acosta have worked in restaurants — front-of-house and in the kitchen — since high school, they said. That experience inspired their dream to open a business together, they said.
"We used to drive around trying to put our daughter to sleep, and we would look for for-rent signs," Hernandez said. "And we opened up with very minimal money. And I was telling [Acosta], we should remind ourselves how we did it and what it took for us to get to this point. It's pretty cool."
Pochos will be open 9 a.m.-4 p.m. Wednesday-Monday. You can follow its social media for more updates.
Listen to "It's All Good: A Block Club Chicago Podcast":