WEST LOOP — One candidate turned the sole forum in the race to lead Chicago's newest ward into an hour-and-a-half campaign event Wednesday night, touting his plans for green space, community involvement and more.
West Loop Realtor Jim Ascot was the only live participant in a virtual forum Wednesday hosted by Neighbors of West Loop, a nonprofit community group. His competitor, former prosecutor Bill Conway, didn't attend, citing a scheduling conflict.
The 34th Ward race is unique because of the sweeping changes it and its residents are facing. The ward was moved during the city's redistricting from the Far South Side into the middle of the West Loop and Downtown. The incumbent alderperson, Carrie Austin, is not running for reelection.
Forums have become a contentious point in the race to lead the new ward, as Ascot accused Conway — who's leading in fundraising and endorsements — of dodging forums and other opportunities for neighbors to hear from the candidates. Conway dropped out of one and has been unavailable for two others, including Wednesday night's event.
That has frustrated some neighbors. May Toy, vice president of Neighbors of West Loop, said earlier this week it's important for candidates to participate in at least one forum.
In a written statement sent to forum organizers, Conway denied purposefully skipping events. He previously said he's attended three dozen meet-and-greets and "countless community events" during his campaign.
"I'm sorry that our scheduling did not work out better here as I have another commitment tonight," Conway's statement read. "There have been suggestions that I don't value neighbors of West Loop, and nothing could be further from the truth. I have had the pleasure of sitting down with many of you personally and look forward to working with you as alderman."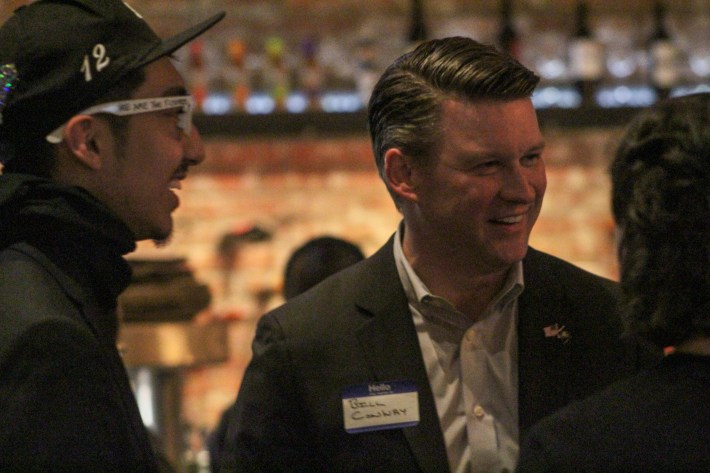 Then, Ascot had the floor for nearly 90 minutes to answer questions submitted by ward residents.
Asked about bringing more high-rises to the West Loop, Ascot said it would depend on the condition of the real estate market. It is possible development will slow as the West Loop is expected to get nearly 6,000 units over the next two years Ascot said.
Pockets of the West Loop within the 34th Ward are made up of shorter buildings between four to five stories, but Ascot said developers might still try to add taller buildings to the area.
Ascot said he's prepared to ask for community benefits when developers arrive.
"There should be green areas, there should be dog parks, dog walk areas, but there should be an investment in our neighborhood as well where we need more lighting in a park. … That's an investment that they could make," Ascot said.
Ascot also expressed a desire to invest in buying vacant lots throughout the West Loop and retrofitting them with parks or green spaces to meet the demands of the area's rising population.
But it was unclear how Ascot would vet proposed developments. Alds. Byron Sigcho-Lopez (25th) and Walter Burnett (27th), who currently represent parts of the neighborhood, require developers to have community meetings with neighborhood groups West Central Association and Neighbors of West Loop before moving forward.
Ascot said he wanted both organizations to be part of an advisory council he would create to review developments in the ward. When pressed, Ascot couldn't say for sure if that would mean ending initial meetings between developers and community groups.
"I would like to talk to some of the community's representatives like yourself, you know, what would be the appropriate thing to do here?" Ascot said.
The realtor also expressed interest in bargaining with developers to include more green space in their projects and possibly pooling a fund for developers to directly buy into so the ward could purchase lots for public use.
"We just have to be creative. … I think it's not a detriment to the developer. [They are] offering something that the community enjoys and needs and would live there because of that," Ascot said.
Ascot also expressed support for adding protected bike lanes throughout the ward. His plan is to consult public transportation experts and avid cyclists in the neighborhood to determine lane placement, he said.
Although Ascot did not have any immediate recommendations for where to add protected bike lanes, he said it's possible the lanes could alter the availability of on-street parking.
"We need to be able to make sure that those lanes are appropriately done so that safety is an issue that is taken care of," Ascot said.
A recording of Wednesday's forum will be posted on the Neighbors of West Loop Facebook page.
Subscribe to Block Club Chicago, an independent, 501(c)(3), journalist-run newsroom. Every dime we make funds reporting from Chicago's neighborhoods.
Click here to support Block Club with a tax-deductible donation. 
Thanks for subscribing to Block Club Chicago, an independent, 501(c)(3), journalist-run newsroom. Every dime we make funds reporting from Chicago's neighborhoods. Click here to support Block Club with a tax-deductible donation.
Listen to "The Ballot: A Block Club Chicago Podcast":