SOUTH SHORE — Dozens of Chicagoans have signed a wall with messages of love as part of an art exhibition to support the family of a 5-month-old girl fatally shot last summer in South Shore.
Cecelia Thomas was shot and killed while in the backseat of a car on South Shore Drive in June. Her mother, Juanita Harris, has pleaded for the shooter to turn themselves in.
Oneita Jackson, one of the artists behind the new exhibition "Unconditional Love" with photographer Andrew Emil, hopes to connect with Harris and present her with a painting created in Cecelia's honor.
"There are other people who send their love to Ms. Juanita and her family," Jackson said. "I'm hoping that she would receive the love through her pain. I cannot even imagine what it's like to have your infant killed … ."
The exhibition runs through Feb. 26 at Co-Prosperity Sphere, 3219 S. Morgan St. in Bridgeport. It's open noon-6 p.m. daily, and visitors can contact curator Howard Bailey at 773-726-2618 for showings after hours.
Attendees can sign a gallery wall filled with messages of love and support for Harris and all of Cecelia's loved ones. At least 50 people signed the wall as of Tuesday, Bailey said.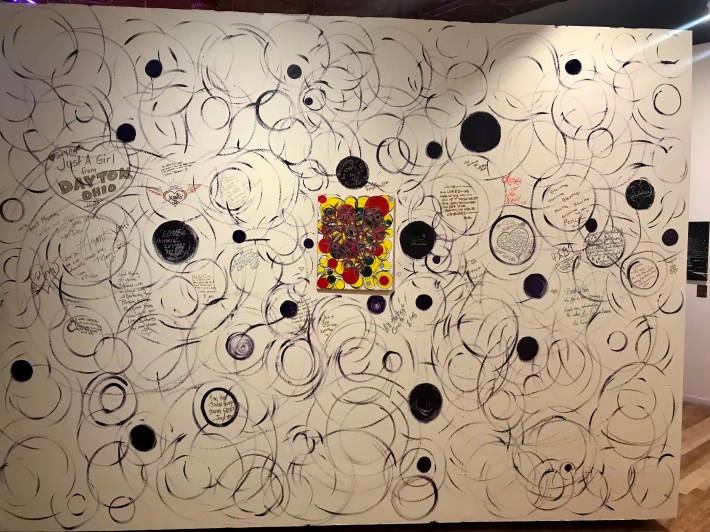 Jackson returned to Detroit this week to paint a heart in Cecelia's honor. Next weekend, she'll bring that heart with her when she returns to Co-Prosperity Sphere in Bridgeport for the exhibit's closing.
The heart will be painted in Jackson's "orthographic art" style, which is "representative of sounds of a language by written or printed symbols," Jackson said. It will use the letters in Cecelia's name to create a heart shape.
The artist hopes to connect with Harris and present her with the heart upon returning to Chicago, she said.
"I just would like to express to her face-to-face that someone in the community saw her, heard her, identified with her as a mother and wanted her to know that there are people out here who do care," Jackson said. "I would like to hug her and continue to be in contact with her if she'll let me."
Jackson asked Harris or anyone with ties to her to call 313-348-4435 and ask for Paul Shai.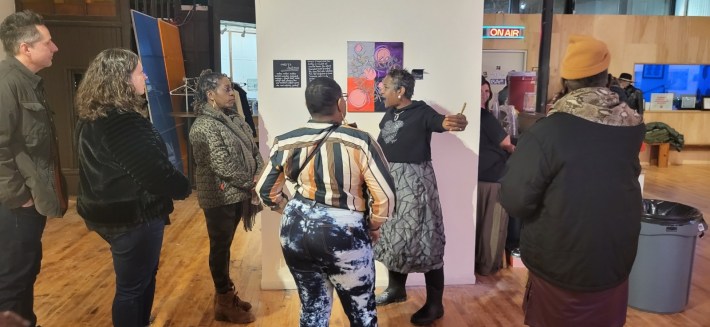 The other orthographic paintings on display at Co-Prosperity Sphere are part of Jackson's "The Love Movement." The collection has its roots in a series of impromptu hearts Jackson painted around South Shore after Cecelia was killed.
Some of the public art pieces have been painted over, while others remain — like one on the lakefront at 67th Street and another at the home of a woman who commissioned one after witnessing Jackson painting a heart in the neighborhood, Jackson said.
"I've been hurting for my friends [who have lost children], hurting for Ms. Juanita Harris — just wanting people to pay attention" to the impacts of gun violence, Jackson said.
"I thought, 'Somebody is going to see these hearts and wonder what's up with these hearts.'"
The wall of love grew out of the exhibit as visitors wrote "poignant messages" to Cecelia and her family, Jackson said. The artists and the Co-Prosperity Sphere organizers "are trying to figure out a way of preserving it as it is," Bailey said.
The wall reflects a desire in the South Shore and South Side communities to show love "more unity and recognition that we are all together," Jackson said. She credited efforts like the neighborhood's Walk, Talk and Roll program for promoting that same unity.
"We need to treat each other better, but we cannot do that if we're not taking care of ourselves," she said. "I hope that we would be more neighborly and show each other more love."
"Unconditional Love" also includes images by Emil, a musician and sound artist who also practices photography.
Emil's "eerily beautiful" shots of pandemic life, public transportation and other Chicago scenes are an expression of love for the city that fit well with the exhibition's title, Bailey said.
"Andrew has an amazing eye — his pictures reflect somebody who really loves his home," Bailey said. "I tell him he gets all into the cracks and crevices of Chicago. He finds beauty and aesthetics in things people see every day or that people ignore."
Neither Jackson, a former Detroit Free Press columnist, nor Emil were working in their primary media for this month's exhibition, Bailey said.
"Everything about this was literally from the heart and people felt it," Bailey said. "For them to step away from their passions and be able to exercise another passion inside them, I thought was a beautiful thing."
"Unconditional Love" is the first art show Bailey has curated. The Co-Prosperity Sphere pop-up is the "first step" in rolling out his Cultural Artifacts gallery and community art center, which he plans to open in a permanent space in Englewood by the end of the year, he said.
"If [Cultural Artifacts] can engage these kids at a young age, if we can nurture their ability to create, if we give them options in life and give them direction, I believe we can go a long way toward diminishing the violence in our communities," he said.
Listen to "It's All Good: A Block Club Chicago Podcast":