UPTOWN — Residents of a low-income senior living high-rise in Uptown said they are dealing with issues of pests, poor heating and inadequate laundry facilities in a city-owned building — even after more than a year of organizing.
Seniors living in the 235-unit Ella Flagg Young Apartments, 4645 N. Sheridan Road, organized a rally Wednesday to highlight their struggles, including going without working washing machines and dryers for nearly two years.
A washer and dryer were installed this week, but the one unit is not enough to serve the hundreds living in the building, members of the Ella Flagg Tenants Union said Wednesday. Without adequate laundry facilities, seniors with mobility issues and limited income are left to walk or take the bus to nearby laundromats or clean clothes in their sinks.
The laundry issues is among a slew of problems facing residents of the building who formed a tenants union in late 2021 and who protested the building's conditions last summer. It's owned by the CHA and managed by the Hispanic Housing Development Co., a nonprofit that's been embroiled in controversy.
"I've lived in this building for 21 years and I've never seen it so bad as in the last five years," resident Obrey Jones said at the rally. "Since we've been organizing, management hasn't done anything."
RELATED: Roaches, Flooding, Broken Washing Machines: Uptown Tenants Say CHA Is Neglecting Senior Living Apartments
The tenants union is calling on the city and the building's private management company to make long-needed upgrades to the facility.
"Their complaints have fallen on deaf ears," said Shanna Landheart, housing organizer working with the Ella Flagg tenants.
Chicago Housing Authority officials said in a statement the organization is working to address residents' complaints. Temporary laundry machines were installed in the building this week and permanent replacements will be installed in the next few weeks, spokesperson Matthew Aguilar said.
"The Chicago Housing Authority is committed to addressing the needs of all of our residents and ensuring they are supported," Aguilar said in the statement. "CHA has been, and continues to be, responsive to the concerns of residents at Ella Flagg Apartments and across our properties."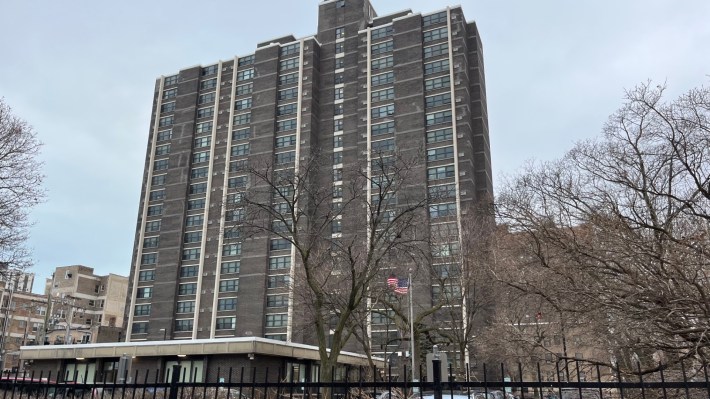 Management of the property is subcontracted to Hispanic Housing Development Co., which began overseeing the building in September 2021 after a public bidding process. The organization manages more than 260 buildings across the region, including more than 1,000 CHA units, according to its website.
The company has faced repeated criticism for the management of its buildings over the years, including on the Far North Side. It oversees a Rogers Park senior building where three women died during a May heatwave and management refused requests to turn on the building's air conditioning.
Hispanic Housing's Humboldt Park housing for veterans has also been the subject of complaints from residents, a 2019 Block Club investigation revealed. In 2020, the nonprofit housing group paid a $1.5 million fine in a class-action lawsuit for allegedly violating regulations around security deposits, according to the Sun-Times.
Representatives of Hispanic Housing did not immediately respond to a request for comment Wednesday.
Other issues in the building include mice and bugs, neighbors said. A constant complaint of tenants, building management has sought to address the issue by spraying for cockroaches and placing mouse traps, but the problem has not been solved, said resident William Paul Young.
Another resident, Erin Ehrenford, said she complained about her apartment temperature only being 49 degrees during the winter. After looking to fix the problem, building management got her temperature up to only about 59 degrees.
The city's heat ordinance states landlords must keep internal temperatures at 68 degrees or higher during the day and 66 degrees or higher at night between September 15 and June 1.
"It's not acceptable," Ehrenford said. "I have to run two heaters to get through the night. It's just not right."
The 20-story Ella Flagg Young Apartments dates to 1975 and is one of 43 senior properties operated by the CHA.
Watch our "On The Block" TV show on The U, CW26 and MeTV.
Listen to "It's All Good: A Block Club Chicago Podcast":