ANDERSONVILLE — Francisco De Bolaños' Andersonville cafe relaunched as a tapas spot in early 2020 — right as the pandemic hit Chicago and upended restaurants and retail.
But Little Madrid Tapas Cafe, 5661 N. Clark St., survived the pandemic and just marked its third year in business as a celebrated Spanish restaurant and a hub of southern European culture in Chicago. Now, De Bolaños is looking to expand in the city.
"We're so happy," De Bolaños said. "I pretty much started this myself with no experience. Now, we have a crew of 15."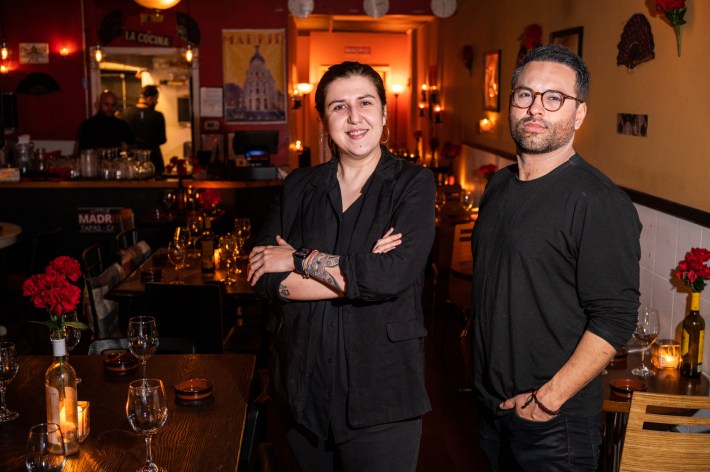 A native of Spain, De Bolaños opened Little Madrid in December 2019 as a Spanish coffee and pastry shop. The following month, the owner debuted its new focus as a tapas restaurant specializing in Spanish cuisine.
Early reviews were positive, with the Reader's Mike Sula praising Little Madrid's patatas bravas, or fried potatoes.
But the restaurant was forced to close less than two months after its debut because of the stay at home order. The shutdown kept the new business closed more than five months.
"It was really bad," De Bolaños said. "I was this close to saying, 'I'm done.'"
De Bolaños used the time to make over Little Madrid, repainting the place and giving the restaurant a more romantic vibe.
Little Madrid is painted in rich colors and decorated with Spanish paintings and art. It is illuminated almost exclusively by candlelight, and the majority of its tables seat only two. The restaurant has been ranked as one of the most romantic date night spots in the city by Eater.
The staff at Little Madrid speak to customers mostly in Spanish, as they want to create the most authentic hub of European culture in the city, De Bolaños said. Even if there is a line out the door, customers are never asked to leave, with De Bolaños seeking to foster European attitudes around meals as a communal experience that can extend beyond the eating of an entree.
The authenticity is also apparent in the food, which use Spanish ingredients for traditional tapas, including grilled octopus and melon with Spanish ham.
"It's very Spanish here, which is what we want to celebrate," De Bolaños said. "In Spain, we're very proud of our culture."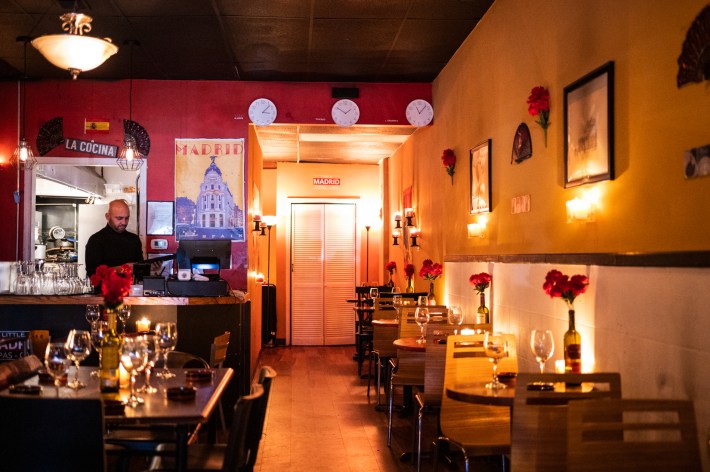 De Bolaños' first stop in the United States was New York City, where he continued his career as a human rights attorney. He moved to Chicago about nine years ago for his job. But when he saw a lack of authentic Spanish outposts in the city, he decided to change courses and open a cafe, he said.
De Bolaños opened in Andersonville after visiting the Swedish American Museum and appreciating the neighborhood's ties to European culture, he said.
If all goes according to plan, Andersonville won't be the only place where De Bolaños has a restaurant. The restaurateur is considering other locations for a second restaurant and has fielded offers to open in Lincoln Park, he said. Even if he opens another spot, Andersonville will remain De Bolaños' headquarters, he said.
"It's already in our plans," he said of a second location. "But I want to keep this. It's my baby."
Little Madrid is open 4:30-11 p.m. Wednesday-Friday, 2-11 p.m. Saturdays and 2-9 p.m. Sundays.
Listen to "It's All Good: A Block Club Chicago Podcast":