O'HARE — U.S. customs agents and their canines caught more than 5,000 illegal items coming through O'Hare Airport last month — including six dried rodents.
"Six dried rodents, including porcupine" were found in a bag from Liberia, according to a Customs and Border Protection news release. Rodents from Africa risk the spread of monkey pox, customs officials said.
Other gnarly discoveries included dried cow skin, "concealed hatching eggs" and 30 pounds of "animal body parts," according to Customs and Border Protection. Among them were hooves and bones likely from a small Congolese antelope.
In total, 5,162 items were seized at O'Hare in January, according to the news release. O'Hare is one of busiest airports in the world with the country's top-performing "Beagle Brigade," a team of eager beagles trained to sniff out thousands of questionable contents each year.
RELATED: O'Hare Airport's Beagles Are The Best In The Biz At Sniffing Out Illegal Food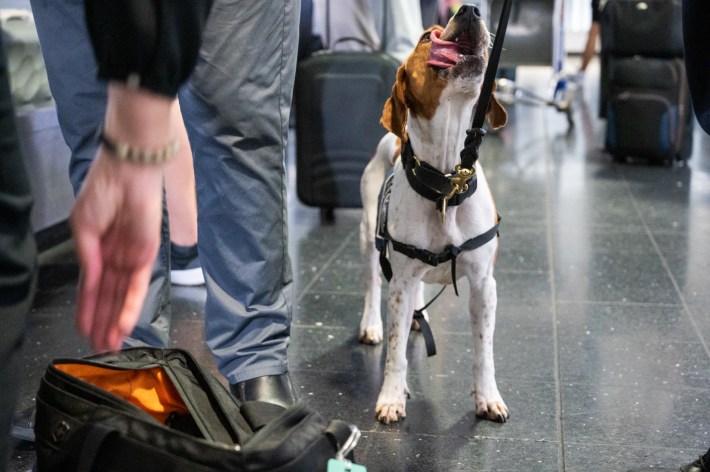 Most finds are stowaway snacks and cultural goods brought in without bad intent, like plants, seeds and sausage sandwiches, customs officials said.
But others are more sneaky — one man traveling from Italy last month vacuum-sealed 13 pieces of meat, including prosciutto, pancetta and soppressata.
The Italian meats were destroyed through steam sterilization, officials said.
A repeat offender, who was caught with the dried cow skin, was slapped with a $300 fine, officials said.
"The sheer volume of prohibited items our specialists intercept daily clearly shows how they play a critical role in preventing diseases," LaFonda D. Sutton-Burke, director of field operations, said in a statement.
Those who are traveling to the United States and are not sure about what they're allowed to bring can learn more here or call customs agents at 877-227-5511.
All items obtained abroad should be declared to avoid civil and criminal penalties, officials said.
Listen to "It's All Good: A Block Club Chicago Podcast":