ROGERS PARK — Students at a Far North Side elementary school love their new book vending machine — but the school needs the community's help to keep it stocked.
The vending machine was installed last week at Joyce Kilmer Elementary School, 6700 N. Greenview Ave., after a longtime teacher raised more than $8,000 for the project. Students get tokens from their teachers they can use to get books from the machine to take home for free. 
Supporters can donate here to help Wright continue stocking the vending machine with new books. 
The majority of Kilmer students come from low-income households and don't always have easy access to books, said Nancy Wright, who spearheaded the project and has worked as a Chicago Public Schools teacher for nearly two decades. 
"A coworker of mine told me some of the kids are so excited that they're trying to put regular coins in the vending machine to get books out," Wright said. "I see kids from all different grades stopping to look at the books as they come in, and I hear them telling each other about which books they're going to pick and how excited they are to see certain books."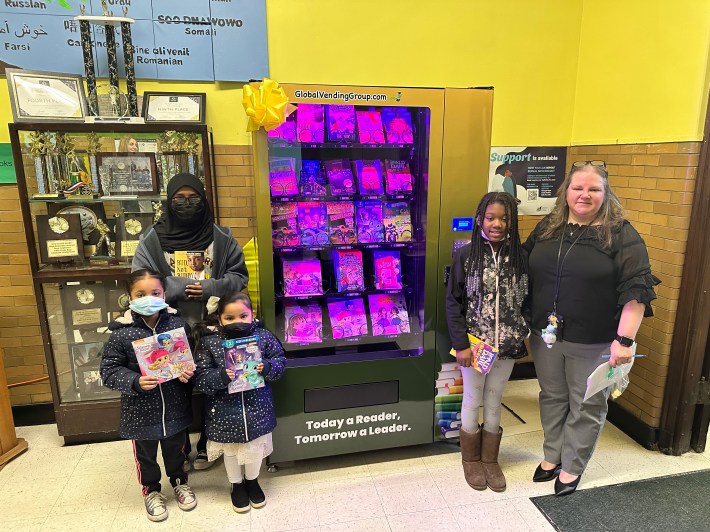 Wright said there's something special about providing a kid with a token to choose a story from a machine rather than just handing them a book.
Wright remembers how much fun she had as a child buying scented pencils from a vending machine at her elementary school, and she wanted to recreate that sense of excitement for her students, she said.
"We need to get our kids excited about reading, and they need to have a choice in what they're reading, so I just felt the vending machine was a no-brainer," Wright said.  
Wright frequently organizes fundraisers to provide supplies for her students, offering them sensory toys, art supplies, STEM activities and more. She noticed a high demand for books when hosting after-school literacy programs and has made an effort to provide students with more books they can keep. 
"There were parents filling up crates with books [at literacy events], and I don't think that would've happened at a wealthier school," Wright said. "It showed me that these parents need books in their houses for their kids and that they might not have much access to books at home."
Wright was able to fundraise for the machine in just a month.
Then, Wright helped design the machine, customizing it with photos of students because she felt it was important kids saw themselves represented, she said. 
With the machine installed and open for business, students have already started exchanging tokens for stories.
"We label it like the tokens are for good behavior, but really the goal is for teachers to find something good in each student, to find something positive that they're doing and reward them with a book token," Wright said. 
Each grade level will have access to the vending machine for a few weeks before Wright swaps out the books so that they're age-appropriate for the next class that gets a turn. She also created a form so teachers can let her know which books are most popular with their students. 
Wright said it's important of nurture a child's interest in reading and emphasized "the value of putting a book in a child's hand." 
"When my kids were young, I read up to 10 books a night with them, and both of my children went into literary careers," Wright said. "I started reading with them when they were little. Since they've learned to read themselves, I've hardly seen them without a book in their hands, and they're in their 20s now.
"If we can put books in kids' hands when they're young, the idea is that these books will guide them through their next journeys in life and help them stay out of trouble." 
Watch our "On The Block" TV show on The U, CW26 and MeTV.
Listen to "It's All Good: A Block Club Chicago Podcast":