EDGEWATER — A single-room occupancy building on Devon Avenue in Edgewater could get additional affordable units and a social services office under a renovation proposed by its prospective new owner.
Developer and real estate investor Scott M. Siegel is under contract to buy the 12-unit, single-room occupancy building at 1539 W. Devon Ave. Siegel is asking the city's permission to renovate the existing apartments and add three units to the building, a move that would require a rezoning.
Plans call for adding three fully accessible units to the rear portion of the ground floor, which does not have apartments. The existing 12 units would be renovated, including new windows and a new storefront facade, Siegel's team said in a community meeting held last week by Ald. Harry Osterman's (48th) office.
"The goal is to renovate everything top to bottom," Siegel said at the meeting. "This is something we feel really good about. We look forward to launching this project and being good neighbors."
The plan also calls for Renaissance Social Services to move into the building's retail area. Renaissance provides housing and social services for people experiencing homelessness.
Renaissance will open an office that will provide supportive housing services and other benefits to building residents, plus community outreach to others facing housing insecurity, said Michael Banghart, executive director at Renaissance.
"This will really be for creating housing stability for the residents living there," Banghart said at the meeting.
Per city laws, owners of single-room occupancy buildings embarking on construction projects have to find certain tenants temporary new housing plus pay them a moving stipend. Agnes Plecka, attorney for the prospective property owner, said Renaissance will help with finding existing tenants housing that fits their needs.
City laws also mandate that certain tenants of such buildings are allowed the opportunity to move back into their old apartment.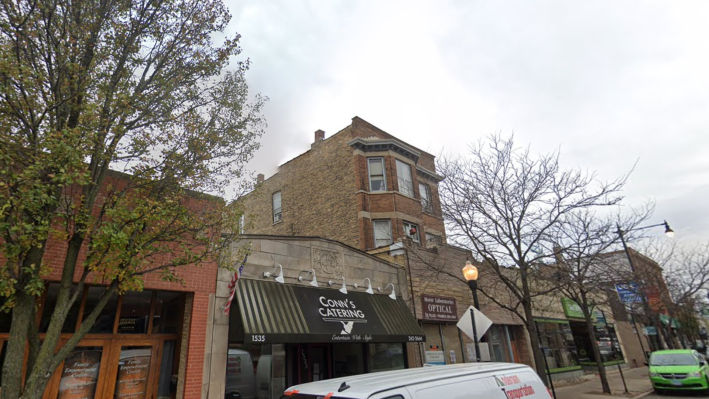 The move to preserve the single-room occupancy building comes after similar buildings have been redeveloped into market-rate apartments.
Single-occupancy buildings often are comprised of bare-bones apartments with shared bathroom facilities and rents that are affordable to people who otherwise could face homelessness. Hundreds of single-room occupancy units have been lost on the Far North Side, particularly Uptown.
The single-room occupancy building at 1539 W. Devon Ave. stands three stories with an added retail storefront. It was built in 1910, records show. The building has been used as single-room occupancy housing since the years after World War II, Plecka said.
The first floor is at street level, allowing for fully accessible units without the need for elevators or other equipment. Banghart said he is "very excited" for the Americans with Disabilities-compliant apartments that are being added.
"It's very hard to find fully accessible units that are affordable in this city," he said.
Siegel's GMP Development controls hundreds of market-rate and affordable apartments throughout the city. The developer is behind a project to bring 11 affordable two-flats to North Lawndale.
Osterman is collecting neighbor feedback on the proposed rezoning before making a decision, his office said.
Listen to "It's All Good: A Block Club Chicago Podcast":