GARFIELD PARK — The city is considering three development proposals that would replace vacant East Garfield Park land with affordable housing, restaurants, shops and small business incubators.
One of the proposals will be picked to replace city-owned land at 201 N. Kedzie Ave., 3209 W. Lake St. and 3201 W. Lake St. Though they offer different ideas for the site, each includes affordable housing. The city released the proposals Jan. 30.
The plans were created with transit-oriented development in mind, maximizing the location's proximity to the Green Line and other public transit options. Each housing proposal promises to be affordable for households earning up to 60 percent of the area's median income for a family of four, or roughly $62,520, according to Chicago's Department of Housing.
The development would be part of the city's Invest South/West initiative, which seeks to bolster investment on the South and West sides.
Public meetings are expected to take place in the coming months to discuss the projects in greater detail, though details about the meetings are not yet available. Those wishing to chime in can take an online survey.
More about each proposal: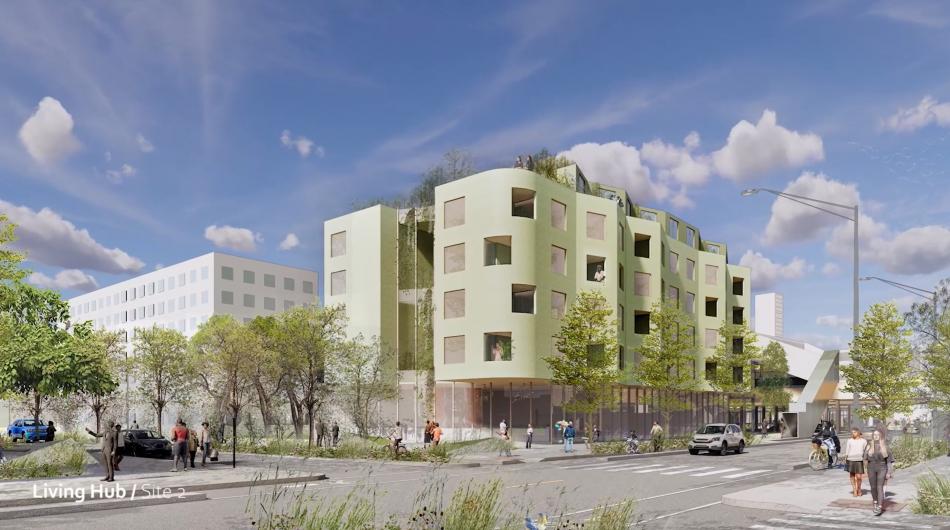 Citizens Building A Better Community
A proposal by Citizens Building a Better Community would create a six-story, 60,020-square-foot building with 52 one- and two-bedroom affordable apartments, according to city documents.
Designed by JGMA and Productora, the building would have 6,030 square feet of ground-floor retail space for three tenants, potentially including a sit-down restaurant, laundromat and café. The building would also have a central winter garden and six parking spaces.
Melvin Bailey, Citizens Building a Better Community co-founder, said the developers would focus on hiring neighbors for construction work to keep jobs within Garfield Park. He said it would also be a good opportunity for young men and women in the community to have job training and apprenticeship.
"I've been fighting for opportunities for two decades, and thank God that this made it here," Bailey said. "People can have local businesses brought back to the community."
Evergreen And Imagine
Another proposal is a $30 million collaborative project between Evergreen/Imagine Realty Groups. It would feature a seven-story, 72,160-square-foot building with 60 apartments and two townhomes.
The building would have 1,700 square feet of ground-floor retail for a local business. The building would also have a public plaza adjacent to the Lake Street station entrance and 32 parking spaces.
Fred Spencer, principal of Imagine's development, said in a YouTube video detailing the project this would be a full-circle moment for him as he went to school in the area.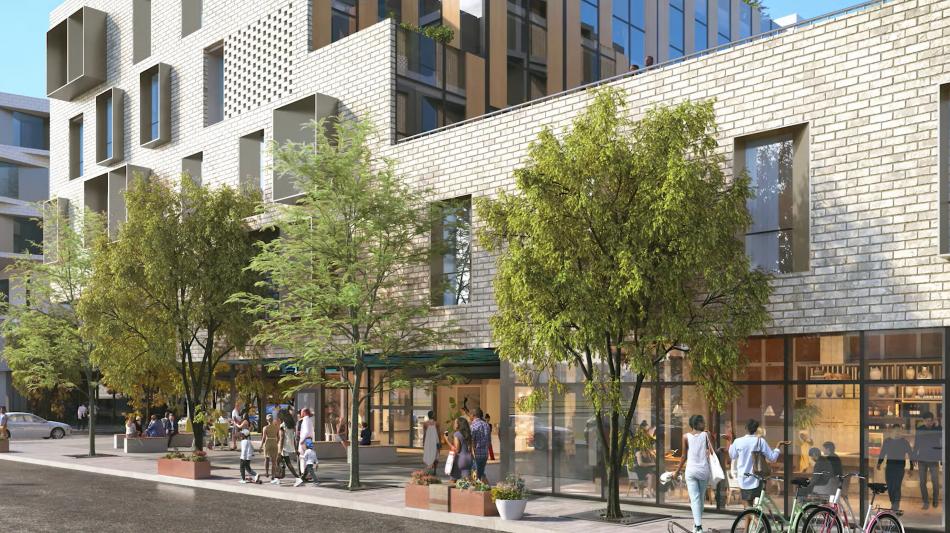 Hub32
The third proposal is from Michaels/KMW/TruDelta, and it is dubbed Hub32. The project would have a seven-story, 78,000-square-foot building with 63 apartments.
The building would include 5,600 square feet of ground-floor retail for three tenants, which could include food-based businesses, a restaurant or start-up. A plaza to be designed with neighborhood input would provide space for outdoor dining and community gathering.
The building would include 16 parking spaces.
James Webb, of TruDelta, said in a YouTube video there is a need to integrate a grocery store because of the lack of options in the area.
The developers plan to award the project's general construction contract to a Black-owned firm in addition to hiring locally for construction management jobs.
"I live within walking distance of this site; I know what is there," Webb said. "There is nothing. … This will be empowering and help to build community."
Listen to "It's All Good: A Block Club Chicago Podcast":