CHICAGO — A Far South Side barbecue chef is expanding her food empire into local grocery stores.
Chef Dominique Leach, owner of Lexington Betty Smokehouse in Pullman, is launching a wagyu beef hot dog brand at Mariano's stores in the city starting Wednesday. Customers can buy eight-packs of the Lexington Betty Smokehouse x Vander Farmers Wagyu Dog for $18.99 at any Chicago-based Mariano's when the hit the shelves this week. 
Leach said the success her restaurant has had at the One Eleven Food Hall, 756 E. 111th St., prepared her for this new phase of business.
"Things have been going really well," Leach said. "It seems like everything that's happened prior to now has made sense and now prepared us for where we are today."
Wagyu beef is produced from Japanese cattle, known for being tastier and having a higher fat content. The hot dog brand is a collaboration between Lexington Betty Smokehouse and Vander Farmers, a beef farm in Sturgis, Michigan.
The hot dogs are sweeter and more affordable than regular wagyu beef from Japan, and they are made from F1 Wagyu beef, a special breed of cow that's half Japanese black cattle and half Holstein-Friesian dairy cow, Leach said.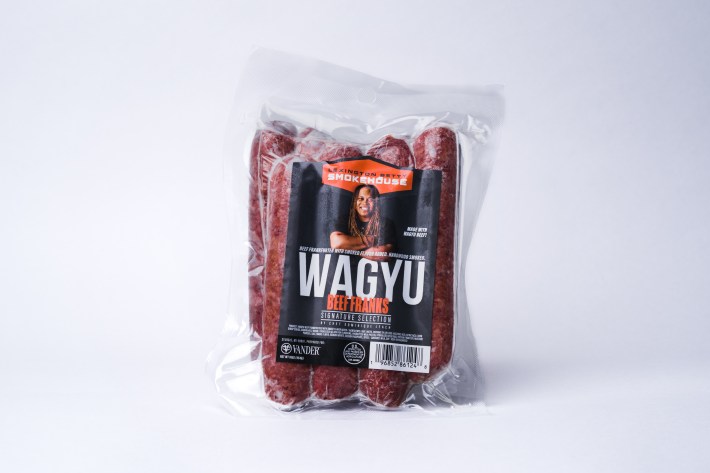 While getting into this side of the food business has taken a lot of front-end work — like developing the product and getting USDA approval — Leach said it's long been a dream of hers to have a brand like Lexington Betty Foods in addition to running her restaurants. 
"It feels really great to finally have a retail product. Because, for years, I've asked other chefs about it or just other people that I know that have retail products and, just like they said, it was challenging," Leach said.
"It's a completely different animal from running a restaurant, and so I'm really fortunate to have a team of people that are assertive and follow through. … We're just really ecstatic to get the ball rolling."
Hot dog fans were able to buy the wagyu wieners online starting last month, and they ship nationwide. You can buy them here. They can also be bought at Lexington Betty Smokehouse's Pullman location.
But this week marks the first time they're available in person at a major store, Leach said.
Leach said she and her collaborators, Marjolein and Mario vanderHulst from Vander Farms, hope to release other products under the Lexington Betty Foods brand.
Listen to "It's All Good: A Block Club Chicago Podcast":