OLD IRVING PARK — The family of a 22-year-old cyclist killed at a dangerous Northwest Side intersection last year is suing the driver who hit him.
Relatives of Nick Parlingayan filed the wrongful death lawsuit Jan. 30 in Cook County. The suit names Phil Pinkawa, who was charged in the hit-and-run crash; Pinkawa's employer; the city of Chicago; Metra and a construction company contracted by Metra, alleging their negligence contributed to the crash.
In May, Parlingayan was riding north in the bike lane at a dangerous Old Irving Park intersection when Pinkawa hit him, throwing Parlingayan off his bike and dragging him, prosecutors said. The crash was captured on surveillance footage from a nearby business.
Pinkawa drove off, and a passerby called police, prosecutors said. Pinkawa, 57, turned himself in when his mother saw the news about the crash, prosecutors said.
Parlingayan was the second cyclist to die in four years at the site.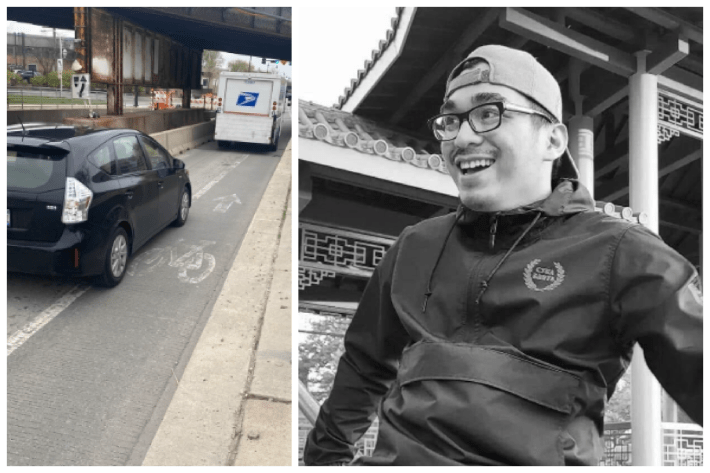 Metra construction to replace the Grayland Metra station at the intersection, which began in 2021 and is ongoing, pushed drivers into the bike lane and had no separation, also contributing to the crash, said Brian Salvi, the family's attorney.
The defendants did not exercise caution or provide adequate bike signs and an alternative bike route during construction, thus failing to oversee the intersection's traffic pattern to avoid causing injury or harm to those traveling in the area, according to the lawsuit.
"The only way you make sure these type of entities are more careful is to remind them of the cost of what they did," Salvi said. "Sadly, for Nick, it cost him his life."
The family is seeking at least $50,000 in damages, according to the lawsuit.
"In order to prevent someone else be killed or maimed, you need to hold the parties responsible," Salvi said. "Compensation is the mechanism in which we can enact this change. If we could wave a magic wand and bring Nick back, the family would not ask for money."
Paringayan was born in the Philippines and moved to Chicago as a child, his family previously told Block Club. He attended Alcott Prep in Roscoe Village and worked at Starbucks, according to his Facebook and posts from friends.
"Nick loved being outdoors and riding his bicycle. While we miss his vibrant, loving personality every day, I find a small bit of peace in knowing Nick is helping to make the city a safer place for his fellow cyclists," Nick's mother, Mary "Gigi" Geraldin Alegarbes, said in a statement. "I can only hope this lawsuit holds those responsible accountable and prevents another family from experiencing the unimaginable pain we have felt this past year."
The defendants named in the lawsuit declined to comment or did not respond to requests for comment. Attempts to reach Pinkawa were unsuccessful.
Parlingayan was killed just across the street from where a driver killed bicyclist Carla Aiello in 2019. After his death, stop signs and a speed camera were added to the stretch. A pedestrian island was also added a few blocks up, along with concrete bike barriers, although some were damaged shortly after installation in October.
The stretch's updated barriers have yet to be completed.
The suit and people who saw the video of the incident and work nearby allege the driver was speeding when he hit Parlingayan.
After Parlingayan's death, signs along the sidewalk and orange cones were added to separate the small bike lane with the street. A bike detour for people using the intersection directed them to Addison Street when the intersection closed down completely in September.
The project's reopening was delayed, but it's estimated to open next week, Metra officials previously said. The company estimates the project will be completed by 2024. 
Subscribe to Block Club Chicago, an independent, 501(c)(3), journalist-run newsroom. Every dime we make funds reporting from Chicago's neighborhoods.