WEST LOOP — A West Loop site that was supposed to be a hotel could instead be used for a high-rise apartment building under a new developer's pitch.
The Standard Hotel was supposed to bring 250 rooms, a fitness center, event space and multiple restaurants and bars to 1234 W. Randolph St., all funded through real estate crowdfunding platform Prodigy. The project was OK'd in 2019.
Prodigy filed for bankruptcy in 2021, facing multiple lawsuits from investors who poured an estimated $690 million into developments across Chicago and New York, according to The Real Deal.
Now, developers want to build apartments there, which requires a City Council-approved zoning change to residential. Neighbors got a first look at the new proposal Monday at a virtual community meeting hosted by the West Central Association.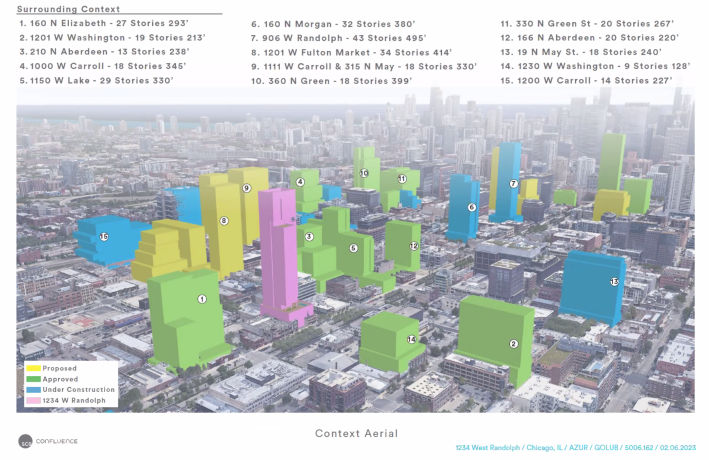 If approved, the 445-foot tower would include 395 apartments — 79 of them affordable — as well as 113 parking spots and 390 spots for bike parking and storage, developers said. The proposal would generate $1.9 million for the Neighborhood Opportunity Fund.
The tower, positioned next to City Winery, would include a rooftop garden and ground-floor retail space, ideally for something food- and beverage-related, developers said.
Loading and parking access would be in the alley behind the building, according to design documents.
Several neighbors said they had concerns if there'd be adequate parking for ground-level retail workers, construction workers and general overflow. Developers on the project pointed to the opening of a parking garage at 1371 W. Randolph St. that can accommodate about 500 cars.
Developers said they are confident additional parking will be easily accessible for people visiting the site before and after construction.
Neighbor Moshe Tamssot asked how the $1.9 million collected by the Neighborhood Opportunity Fund would be used. Developers pay into the fund as a tradeoff for increasing the size of proposed developments.
The fund provides grants for commercial and cultural projects in specified neighborhoods.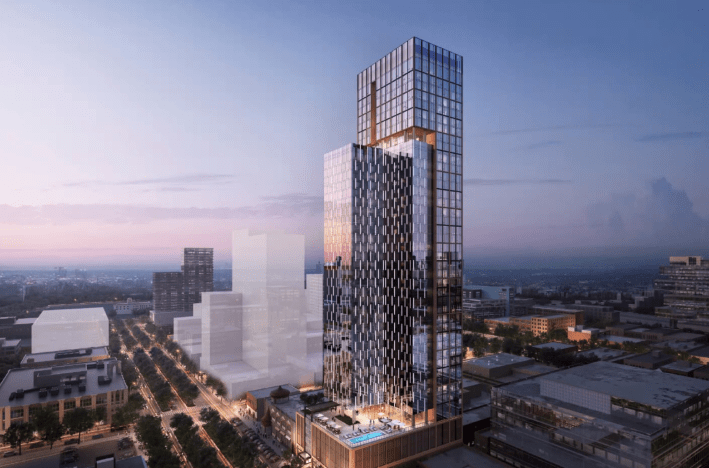 Ald. Walter Burnett (27th) said possible projects the fund could support include creating a larger field house for Skinner Park, a community greenhouse and redevelopment possibilities for the police academy parking lot in the West Loop.
The last project awarded funding through the Neighborhood Opportunity Fund was the Madison streetscape project, which was given $2.9 million this fall.
The apartments will need the approval from the city's planning department, plus votes from the City Council's zoning committee and the full City Council before it can move forward, Burnett said.
Listen to "It's All Good: A Block Club Chicago Podcast":