DOWNTOWN — With less than three weeks to Election Day, Chicago's new 34th Ward has not had a single candidate forum so voters can hear their two choices for alderman debate key issues before they head to the ballot box.
One candidate alleges it's because his sole competitor refuses to commit to one.
The 34th Ward race is unique in the sweeping changes it and its residents are facing: The ward was moved during the city's redistricting from the Far South Side into the middle of the West Loop and Downtown. And the incumbent alderperson, Carrie Austin, is not running for reelection.
Neither of the new ward's two aldermanic candidates — Jim Ascot, a commercial real estate broker, and Bill Conway, a Navy veteran and former prosecutor — have ever held public office. Despite that, they have not had a debate or candidates forum, despite voters already being able to cast their ballots with early voting and Election Day coming Feb. 28.
Ascot slammed Conway — who leads in endorsements and fundraising — this week, saying they were supposed to have forums, but Conway is "refusing to debate him" or participate.
"Until now, I have said nothing negative about Bill Conway … . He refused to show up at the UIC forum to debate me, so it was canceled. He refused to show up at the South Loop Neighbors forum, so it, too, was canceled," Ascot wrote in an email to supporters.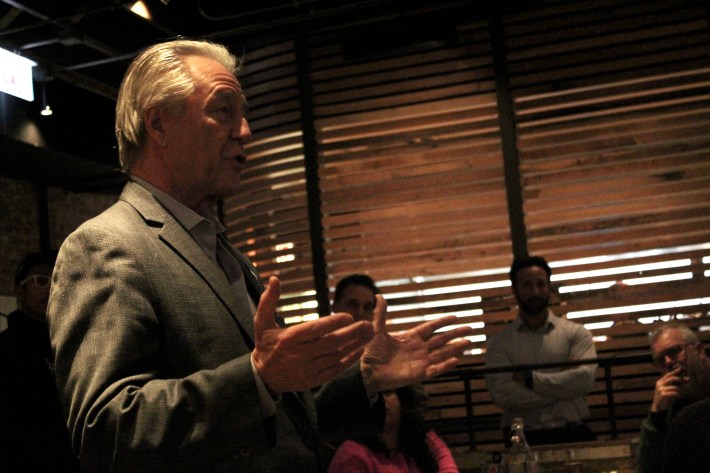 Ascot and Conway were set to participate in a Friday forum hosted by a University of Illinois Chicago political science professor. The questions were to come from students, as the school is part of the 34th Ward.
Ascot said the university told him Conway canceled — so the forum won't happen. Organizers confirmed to Block Club the forum was canceled but didn't say why.
"They decided to cancel [the forum] because it was only going to be me. … They thought it was unethical to proceed without the other candidate," Ascot said Tuesday.
And the South Loop Neighbors forum also isn't happening: Director Roger Marsh that the group had four possible dates for a forum, but Conway was unavailable for three of them while Ascot was unavailable for one.
Marsh said he wouldn't put blame on either candidate.
"By the time we found a venue that had a few days that were available, the candidates already had other things booked that night," Marsh said.
Still, Ascot said he's unhappy.
"It's frustrating," Ascot said. "Someone told me watching this race is like watching paint dry. Nothing is happening … All I can do is go out to meet-and-greets and condominium buildings, anywhere that's interested in having me speak."
When asked by Block Club, Conway, who was at a West Loop Community Organization meet-and-greet Tuesday, wouldn't say if he'll commit to participating in a candidate forum before Election Day. He said he's had numerous meet-and-greets and has knocked on every accessible door in the ward more than once.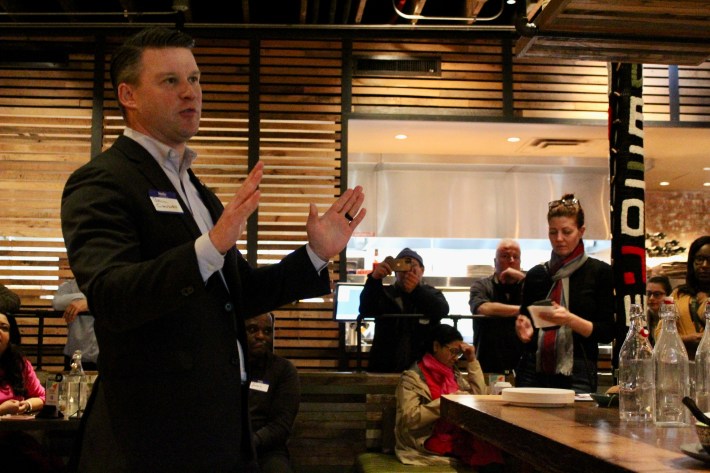 A candidate forum typically consists of candidates answering questions on key topics within a timed period. It's an opportunity for voters to see the candidates debate and share their positions on issues that matter to ward residents.
Meet-and-greets are typically more informal, with candidates casually mingling with voters. Often, candidates are limited to a short introduction if participating in a meet-and-greet with other candidates.
Conway gained name recognition after an unsuccessful bid to unseat county State's Attorney Kim Foxx in the 2020 Democratic primary. That campaign was bankrolled in part by $10.5 million in contributions from his father, William Conway, a billionaire co-founder of The Carlyle Group.
Now, during the aldermanic campaign, Conway has accumulated more than $400,000 in campaign contributions, according to the Illinois State Board of Elections. Conway's campaign has attracted high-dollar donors from from top executives at Citadel, Madison Dearborn Partners and DoorDash, to name a few.
Conway also received a $1,000 nod from a political action committee headed by Ald. Walter Burnett's (27th) wife Darlena Williams-Burnett, called the Chicago Intellect PAC.
Ascot has raised $56,000. Ascot has not received any official endorsements, but he has received significant monetary support from the Realtor Political Action Committee and Athena Restaurant. Both donated $10,000 to his campaign.
Subscribe to Block Club Chicago, an independent, 501(c)(3), journalist-run newsroom. Every dime we make funds reporting from Chicago's neighborhoods.
Click here to support Block Club with a tax-deductible donation. 
Thanks for subscribing to Block Club Chicago, an independent, 501(c)(3), journalist-run newsroom. Every dime we make funds reporting from Chicago's neighborhoods. Click here to support Block Club with a tax-deductible donation.
Listen to "The Ballot: A Block Club Chicago Podcast":