Tune in to our live interview series with the candidates vying for Chicago's top job: mayor. Our interviews will be hosted by Tribune contributing columnist and ABC7 political analyst Laura Washington. Click here to learn more.
CHICAGO — Mayoral candidate Brandon Johnson saw firsthand how Chicago's kids experience the city's inequality as he taught sixth-grade social studies at Edward Jenner School in Cabrini Green.
Outside the classroom's back window was Lincoln Park — and outside the front window were bulldozers razing public housing, Johnson told Block Club board President and Tribune columnist Laura Washington in a livestreamed interview Tuesday.
"For many families in the city of Chicago, they wake up, chasing down this economy that's behind them, while everything in front of them is crumbling," Johnson said. "That is the motivation of why I'm running to be the next mayor of the city of Chicago."
Johnson, a former teacher turned Chicago Teachers Union organizer and Cook County commissioner, lives in Austin. He has focused his mayoral run around a progressive platform geared toward large-scale social and economic programs that are funded in part by taxes on high-earning Chicagoans and businesses. 
The CTU and a number of progressive aldermen have endorsed Johnson, and his campaign has been funded mainly by progressive labor organizations. 
Johnson said that the support he has garnered from teachers, health care workers and child care workers reflects how his campaign has cast a wide net across the city. 
"These are all the individuals that make up the working class and the middle class that exists in the city of Chicago. These workers live in every single ward," Johnson said. "We are living in a tale of two cities. And the impetus behind my run is to unite this city."
Watch the interview:
Johnson said that in his first 100 days, he will institute a citywide youth hiring program, particularly for Chicagoans 16-24 years old; pass the Treatment, Not Trauma ordinance, which would create a 24-hour crisis response hotline for mental health emergencies; and reopen the city's closed mental health centers. 
Johnson on Monday unveiled his public safety plan, which he said focuses on addressing the "root causes" of crime. Among other things, the plan would promote 200 detectives from the rank-and-file, enact the Anjanette Young ordinance to end no-knock warrants, end the department's contract with ShotSpotter, erase the city's gang database and establish an illegal guns department. 
But unlike those of almost all other mayoral candidates, Johnson's plan does not include hiring more police officers or filling the about 1,600 vacancies in the department. He also makes no mention of increasing the police budget.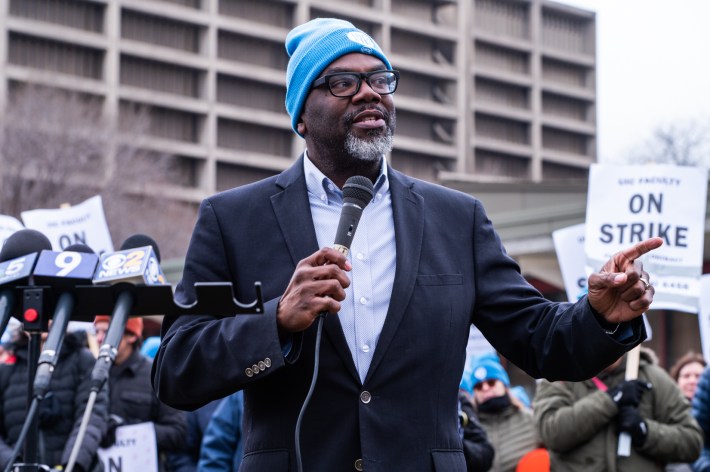 When asked about the vacancies Tuesday, Johnson said hiring more officers isn't the answer to the city's crime problem, saying any new hire will take about 18 months to get on the job. And he said he could fund other programs, like increasing violence prevention, in part by streamlining supervisor roles and freeing up officers by hiring more emergency service responders. 
"My plan is to invest in the neighborhoods," Johnson said. "We can deal with the immediate challenge of public safety in the city of Chicago and get at the root causes."
The funding for Johnson's $1 billion in proposed city investments, which include expanding the city's public health department and instituting free public transit, would come from a combination of taxes on businesses and high earners, as well as finding efficiencies in the city budget.
Johnson said he thinks the city can save $150 million by streamlining its supervisor-to-staff ratio, $20 million in IT improvements and $100 million with a comprehensive city health plan. 
Listen to the interview:
Johnson said many Chicagoans supported a progressive tax system at an about 70 percent clip when it was proposed in 2019, and he staunchly defended his proposed taxes Tuesday.
Those taxes would include a head tax of $1-$4 per employee for companies with more than 50 workers, an airline jet fuel tax, a real estate transfer tax on properties worth more than $1 million and a $1 or $2 tax on securities trades. 
Johnson said he would consider breaks on the corporate head tax for businesses that hire locally, and he said he will never raise property taxes during his four-year term. He said his proposals, which include funding mechanisms, are a stark contrast from other mayoral candidates. 
"The ultra-rich and large corporations continue to benefit from the subjugation and the isolation of poverty. And my budget plan speaks to these critical investments — and, here's the thing, without raising property taxes," Johnson said.
As a former teacher, Johnson was sharply critical of fiscal mismanagement and inequity in Chicago Public Schools, saying enrollment and funding gaps are caused by irresponsible pension holidays and the proliferation of selective-enrollment education, which allows students to test into elite public schools. 
Johnson also took a shot at mayoral candidate Paul Vallas, who worked as city budget director and is a former CPS CEO. 
"We got here because of politicians and political insiders who never believed in public education," Johnson said. Vallas "created a more stratified school district. This hyper-segregation that we are experiencing right now is not just the result of privatization but the explosion of the application process to get into a school."
Instead, Johnson wants to reimagine attendance boundaries for neighborhood schools; change funding for schools based on need, not on enrollment; and create opportunities for students starting at 16 to obtain commercial driver's licenses through trades programs, he said.
While Johnson would focus on improving community-based public education in neighborhood schools, he said his own children attend public schools in Portage Park and at Kenwood Academy despite living in Austin. 
"We do not have a neighborhood structure that fully funds our neighborhood schools. And so, that's another dynamic, and another motivation, of course, for me to become the next mayor in Chicago," Johnson said. 
Johnson said he bikes 8-10 miles per day if the temperature is above 30 degrees. When asked about whether he supports the practice of reserving parking spaces in the snow, known as dibs, he wheeled around an answer. 
"I have a driveway," Johnson said. 
The conversation with Johnson is the latest in Block Club's series of livestreamed talks with all nine mayoral candidates as the Feb. 28 election approaches. Block Club has hosted conversations with Ja'Mal Green, Kam Buckner, Roderick Sawyer and Sophia King. Washington will speak to Lightfoot at 3 p.m. Friday.
If no candidate receives at least 50 percent of the vote, the top two candidates will go to a runoff April 4.
Subscribe to Block Club Chicago, an independent, 501(c)(3), journalist-run newsroom. Every dime we make funds reporting from Chicago's neighborhoods.
Click here to support Block Club with a tax-deductible donation. 
Thanks for subscribing to Block Club Chicago, an independent, 501(c)(3), journalist-run newsroom. Every dime we make funds reporting from Chicago's neighborhoods. Click here to support Block Club with a tax-deductible donation.
Listen to "The Ballot: A Block Club Chicago Podcast":