Tune in to our live interview series with the candidates vying for Chicago's top job: mayor. Our interviews will be hosted by Tribune contributing columnist and ABC7 political analyst Laura Washington. Click here to learn more.
CHICAGO — Ald. Sophia King says representing one of the city's most diverse wards makes her uniquely qualified to bring the values of equity and collaboration to the top job at City Hall. 
King, who represents the Downtown and Near South Side lakefront's 4th Ward, is running for mayor.
"The 4th Ward is like a microcosm of the city," King said in an interview with Block Club Chicago on Monday. "I represent from Downtown, which has all the amenities, like Soldier Field, Northerly Island, Grand Park, museum campus and five times as much lakefront as anyone else. But I also have some of the poorest and under-resourced parts of … the city, as well.
"I see the disparities, and we've been able to bring real equity to those places, and that's something I want to continue to do."
King pitched her mayoral candidacy in a livestreamed interview with Block Club Chicago board President Laura Washington. King, a former educator, proposed holistic plans to combat public safety and education challenges. She vowed to put hundreds of millions of dollars toward violence prevention and hire more police officers, as well as to increase housing in neighborhoods with diminishing school enrollment. 
King, whose family lineage traces back to segregated Mississippi, grew up in suburban Evanston and has lived in Kenwood for more than 30 years. That varied experience has formed the value system she hopes to bring to City Hall, she said.
"Equity is truly, I think, something that runs through every strand of what we've been doing in the 4th Ward, and something that we will lead with on the fifth floor," King said.
Watch the interview:
A former educator who worked at the Latin School of Chicago in Gold Coast, King was appointed alderwoman in 2016 by then-Mayor Rahm Emanuel. She won races in 2017 and 2019 to hold onto her seat, and she has served as chairperson of the Progressive Caucus.
King championed a $15-per-hour minimum wage in Chicago and led the redevelopment of the former Michael Reese Hospital site. 
King criticized Mayor Lori Lightfoot on Monday, saying while the marketing of her signature Invest South/West program was well-intentioned, its promise of bringing $2 billion in investment to the city's most under-resourced was "smoke and mirrors." 
King also criticized Lightfoot for her handling of the legalization of cannabis, saying she and other council members asked the mayor to pause the rollout so the state could strengthen the social equity requirements of the program. But the mayor refused, leading to Black and and Latino entrepreneurs being "cut out" of the business, King said.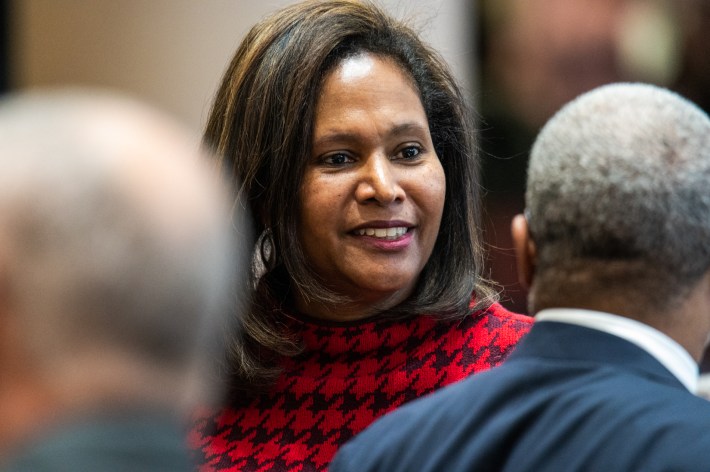 The state strengthened the social equity requirements earlier this year, in part to get rid of loopholes. King said it was effectively too little, too late. 
"You really could be a social equity applicant and not really have any impact or growth, wealth growth, in the African-American community," King said. "We suggested that we stop it here, and she blocked that. … We should have stopped it so that we could have had true equity."
King has a public safety plan that would pledge hundreds of millions of dollars toward violence prevention programs, funded through the city, county and state. She also has proposed hiring 1,600 officers that are in the police budget. 
Listen to the interview:
King said she plans to bring back retired detectives who would keep their pensions and work part-time to fill gaps, and she'd change scheduling for officers to four days on, three days off. That would allow for up to 50 percent more officers working at any given time without increasing the 40-hour work week, she said.
King's criticisms of Lightfoot also extended to the mayor's handling of public safety.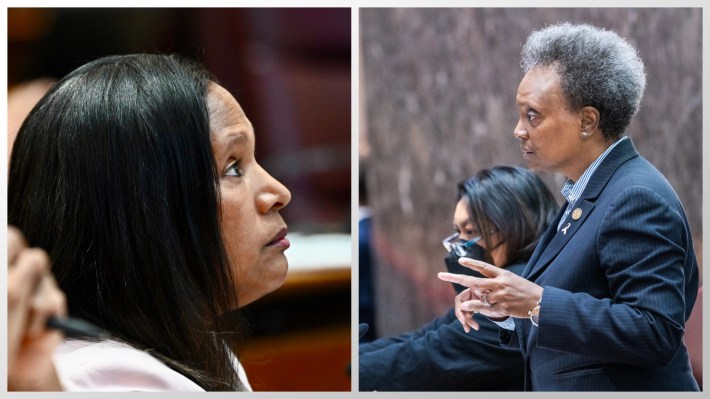 King blasted Lightfoot for not firing an officer with ties to the Proud Boys, a right-wing group involved in the Jan. 6 riot. While City Council allocated $85 million for violence intervention measures, the mayor has only spent $5 million, King said.
"If it's a priority for you, you have to move that money," King said.
Speaking more broadly, King tried to thread a needle between being tough on crime and supporting the police while working to solve systemic issues in the department, especially in the shadow of the Tyre Nichols killing. 
"Some of my [fellow] candidates are 'defund the police,' a couple of them are. And the others are 'law and order,'" King said. "The reality is, most people know that we can uplift police and hold them accountable."
As a former educator, King said she would approach the city's public school enrollment crisis from the ground up, trying to rebuild neighborhoods and increase home ownership in areas with declining enrollment, then use the money for tax-increment financing to improve the schools. 
Asked about short-term solutions, King said she'd increase selective-enrollment opportunities but with a neighborhood component, citing Kenwood Academy as an example. She said she would work with labor unions to restart adult apprenticeship programs for students younger than 18, and she'd make after-school programs mandatory.
"We should really use the schools to catapult neighborhoods back to being the center of life for everybody," King said. 
There is a city moratorium on closing schools until 2025. King said Chicago lost out on significant per-pupil federal funding in part because of quick-decision school closures — although she demurred when asked whether she would support school closures as mayor.
In King's view, the dual issues of public safety and schools are the top problems facing Chicago.
"We can't really continue to grow as a city if we don't have safety and good schools," King said. "So I would take the approach of trying to build back neighborhoods first."
Speaking about bike and pedestrian safety, King proposed banning right turns on red lights in certain Downtown areas and lowering the speed limit on streets, including DuSable Lake Shore Drive. 
King is pro-dibs, loves to run and enjoys playing the card game Bid Whist in her free time — and vowed to bring the country's biggest tournament to Chicago.
Those opportunities are what make the city special, she said.
"We have to think about ways to put Chicago on the map again in a positive way," King said. 
The conversation with King is the latest in Block Club's series of livestreamed talks with all nine mayoral candidates as the Feb. 28 election approaches. Block Club has hosted conversations with Ja'Mal Green, Kam Buckner and Roderick Sawyer. Washington will speak to Brandon Johnson at 2:30 p.m. Tuesday.
If no candidate receives at least 50 percent of the vote, the top two candidates will go to a runoff April 4.
Subscribe to Block Club Chicago, an independent, 501(c)(3), journalist-run newsroom. Every dime we make funds reporting from Chicago's neighborhoods.
Click here to support Block Club with a tax-deductible donation. 
Thanks for subscribing to Block Club Chicago, an independent, 501(c)(3), journalist-run newsroom. Every dime we make funds reporting from Chicago's neighborhoods. Click here to support Block Club with a tax-deductible donation.
Listen to "The Ballot: A Block Club Chicago Podcast":