PILSEN — The remaining co-owner of Pilsen mainstay El Trebol Liquors and Bar died late last month, his family said.
Samuel Ornelas, 86, died Jan. 28, his family said.
Ornelas had been the sole owner of El Trebol, 1135 W. 18th St., since his co-owner died in 2021.
"Sammy had great respect and appreciation for the loyal patrons that visited the bar and those who continue to have a beer or two enjoying the traditional Mexican music that he loved," his family wrote on social media. "Though we are heartbroken, we thank God for the life that our beloved Sammy had. His memory will live in our hearts and amongst us."
Before Ornelas was an owner, he worked at El Trebol when he could, tending bar or working at the store, his son said.
Ornelas also had a background in carpentry and installed the wood panelling inside El Trebol that's still there, his son said.
Manuel Ornelas said people have come into the store to pay their respects and posted on social media, sharing kind memories of his father. He said it's comforting to hear from those who knew his dad for decades or just met him once but still remember him.
"My dad was a very kind man," Manuel Ornelas said. "He had a heart for everyone, and he always loved to help."
Ornelas stepped away from the day-to-day operations of the business several years ago, opting to stop by and help out when he wanted, Manuel Ornelas said.
"He was a busy bee," Manuel Ornelas said. "He always loved working on things. He told me, 'I want to retire because I want to come here when I want, not because I have to.'"
Manuel Ornelas said he got a similar start to working at El Trebol as his father — on the weekends as a teen, helping out where he could — and his brothers did the same. Even when he was in school or working part-time jobs, Manuel Ornelas still had time for El Trebol, he said.
"I've always come back to help my dad," Manuel Ornelas said.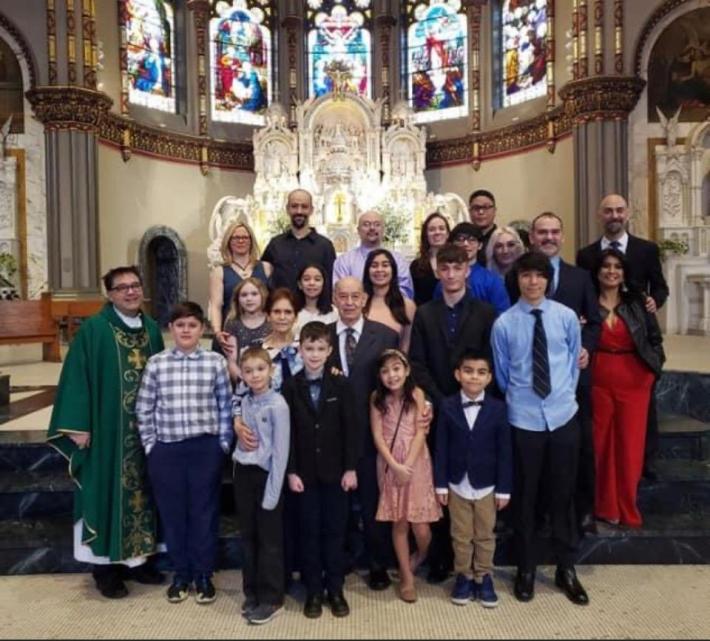 Manuel Ornelas said it's up to him and his brother to keep their father's legacy alive in the bar. There's a picture of his father standing behind the counter at El Trebol that Manuel Ornelas hopes to hang somewhere, he said.
"[My father] taught me one great, great lesson in life and I take it to heart — it's to always respect," he said. "And it's true, you know. You earn that respect. You respect other people and they see it. Doesn't matter who you are, what class you are in society. It doesn't hurt to be nice."
Besides his son, Samuel Ornelas is survived by his wife, five other children, 14 grandchildren and four great-grandchildren. His family commemorated his life with a visitation and funeral mass over the weekend.
Listen to "It's All Good: A Block Club Chicago Podcast":