PILSEN — A fire at a controversial Southwest Side metal scrapper has renewed concerns about dangerous pollutants in the area as neighbors and environmental activists continue pushing the city to shut down the operation.
The fire broke out about 4:30 p.m. Saturday at the Sims Metal Management facility at 2500 S. Paulina St., according to Pilsen Ald. Byron Sigcho-Lopez (25th).
Sims officials told the alderman's office a supervisor on site noticed smoke coming from a pile of bulk scrap metal waiting to be recycled and called the fire department.
"The [Fire Department] responded within five minutes and sprayed water on the pile of metal until the appearance of smoke was no longer visible," Sims said in a statement to the alderman's office. "None of our employees were injured, and we did not sustain any damage to our equipment. Operations were able to resume immediately after the CFD gave the all-clear. We apologize for any concern this incident may have caused our community neighbors."
There were no visible flames, Sims officials told the alderman's office.
Sims leaders did not immediately response to a request for comment from Block Club.
Sims has faced heavy criticism from environmental activists and was sued by the Illinois Attorney General's office in 2021 for allegedly breaking air pollution laws. The scrapper is near three Pilsen schools: Benito Juarez Community Academy, Cristo Rey Jesuit High School and Whittier Dual Language Magnet School.
Federal officials ordered Sims to install high-grade air monitors to measure pollution levels, the Sun-Times reported in early 2022. The facility had two months to implement the monitors and report results to the U.S. EPA.
In updates as recent as Jan. 30, the federal officials said "monitoring data shows no pollutant concentrations that would cause human health effects from short-term exposure to the air in the area around the facility. More data is needed to evaluate long-term risks."
It's the "long-term risks" the community is most concerned about, advocates say.
Sigcho-Lopez, who lives a block away from the facility, said his office received several calls from residents asking if they should be worried.
"I'm seriously concerned about the safety of this facility and the lack of accountability," he said Tuesday. "I made a request to receive the data [from Sims] before and after the incident so that we can see it immediately. We cannot allow polluters to oversee themselves, to provide oversight to themselves."
A spokesperson for the U.S. EPA didn't immediately respond to a request for comment. Sigcho-Lopez said federal officials told his office the department would "expedite" the process of Sims handing over air monitoring data for Feb. 4-6.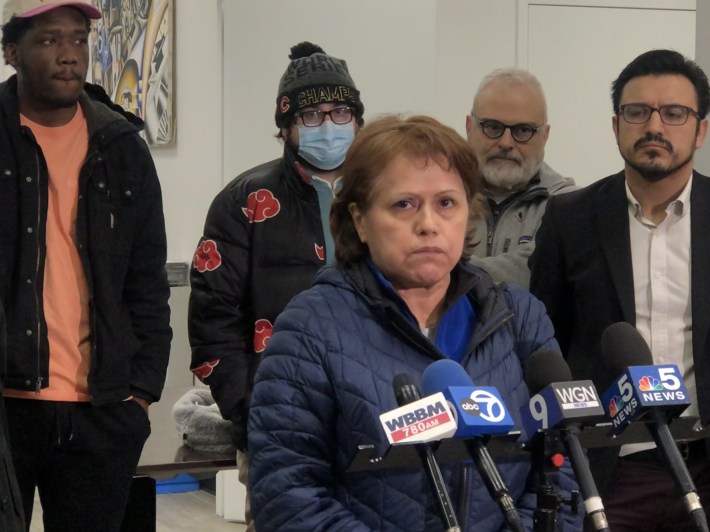 Theresa McNamara of the Southwest Environmental Alliance has been organizing rallies to call for more accountability from Sims and other industries in the area. Ultimately, she and other environmental justice activists want these industries shut down, she said.
Neighbors have no idea what was in or on the metal that was burning, but they have a right to know, McNamara said.
"These companies that pollute get to put up the monitors; these companies that pollute get to collect the data; these companies that pollute get to decide when and what you're going to see. What is wrong with this picture?" McNamara said. "We are the ones that are breathing this bad air. We are the ones with our eyes burning."
In early 2022, a group of neighbors staged a protest outside the Chicago U.S. EPA to deliver a letter inviting officials to a public meeting in Pilsen. Hundreds of residents turned out to the event to hear city, state and federal environmental officials promise to study the cumulative, long-term impact for communities living amidst heavy industry, such as Pilsen.
RELATED: After Southwest Siders Push For Environmental Protections, New Study Will Explore Impact Of Chicago Air Pollution
It's been nearly a year since officials made that promise, but activists say little, if any, progress has been made.
Tanya Lozano, CEO of Healthy Hood Chicago and a mother of four, has been another organizer involved in the fight against environmental racism in Pilsen. She said Sims' apology isn't enough to alleviate the environmental burdens it and other industries put on the Southwest Side.
"We're still breathing, dirty, nasty air that's making us sick, including our children," Lozano said. "Instead of operating like business as usual after you had a fire, we want that company shut down until we get the data."
Sims continues to operate as the city reviews its application to renew its permit, the same permit the public health department denied Southside Recycling to open in East Side.
Subscribe to Block Club Chicago, an independent, 501(c)(3), journalist-run newsroom. Every dime we make funds reporting from Chicago's neighborhoods.
Click here to support Block Club with a tax-deductible donation. 
Thanks for subscribing to Block Club Chicago, an independent, 501(c)(3), journalist-run newsroom. Every dime we make funds reporting from Chicago's neighborhoods. Click here to support Block Club with a tax-deductible donation.
Listen to "The Ballot: A Block Club Chicago Podcast":